We all understand the significance of the pregnancy phase for a woman who went through different changes and moods to bring a life on earth. This time shares a fusion of feelings of overwhelming and frustration. Usually, women face several issues related to health as well as emotions that require special care. However, due to many restrictions and cautions, it becomes very confusing regarding what to eat and what to not? Are you a mum-to-be and also facing the same issues? Then you are at the right place as we have the best solution for you and your baby in the form of healthcare products. Let's guide you during your journey of pregnancy with our products. To choose the best products for your health, let us know which month you are pregnant. This helps us in choosing the best product for you.
Are you the would-be-mum, if yes which month? But confused about what to eat? Do you want to opt for something naturally rich in food for pregnancy or post-pregnancy? Let us help you in planning your pregnancy diet with Ayurveda approved products.
Pregnancy care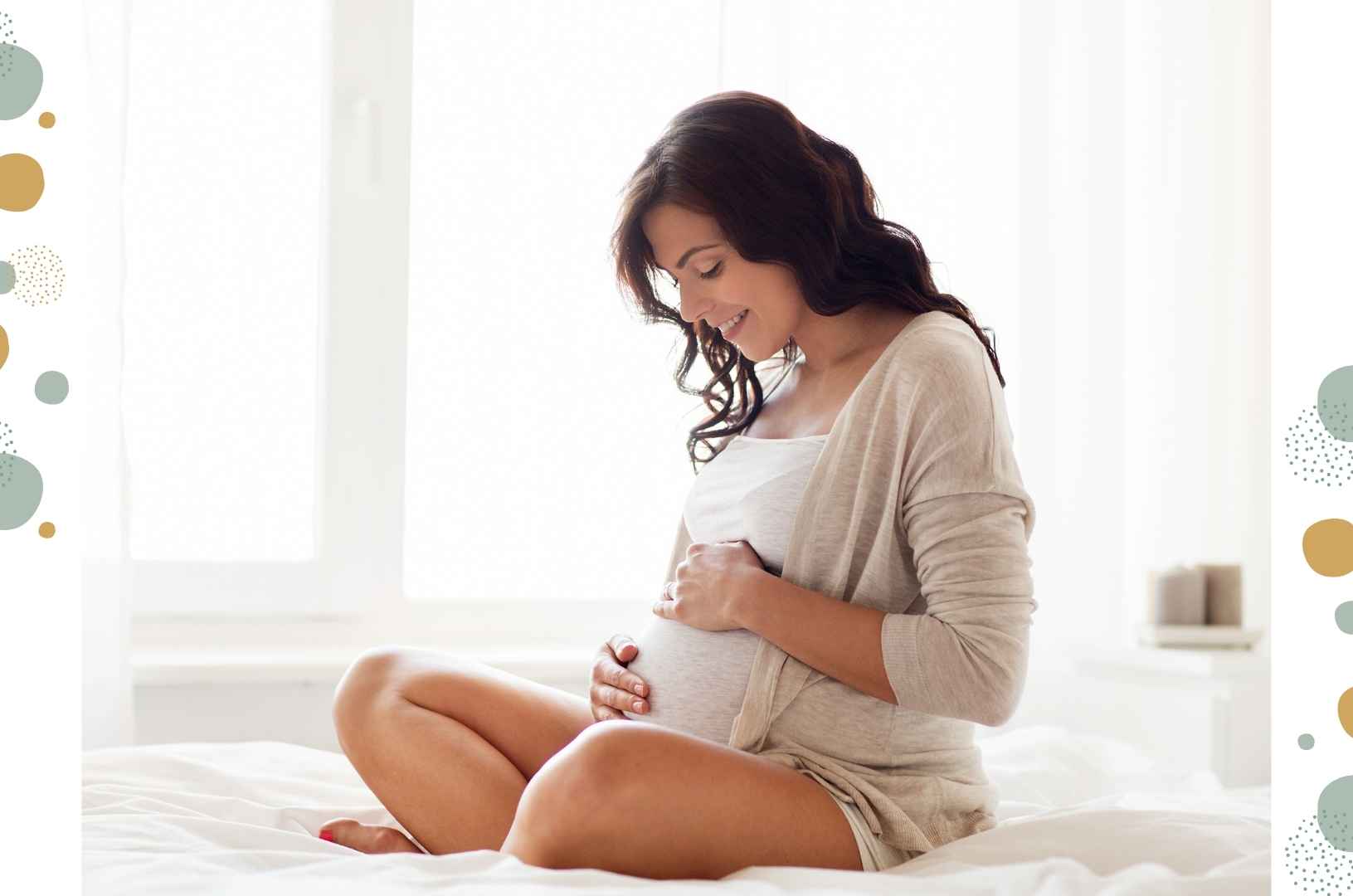 Shatavari Herb Mix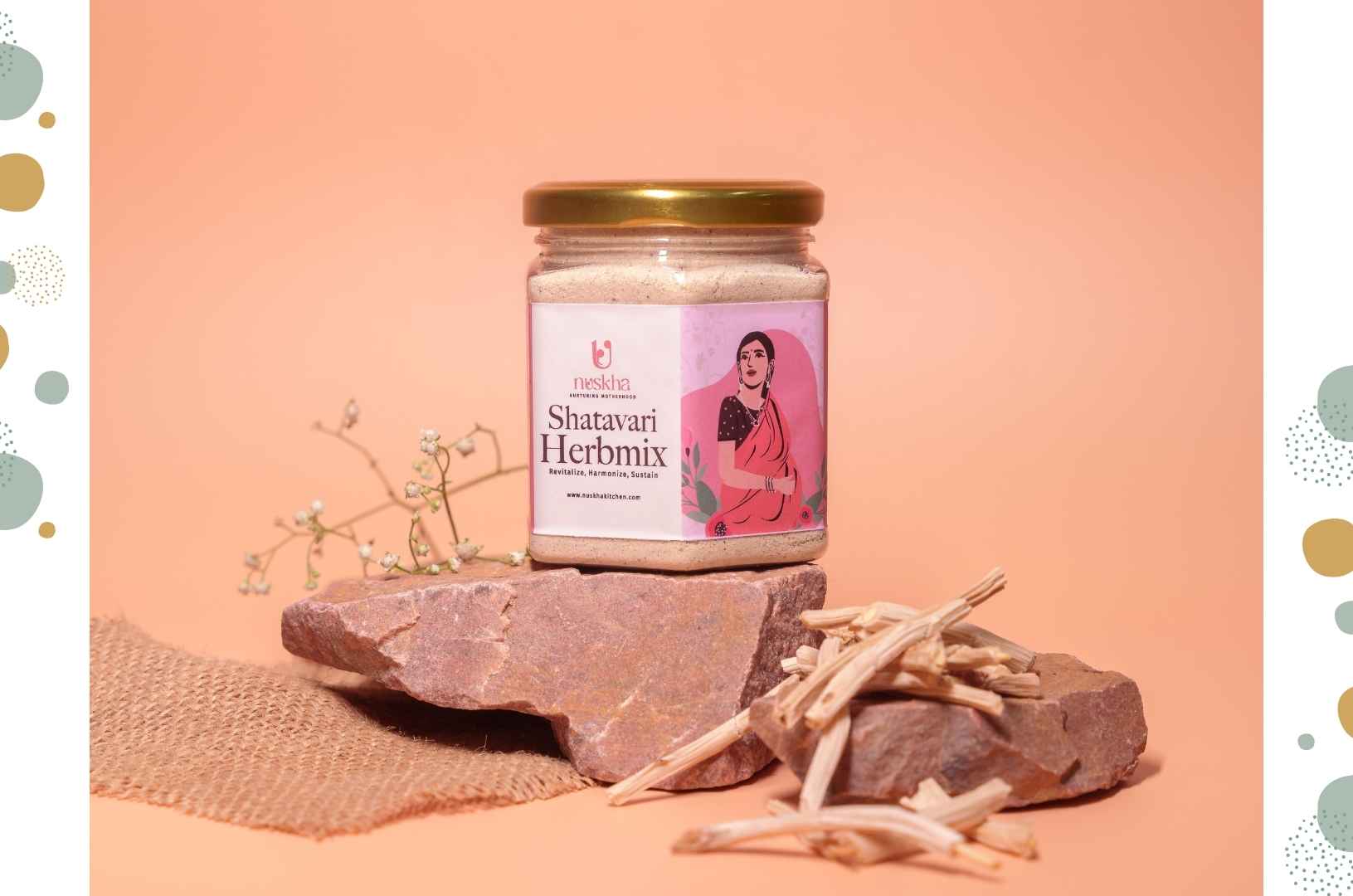 To ensure a safe and healthy pregnancy, you need to take care of the would-be-mother from the 1st month of pregnancy. During this time, hormones are fluctuating, and emotional well-being requires special care. Our Shatavari Herb mix helps in keeping the hormones in check. You can use this product from the 1st month of pregnancy to the post-pregnancy diet. This herb belongs to the family of asparagus and maintains the oxygen level in the body.
ShankhPushpi Brahmi Herbmix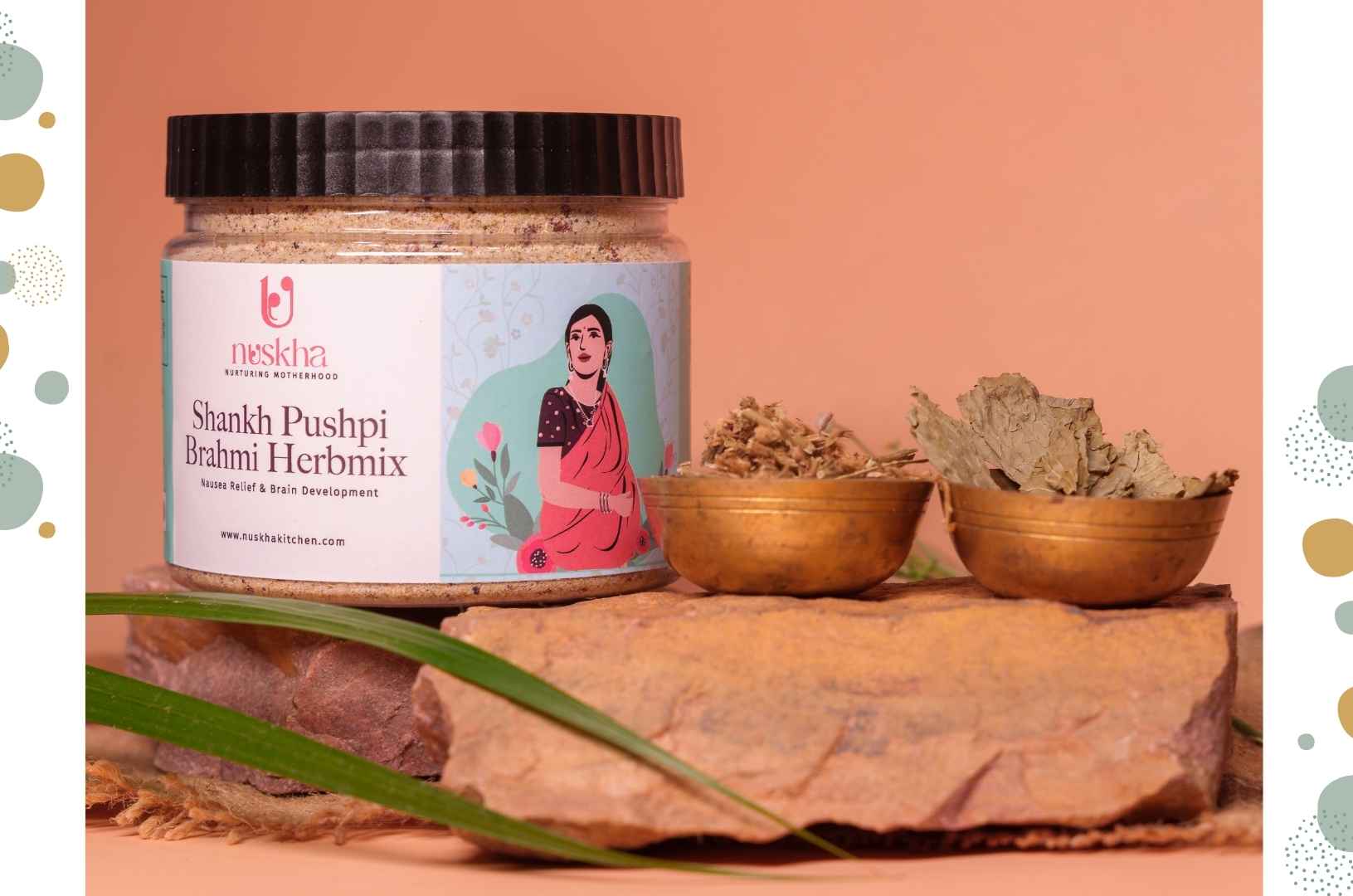 Along with providing relief to the mum, if you want something that supports the development of the baby then ShankhPushpi Brahmi Herbmix should be top on your list. It is formulated in such a way that it promotes the brain development of unborn babies. Also, it keeps your body cool and maintains natural temperature. Besides this, it releases anxiety and stress which makes it ideal for pregnant women's well-being.
Garbhavastha Guide Book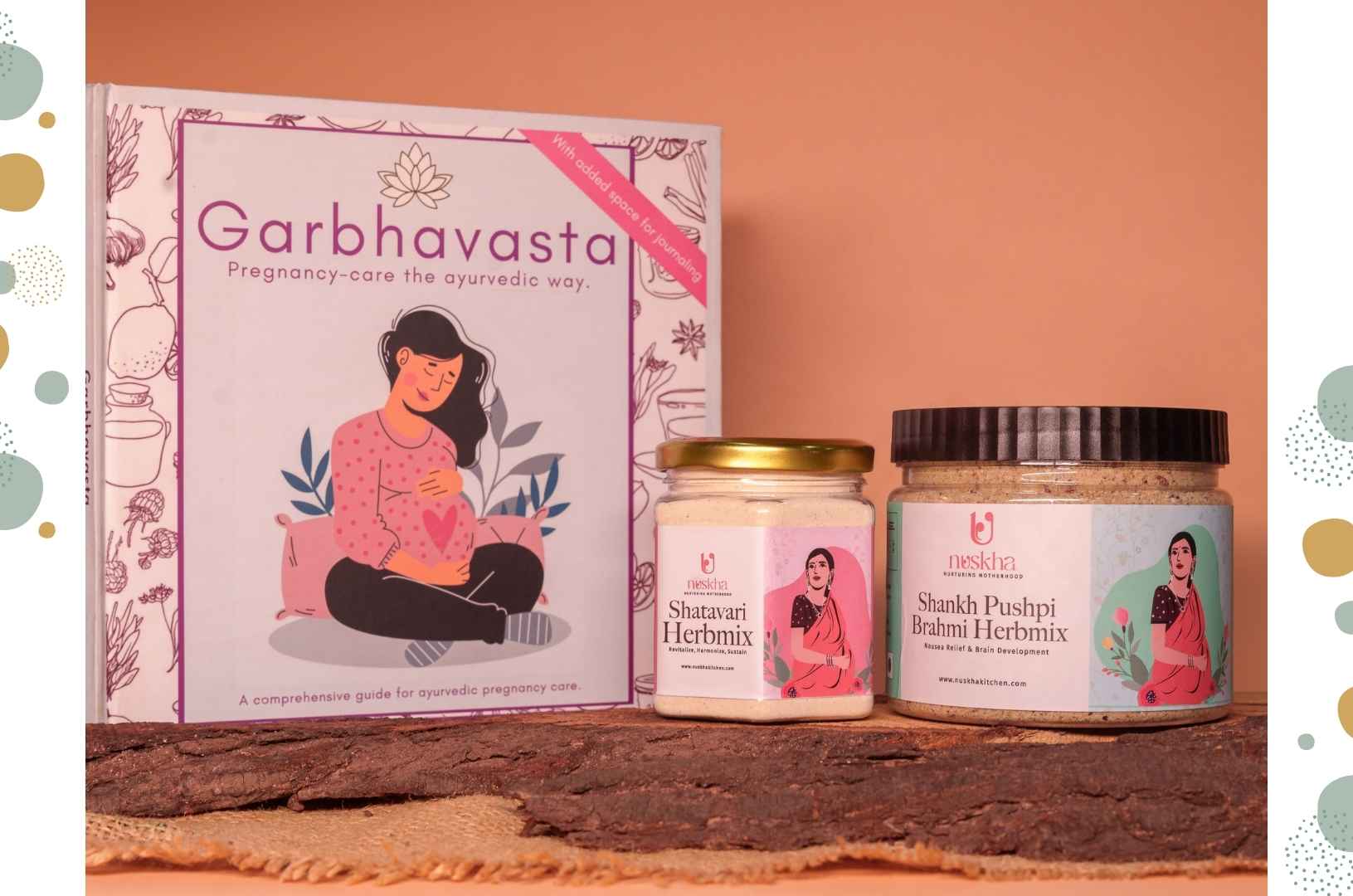 Apart from a healthy and nutrition-rich diet, proper guidance is a must for pregnant women that allow you to get guidance and leading during pregnancy, especially the initial stage (1st-4th month). This is enriched with information regarding diet, mental health, physical health, and other healthy habits. This would answer all your questions in one place.
Oats Ladoo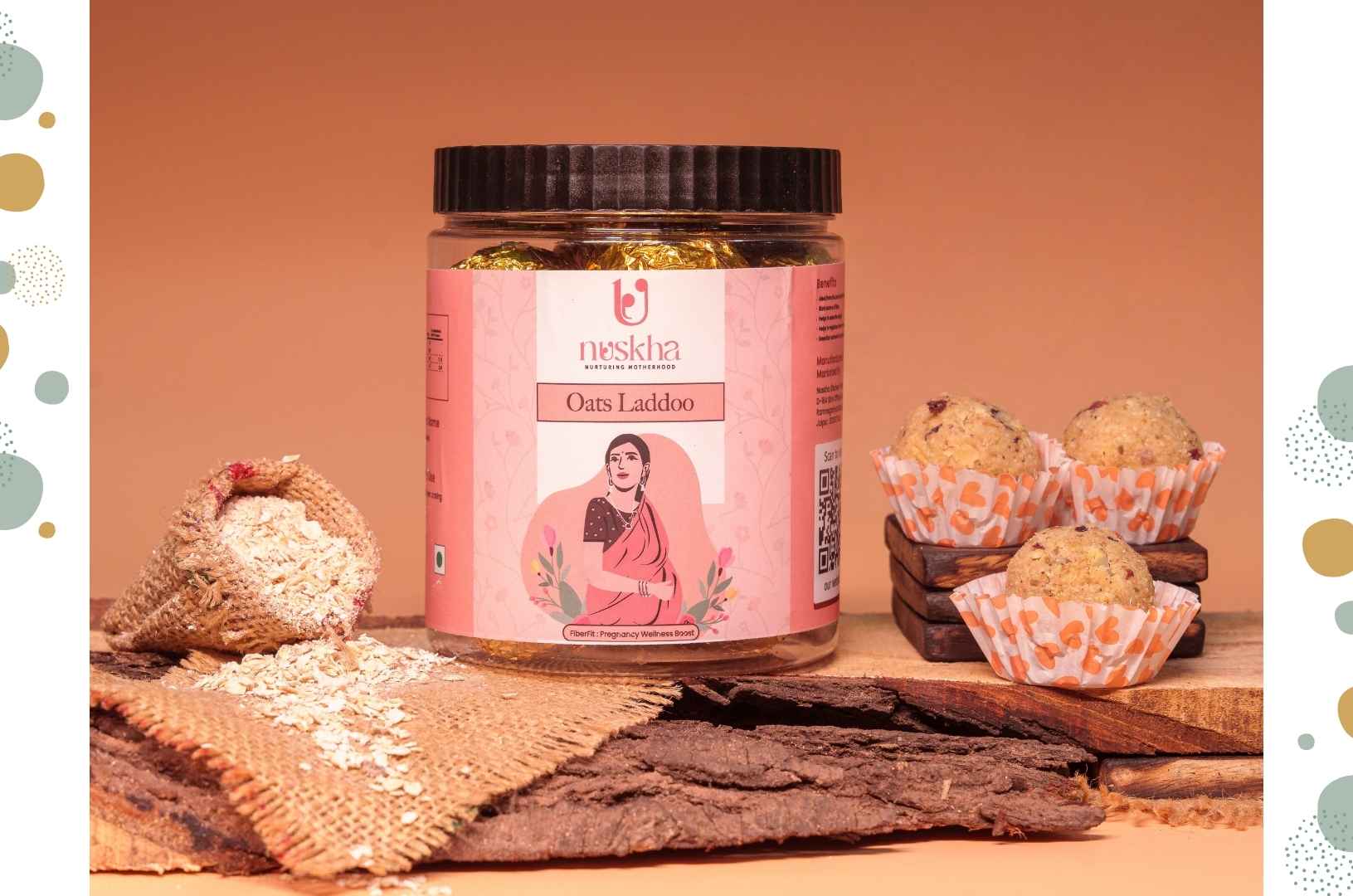 From the input of Ayurveda books, we have brought the most nutrition-filled snacks Oats Laddu for would- be-mum. Pick this snack for 2nd month, 3rd month, and 4th month of pregnant women's care. It is loathed with ingredients like cardamom, fennel, high-quality oats, ghee, and many more. To enhance its aroma we put a dash of rose. It promotes healthy weight, vitamins, and other healthy elements.
Ragi Laddoo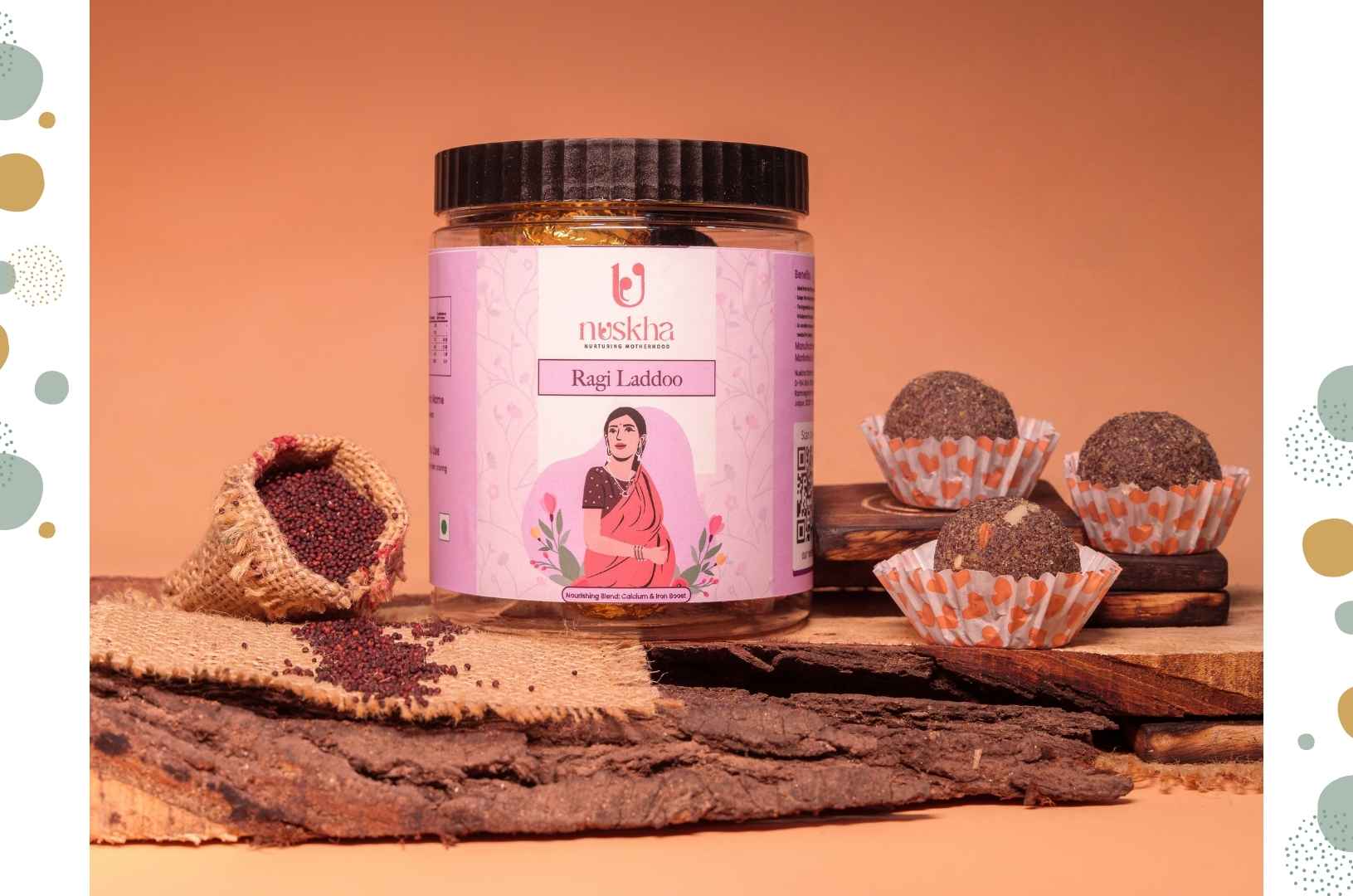 Blessed with nutrition properties, our ragi laddu is prepared with the most authentic method. To tackle mood swings and unwanted cravings, include this magical dish in the pregnancy diet. Ragi laddoos are a great source of calcium and iron that make you energized and healthy. Also, its fiber content supports digestive health. You can also choose them to consume after a post-workout during the early days of pregnancy.
Peanut Coconut Laddoo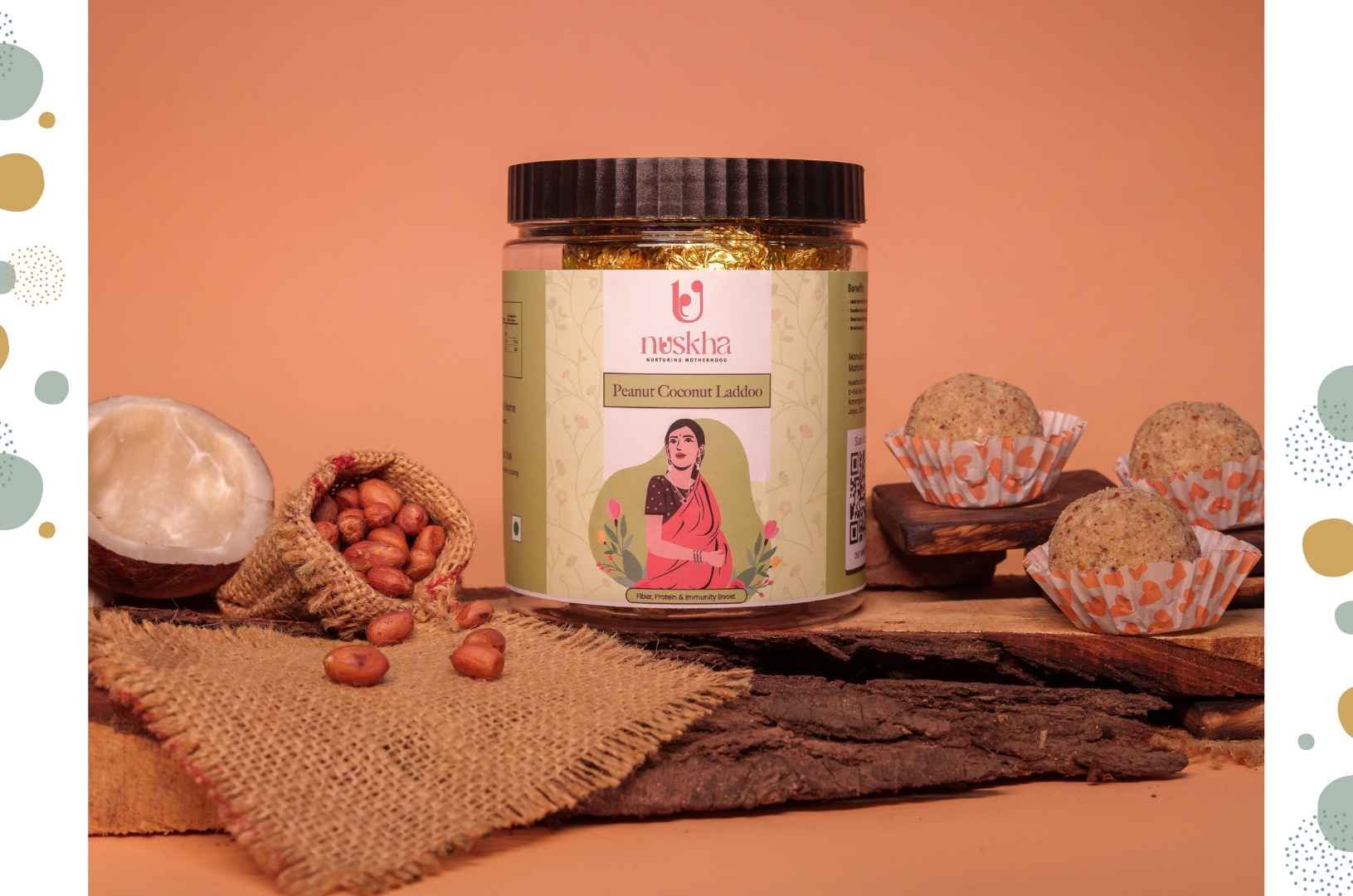 Enriched with the nutrition of peanuts, these Peanut coconut laddu are perfect for those who are seeking an alternative to a healthy diet. Its protein and fiber relish energy for an entire day. It also boosts immunity while maintaining health. Further, it provides a mouth-watering taste, owing to which you can include this one for your mid-day snack or as a main diet, especially in pregnancy diet plans.
Chana Laddoo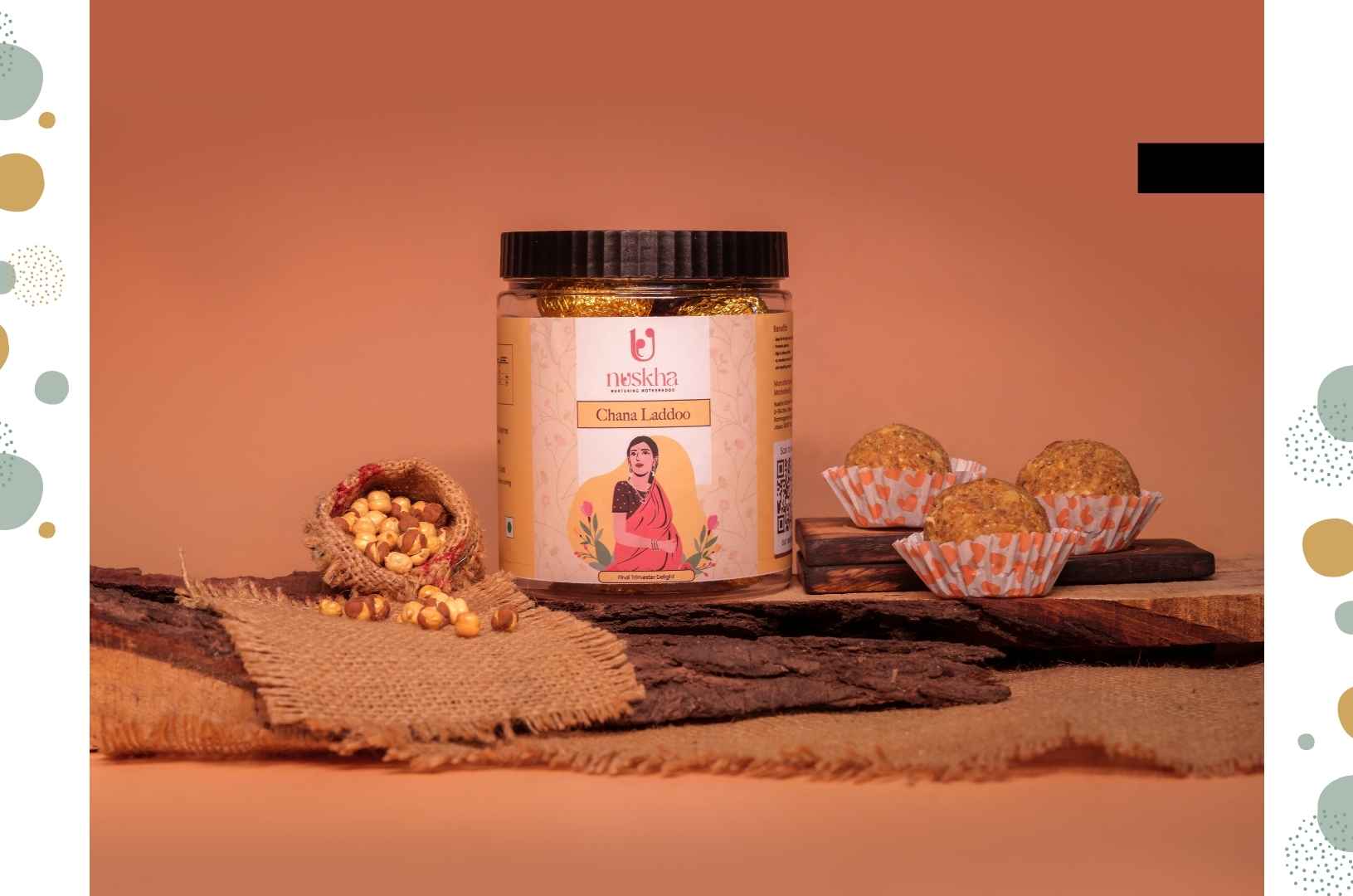 This Chana laddu is specially prepared for those women who struggle with constipation issues on a regular basis. Its major element chana promotes digestive health and provides relief on a daily basis. It strengthens your gut health while also providing energy. With these snacks, you can also support muscle repair which makes it essential for pregnant women especially post-pregnancy diet.
Amla Candy (Two flavors)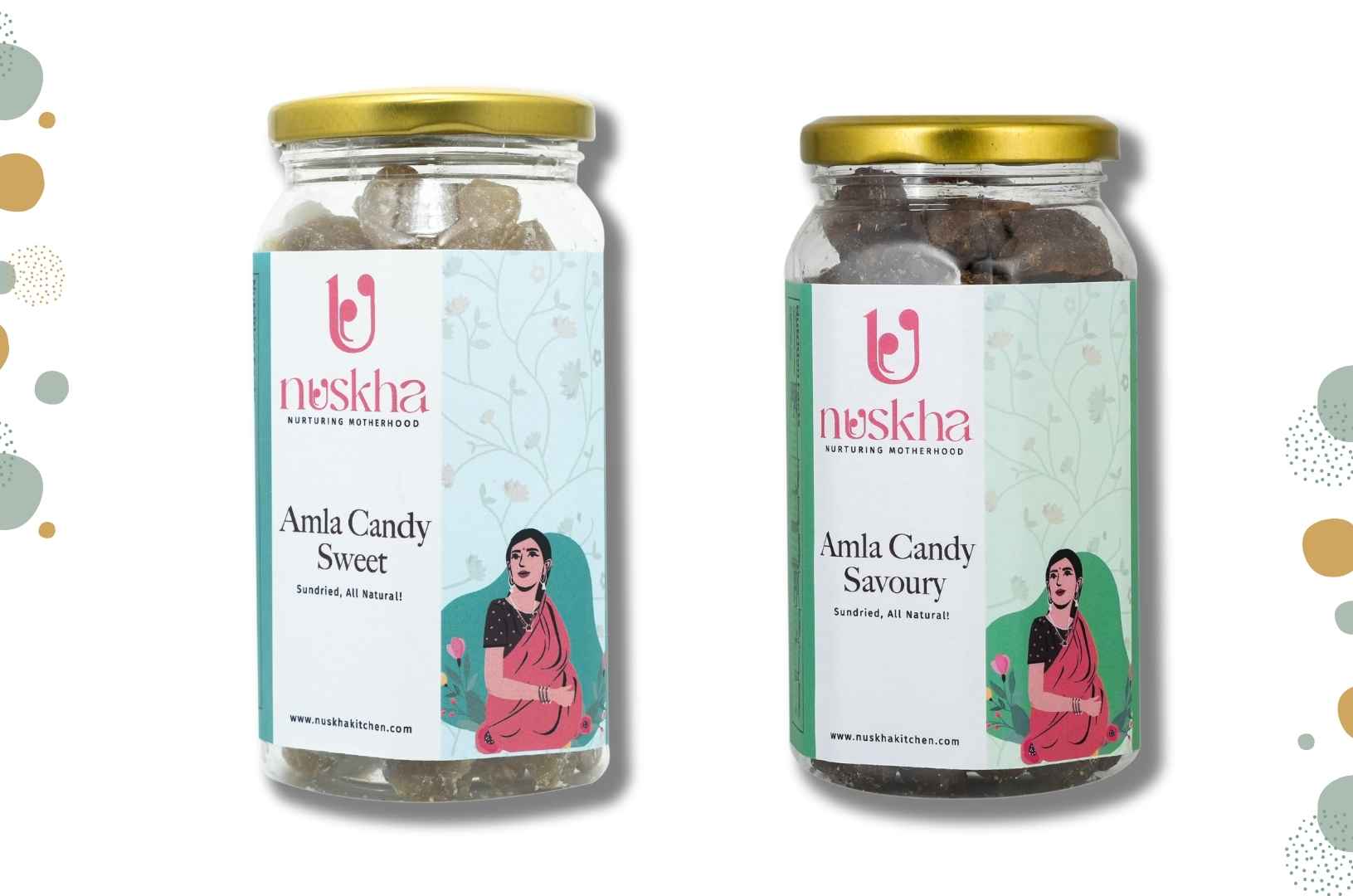 Every woman is different and craves different tastes. In order to cater needs of all women, we have introduced Amla Candy with two mouth-melting tastes- Amala candy sweet and Savoury. This pregnancy snack is blessed with pure amla, black pepper, salt, and mishri. Apart from its delicious taste, this product maintains hemoglobin levels and fastens Vitamin C absorption. Satisfy your sweet as well as spice cravings from the 4th month to the 8th month.
Gulkand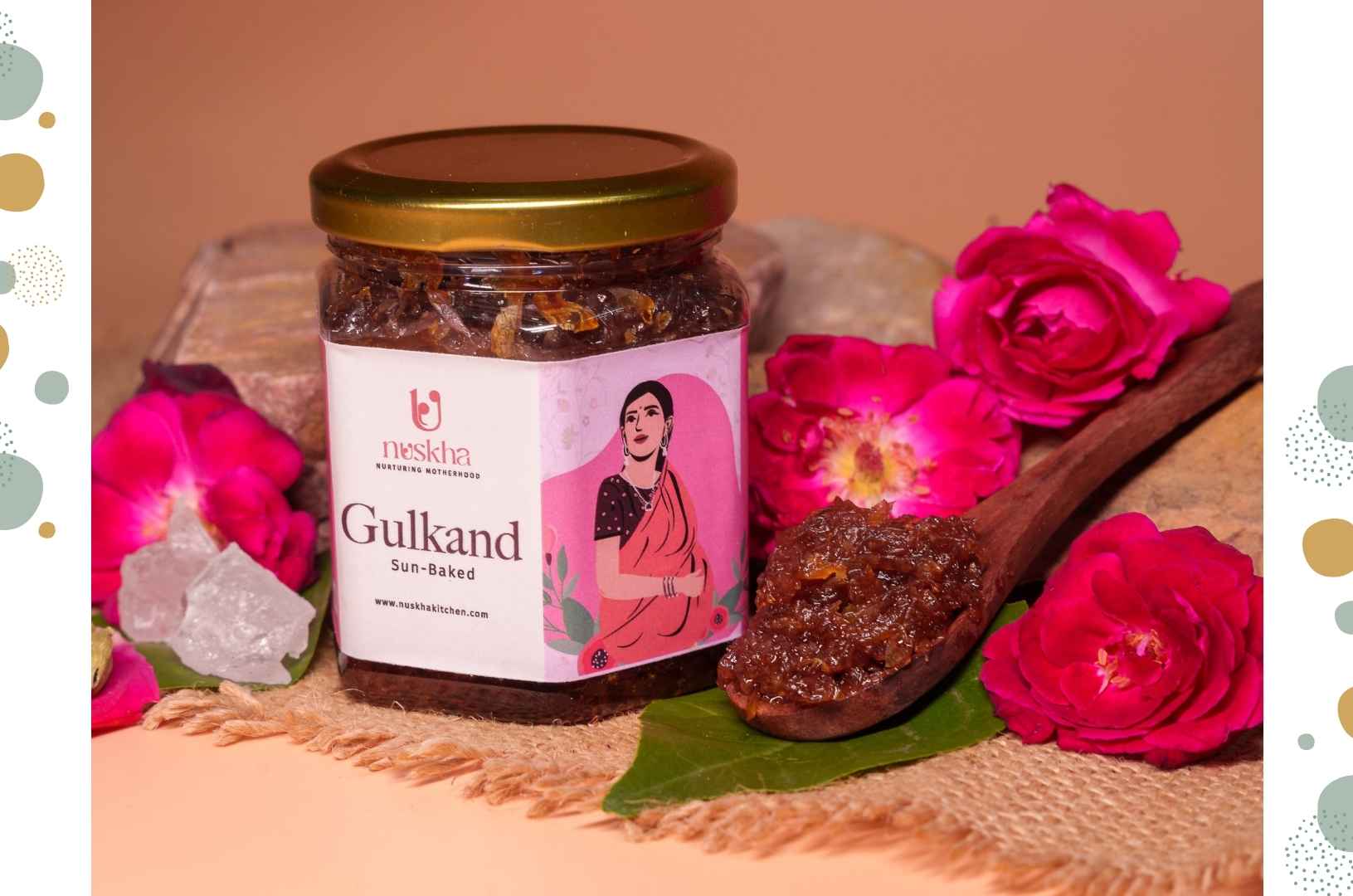 With the coolness of isabgol, mishri, and rose, this product is highly recommendable to women with constipation issues. Owing to its strong properties, it should be used during the 7th and 8th months of pregnancy diet. With the goddess of Ayurveda, this Gulkand is the most useful natural remedy against constipation. You can use it several ways, either consume it raw or mix it with other products like milk, and drinks.
Isabgol Herb Mix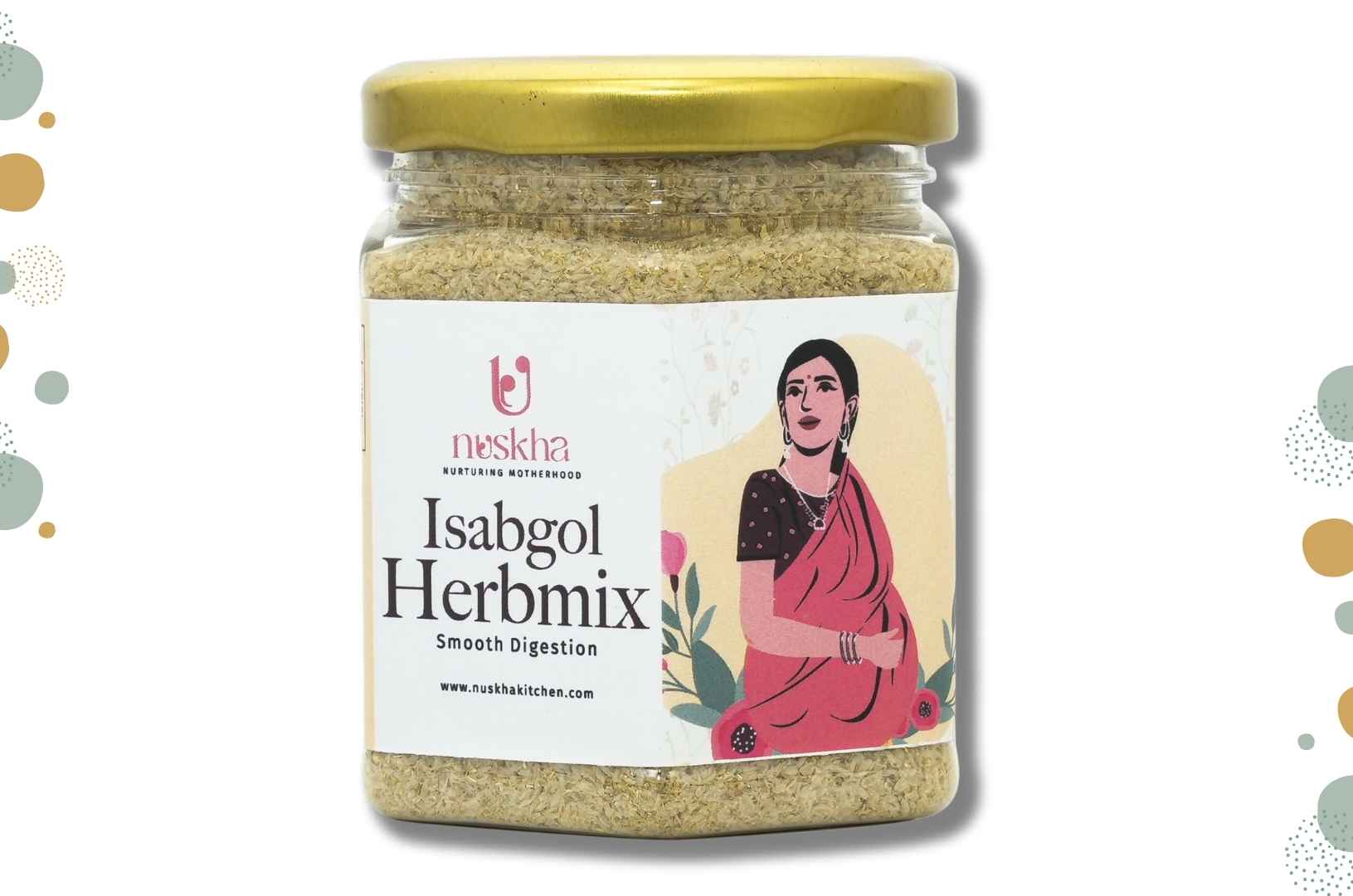 Constipation is usual for pregnant women yet it affects the gut health. In order to resolve the issue, we are enchanting our productive category with Isabgol Herb Mix. It is highly effective in providing relief against constipation and smooth bowel movements. This is a natural herb that is safe to consume for pregnant women.
Amla Murabba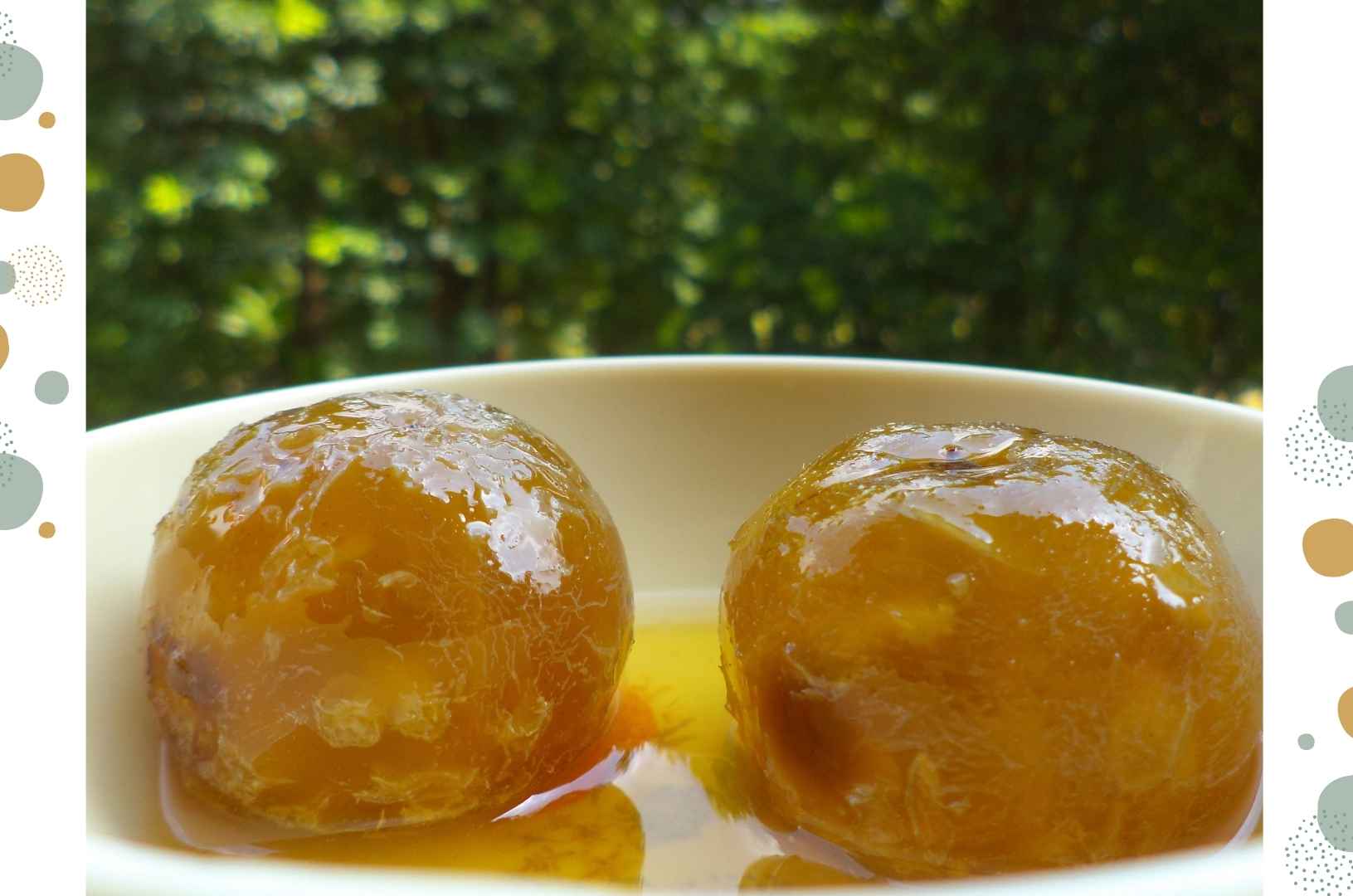 Amla Murabba is a natural, ayurvedic product ideal for pregnant women in their 4th to 8th month of pregnancy. Packed with nutrients, it is essential for a healthy pregnancy diet plan and helps the body absorb iron, which is vital for increasing hemoglobin levels. This product is also rich in vitamin C, which boosts immunity and overall health.
Stretch Marks Oil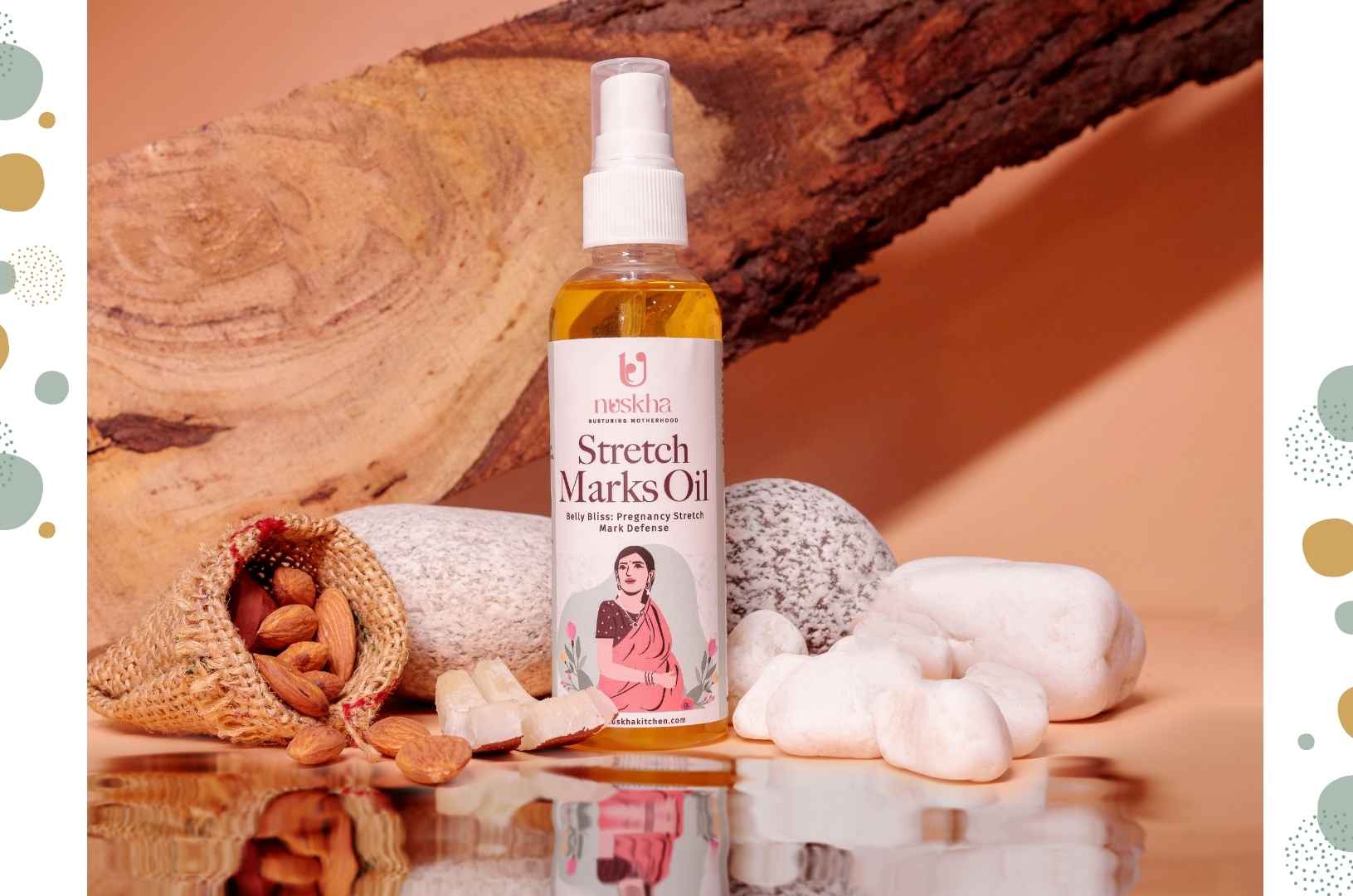 This stretch marks oil is a perfect solution to maintaining healthy skin for mothers and would-be mothers. You can use it from the 4th month of pregnancy. It eliminates the stretch marks and prevents it from reappearing. For women's care, you can use it on a regular basis. We use natural elements that make the product easy to use and safe. It will make your pregnancy journey more comfortable, especially for dealing with stretch marks.
Dana Methi Herbmix
Nothing beats the Dana Methi mix for a morning detox. This is a blend of methi, alsi, ajwain, fennel, jeera, Shatavari, shankhpushpi brahmi, and isabgol. With this product, you can ensure women's well-being as it promotes metabolism and prevents constipation. You can use it from the 9th month of pregnancy to the post-pregnancy diet in order to reduce obesity and balance nutrition.
Post-pregnancy products

Ajwain Laddoo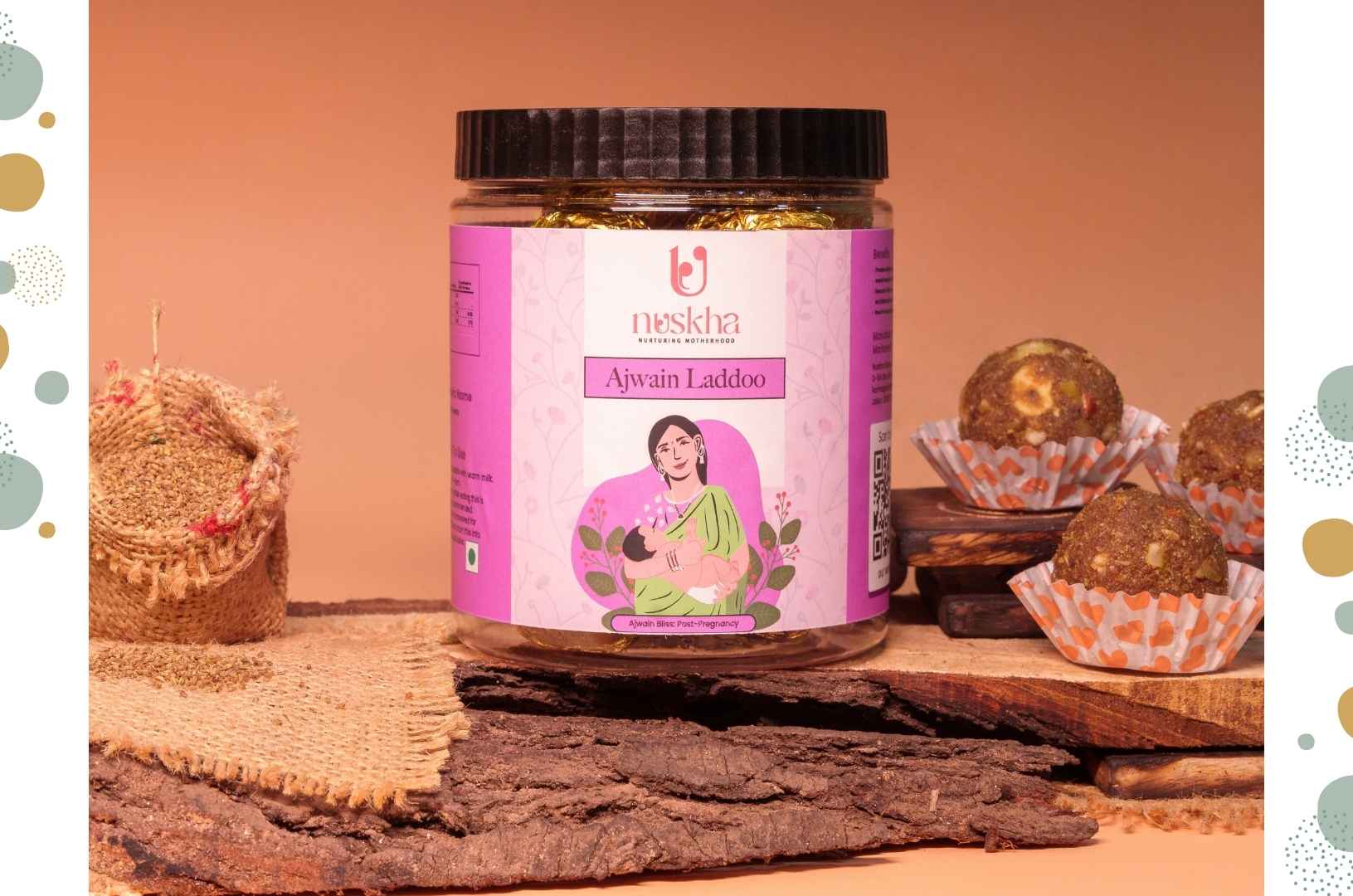 Ajwain is one of the strong spices in Ayurveda that is famous for its medical properties. Ajwain laddu is the best dish to include in a post-pregnancy diet. It eliminates the pain and promotes the healing process. With its anti-inflammatory properties, it promotes the digestion system, clears the uterus, and maintains women's health. You can consume it as a sweet treat after a meal.
Kaifal Powder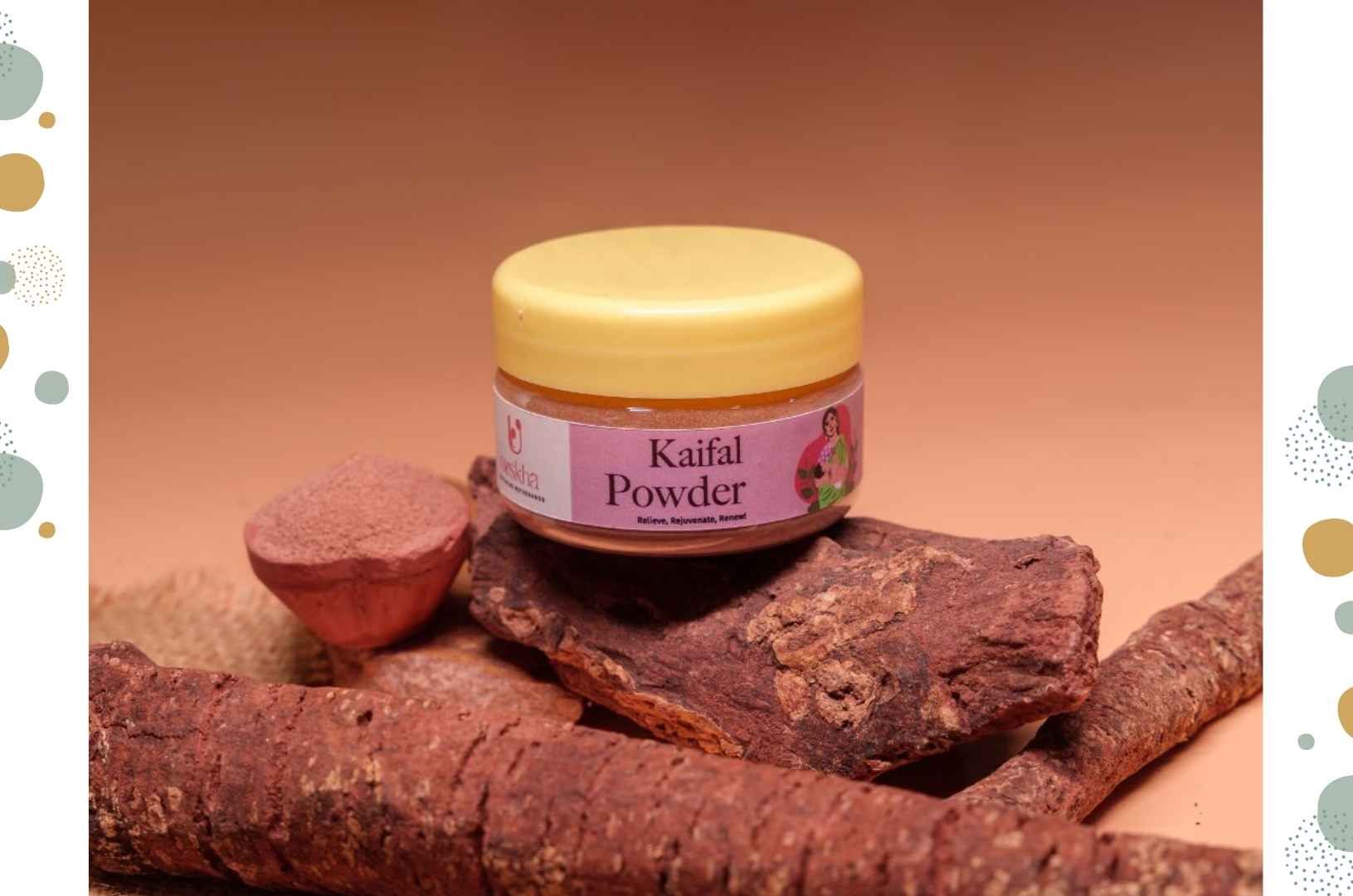 Kaifal Powder is specially made for new mothers as post-pregnancy care. Usually, new mums face migraines and headaches which can be soothed with this massage powder. Its natural ingredients soothe stress by promoting blood circulation. Do not miss the special care that every mother deserves after childbirth.
Sonth Laddoo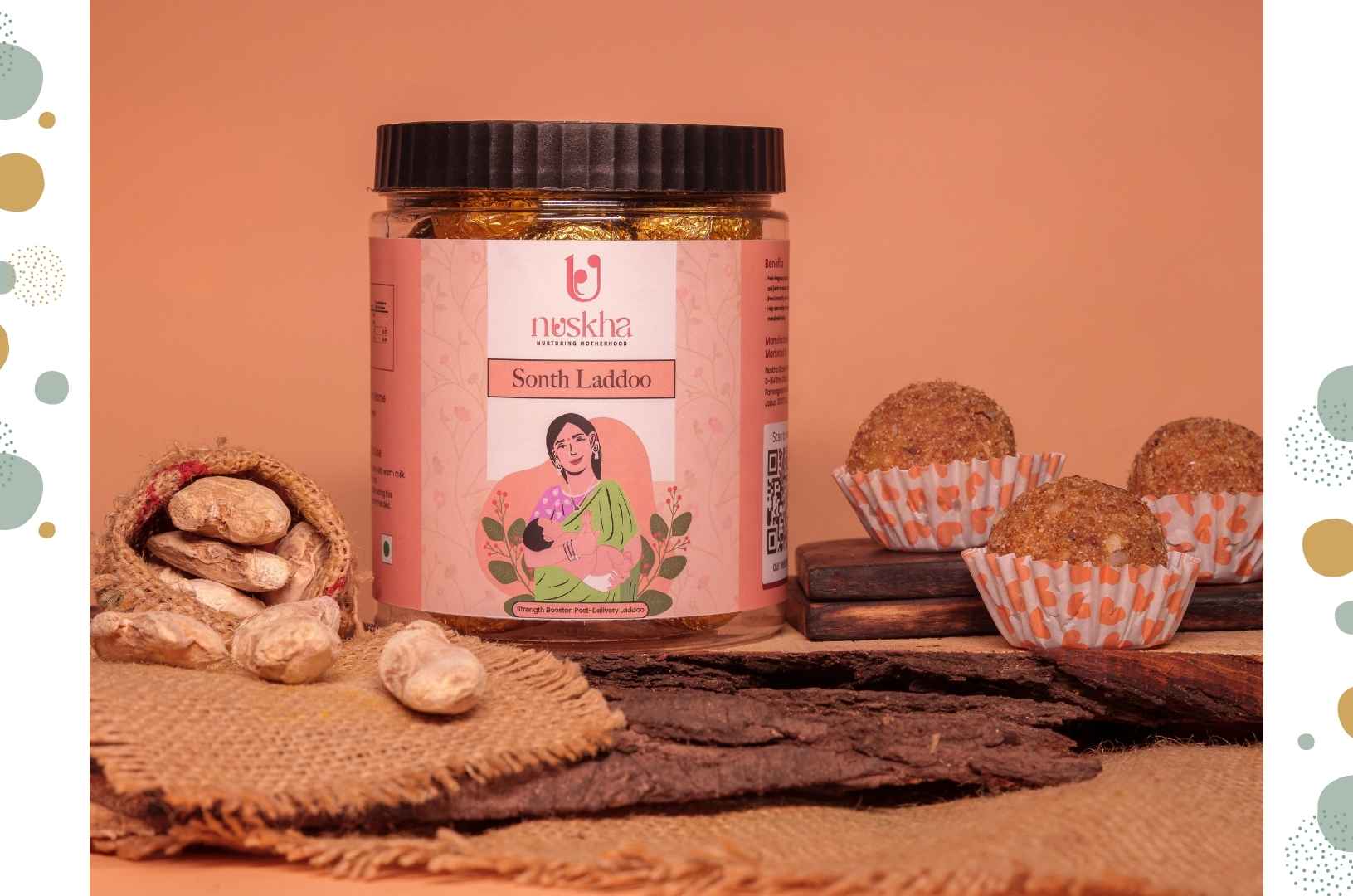 Highly nutritious and enriched with many benefits, Sonth Laddoo is one of the most delicious dishes for a post-pregnancy diet plan. It is the nourishment of your bones and joints along with balancing vata dosha. This is a must to add snacks for post-pregnancy care.
With high-quality ingredients and elements, these laddoos are packaged with antioxidants and antibiotics. It supports immunity as well as purifies the blood. Further, haldi is known for its healing features that provide relief in outer and inner wounds. It also improves the quality of milk.
Haldi laddoo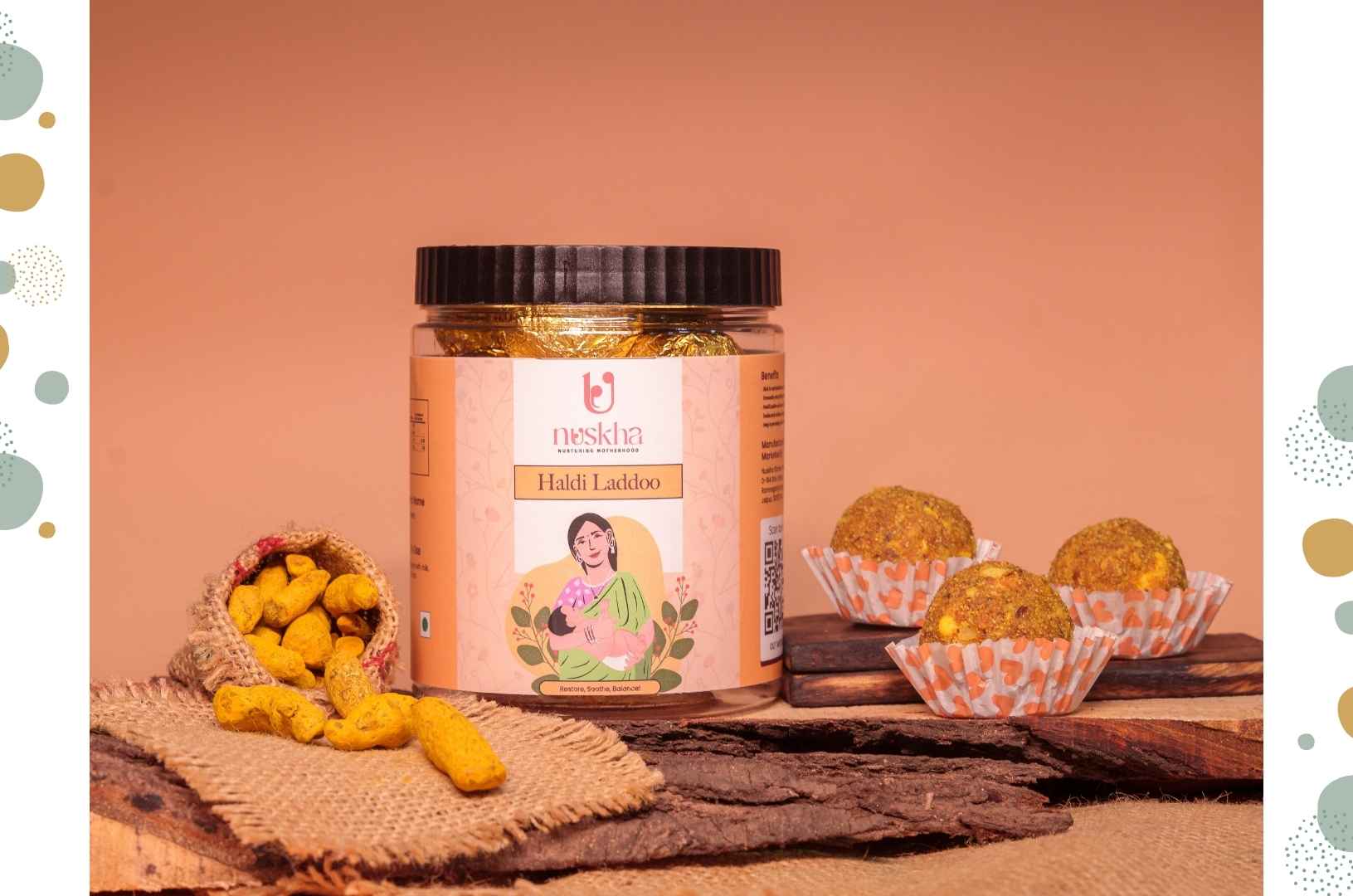 Wrapped in the blessing of Haldi, these Haldi Laddoos are specially made for postnatal care. This jappe ke laddoo provides a strong immunity system while washing toxins from the blood. Its high quantity of antioxidants and antibiotics ensures the mother is safe from frequent illness. With the richness of Haldi, enjoy this delicious dish while also ensuring women's care. You can add this dish to your daily snacks or as dessert.
Dashmool kaadha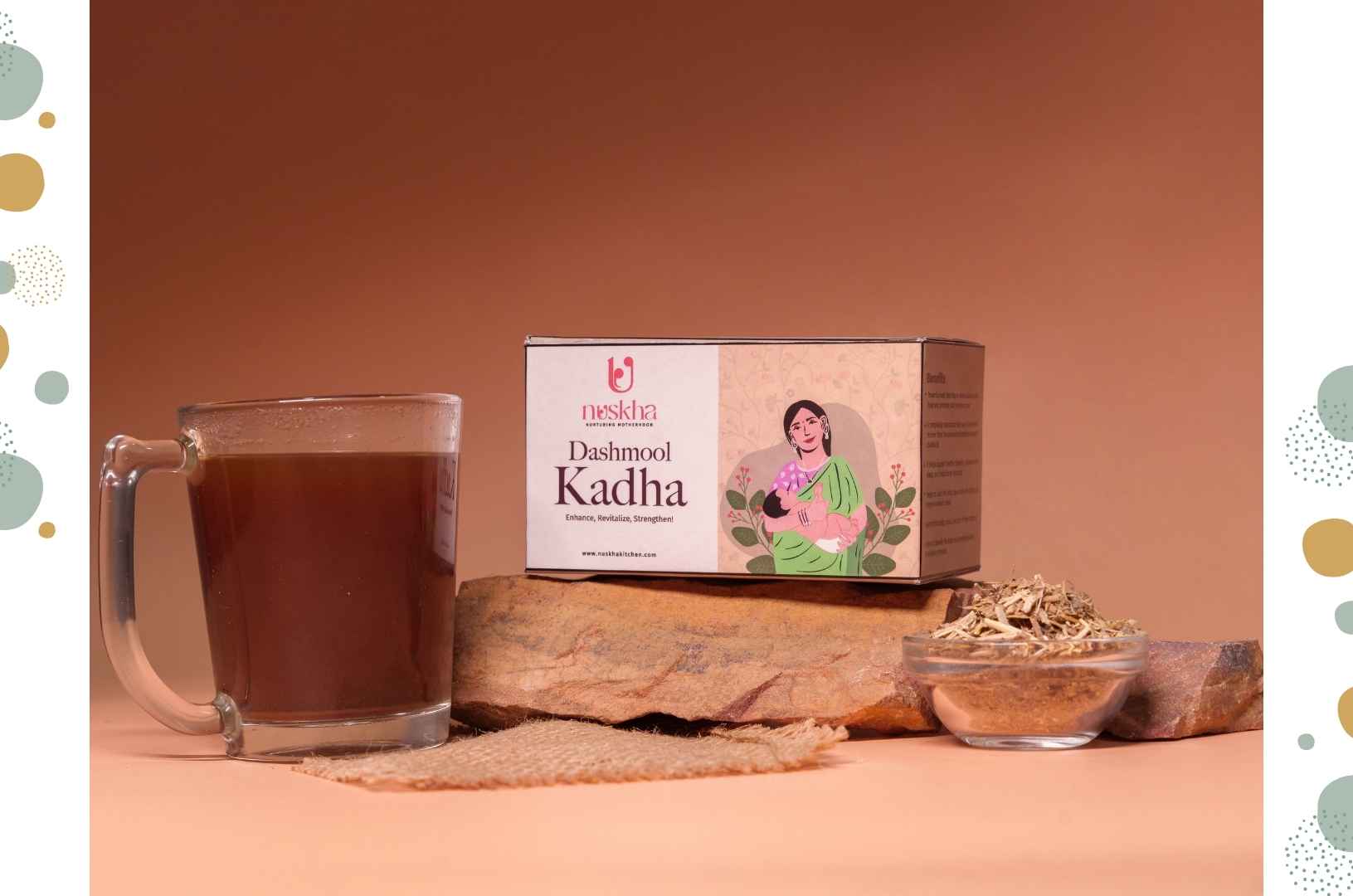 One of the best Ayurvedic solutions for post-pregnancy care. Dashmool is a powerful herb that is a blend of ten natural roots. It has the potential to bring balance to the Vaat, Pitt, and Kaph dosh while promoting women's care after pregnancy. We have prepared this Dashmool kaadha product with a method suggested by Ayurveda which ensures its authenticity.
Lodh Panjiri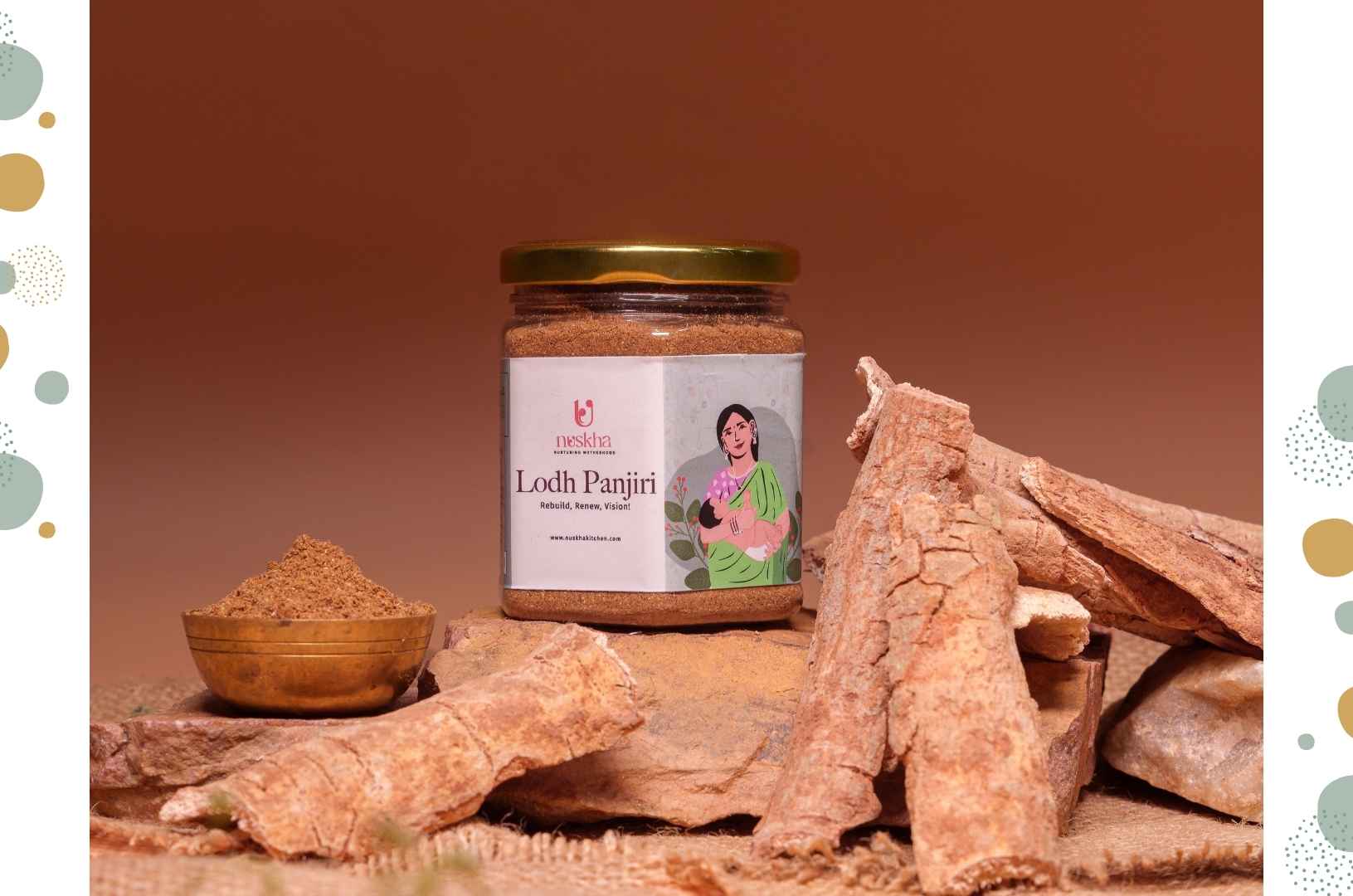 Another product that directly affects reproduction and hormonal health. The product of Lodh Panjiri is prepared with jappa methods that ensure women's well-being. It enhances the uterus' health and balances the hormones in the body. Apart from this, mothers could use it for improving eyesight. With us, you can ensure a high standard and pure quality product.
Battesa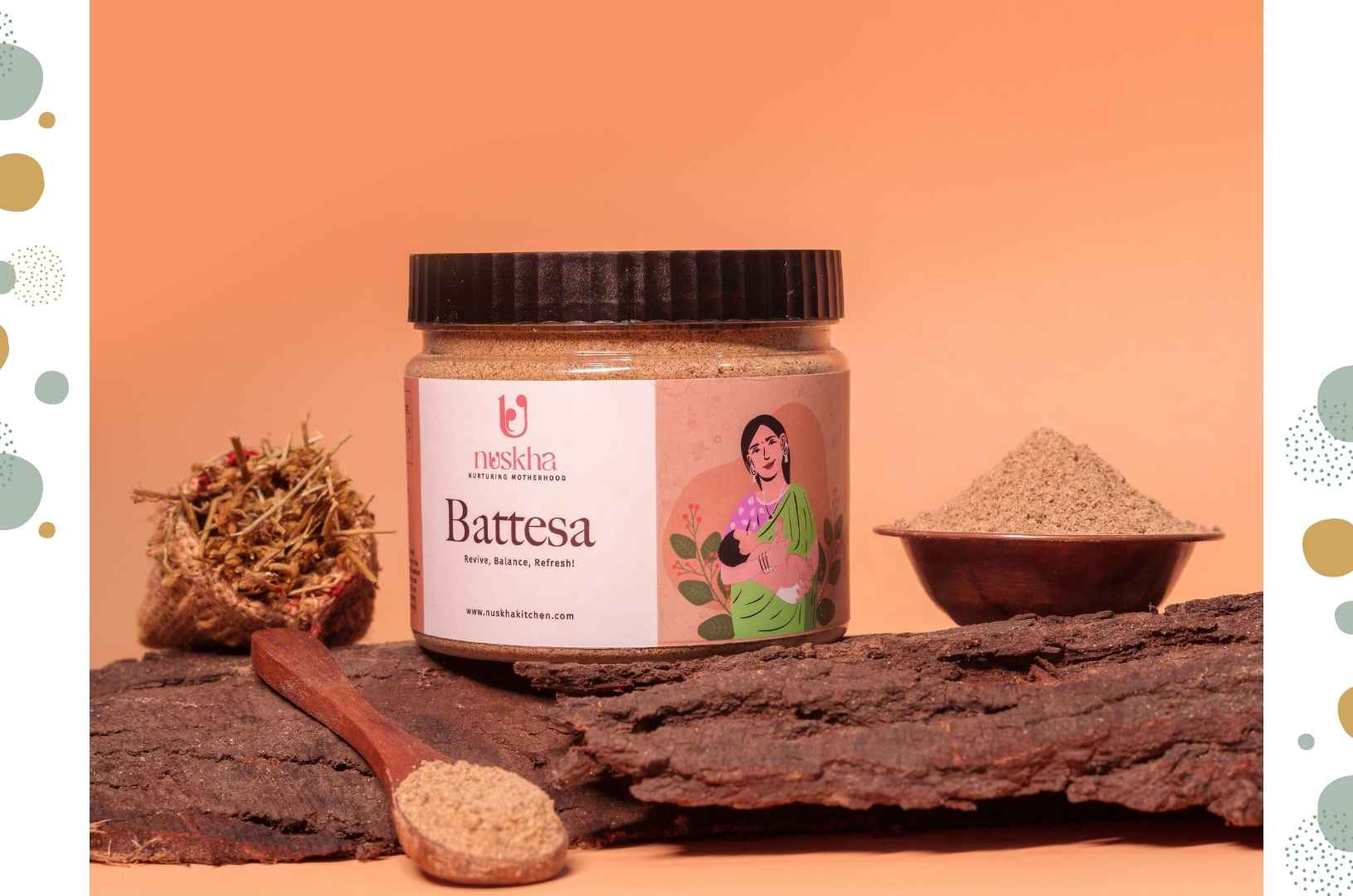 With a blend of 32 herbs, this Battesa is specially produced for Ayurvedic solutions to specific body areas and their problems. It features ingredients like Kamarkas which provide relief for back pain. On the other hand, Safed Musli strengthens the bones and joints while Ashwagandha is responsible for full body recovery. Also, Gokhru and Chilni Supari support the reproductive health of women. Thus, it is highly usable for women's overall well-being. So do not be afraid to include this into your daily routine after pregnancy.
Gond laddoo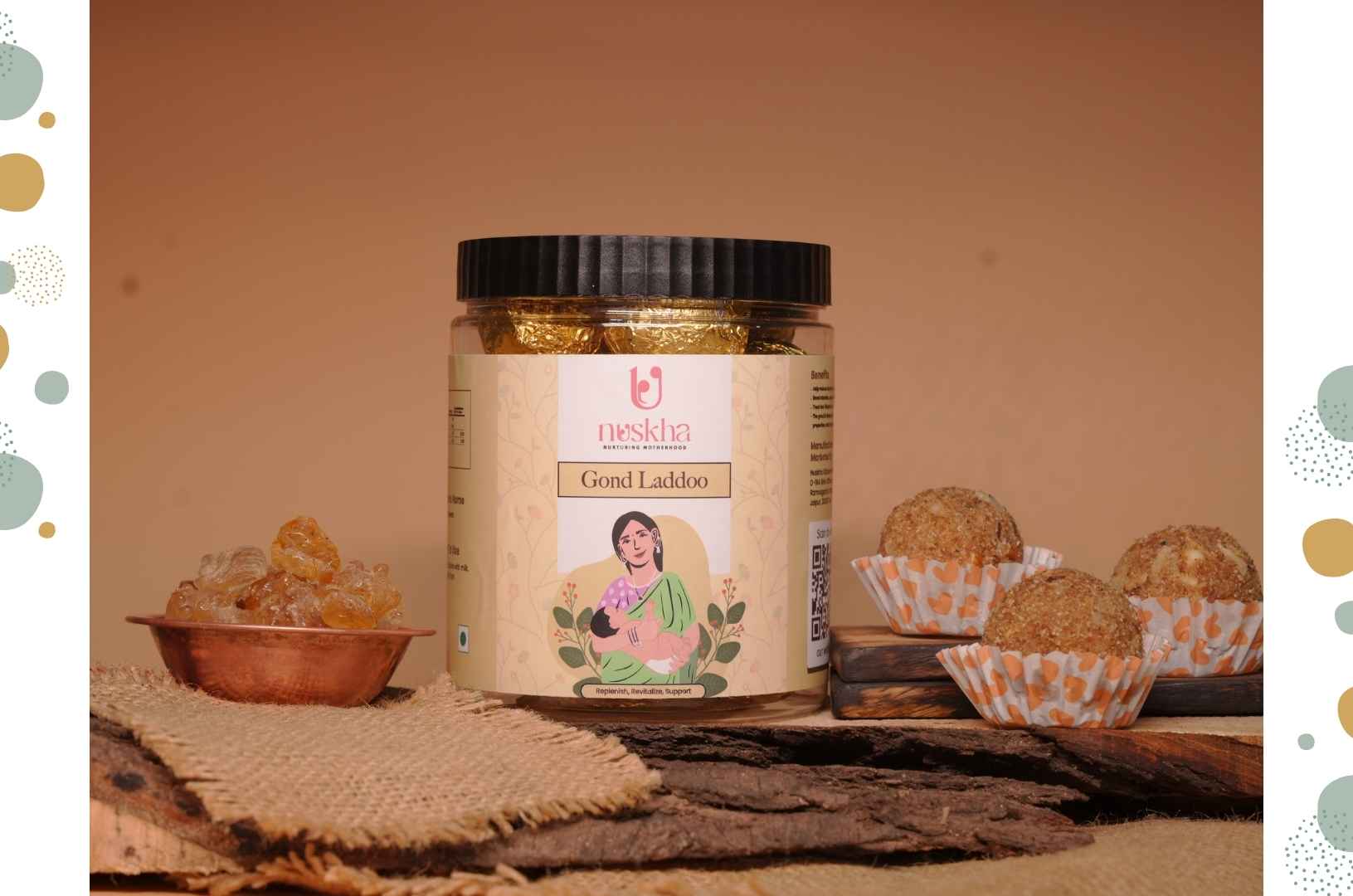 The perfect treat for post-pregnancy time for maintaining women's health. A blend of various nourishing ingredients, Gond ke laddoo supports overall health while reducing pain after pregnancy. It also enhances stamina, and good health and maintains the optimum level of Vitamin D. Include this delicious and delicate gond ke ladoo in your daily post-pregnancy diet to ensure that you recover fast.
Panchmool Massage oil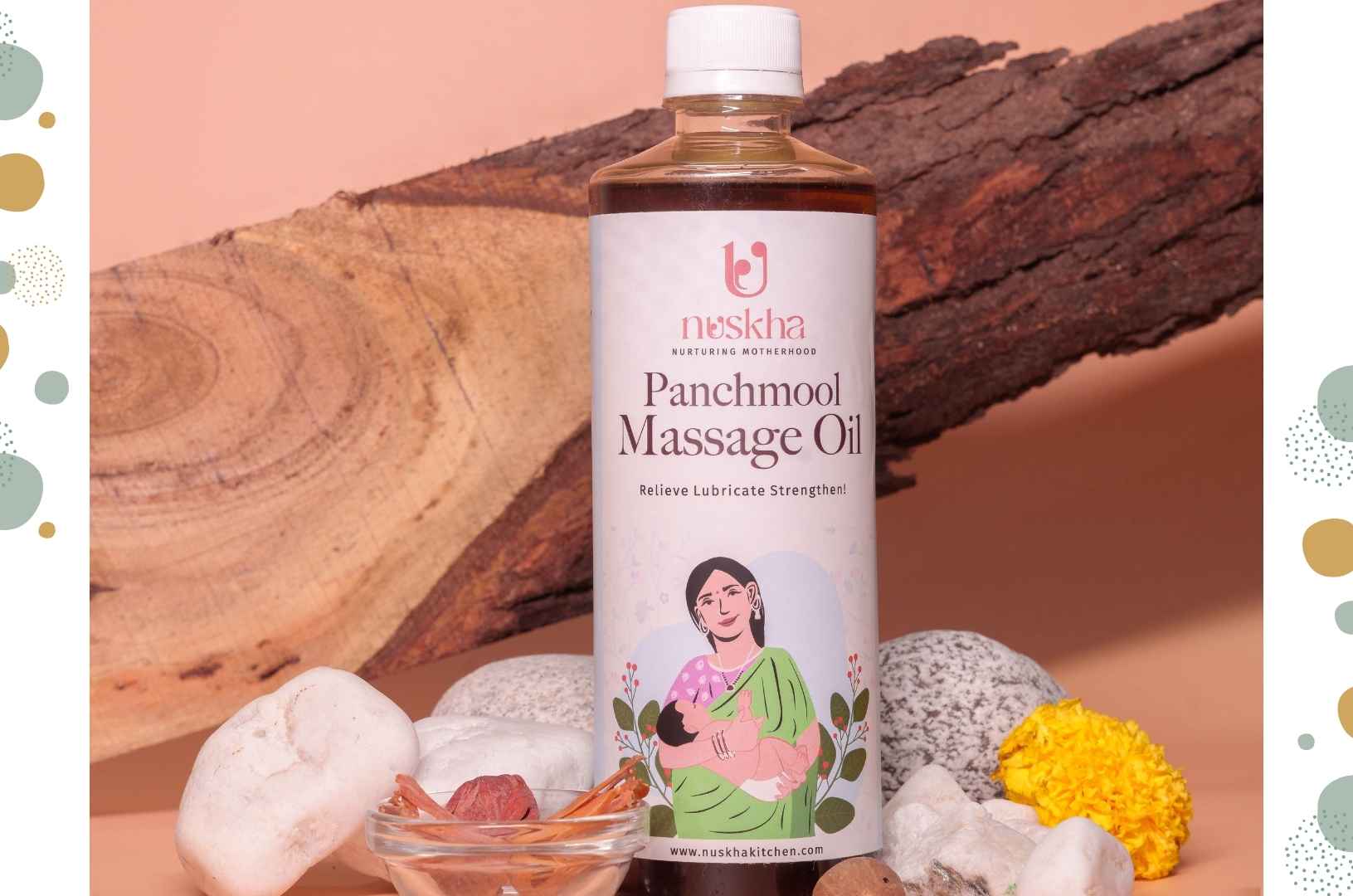 Weakness in joints and back is very common after childbirth. With our Panchmool Massage oil, you can ensure stronger bones. It reduces back pain and enhances joint lubrication. This oil is made of natural ingredients and prepared with traditional and authentic methods. With this oil, you can make sure that your overall health is secured and supported as this after-childbirth recovery is majorly required.
Dana Methi Herbmix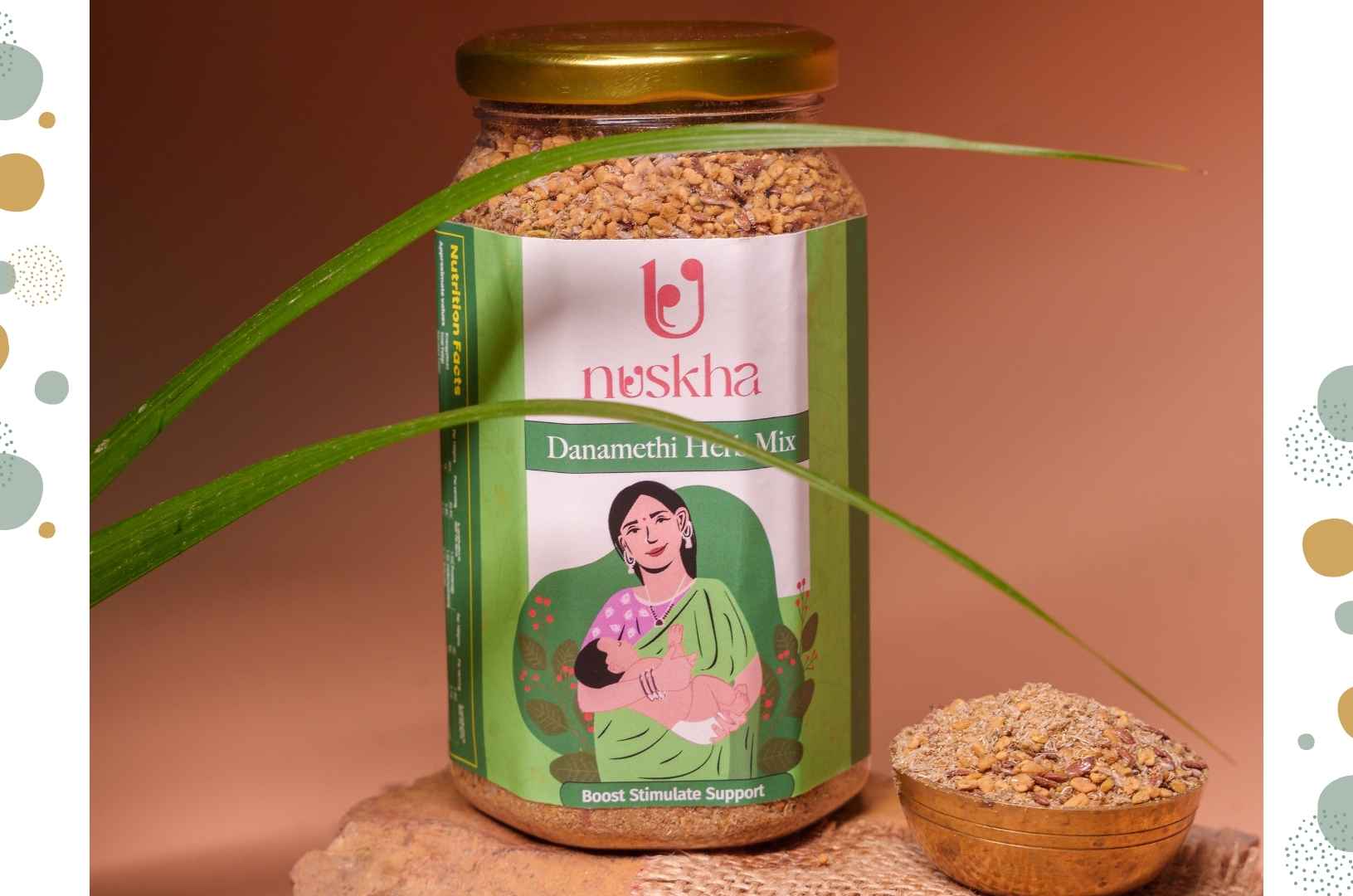 To supper women's well-being, gut health is a must. After childbirth, new mums normally feel issues of constipation as many changes occur in the body. With Dana Methi Herbmix, a woman can ensure that her gut health is secured and supported. This traditional herb also helps in losing weight which is a major issue for new mothers. To reduce the obesity that occurs post-pregnancy. This is one of the best products to bring balance to gut health after childbirth.
Jeera Herb Mix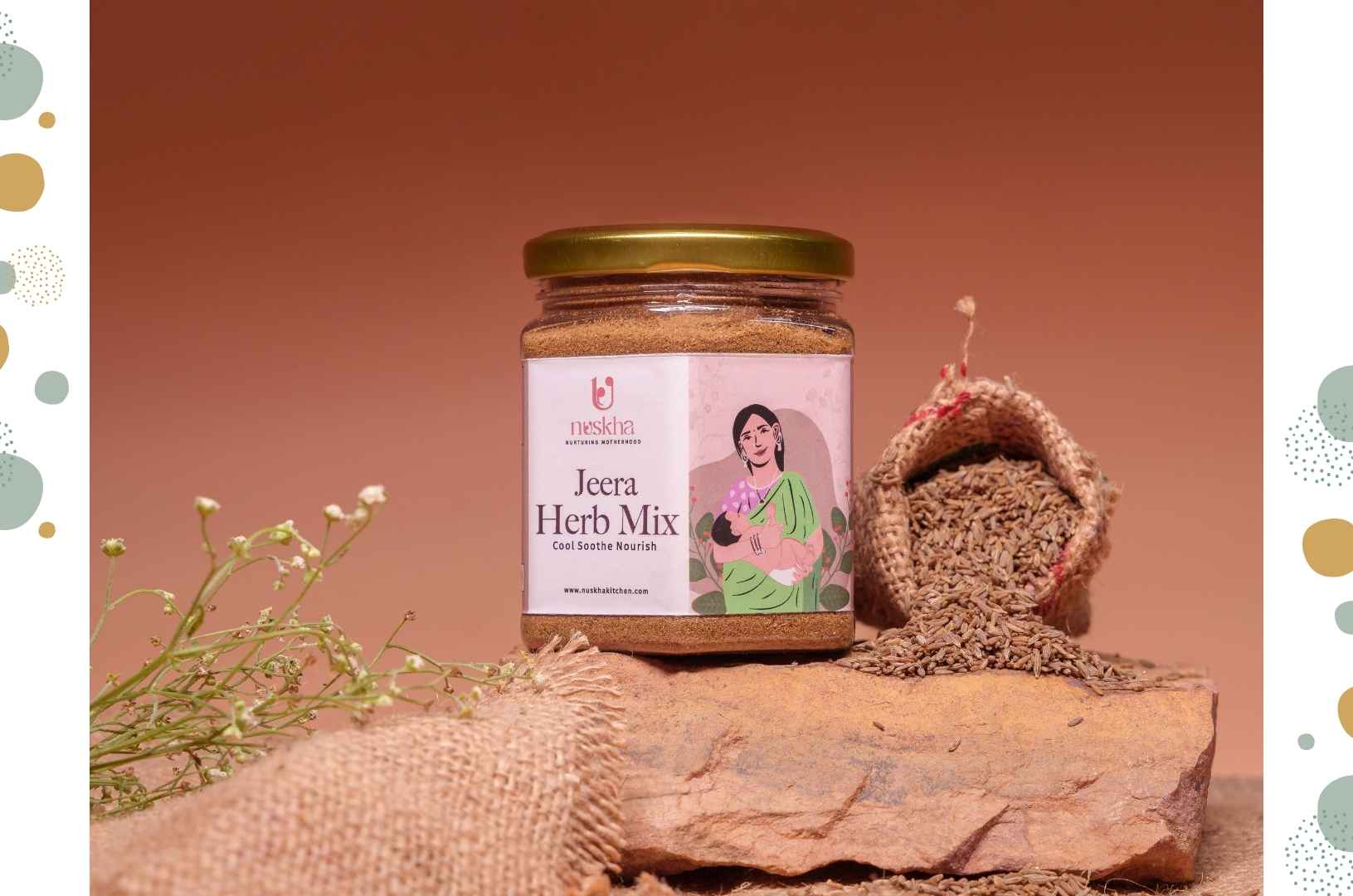 For new mothers, lactation is an important ingredient as it keeps the quality of milk in check and also supports milk production. In order to fulfil this requirement, you should mix Ayurvedic and high-quality Jeera herb mix. It also maintains the temperature of your body. This product is essential to add to postnatal care as it is the most safe way to promote milk production.
Peepal Powder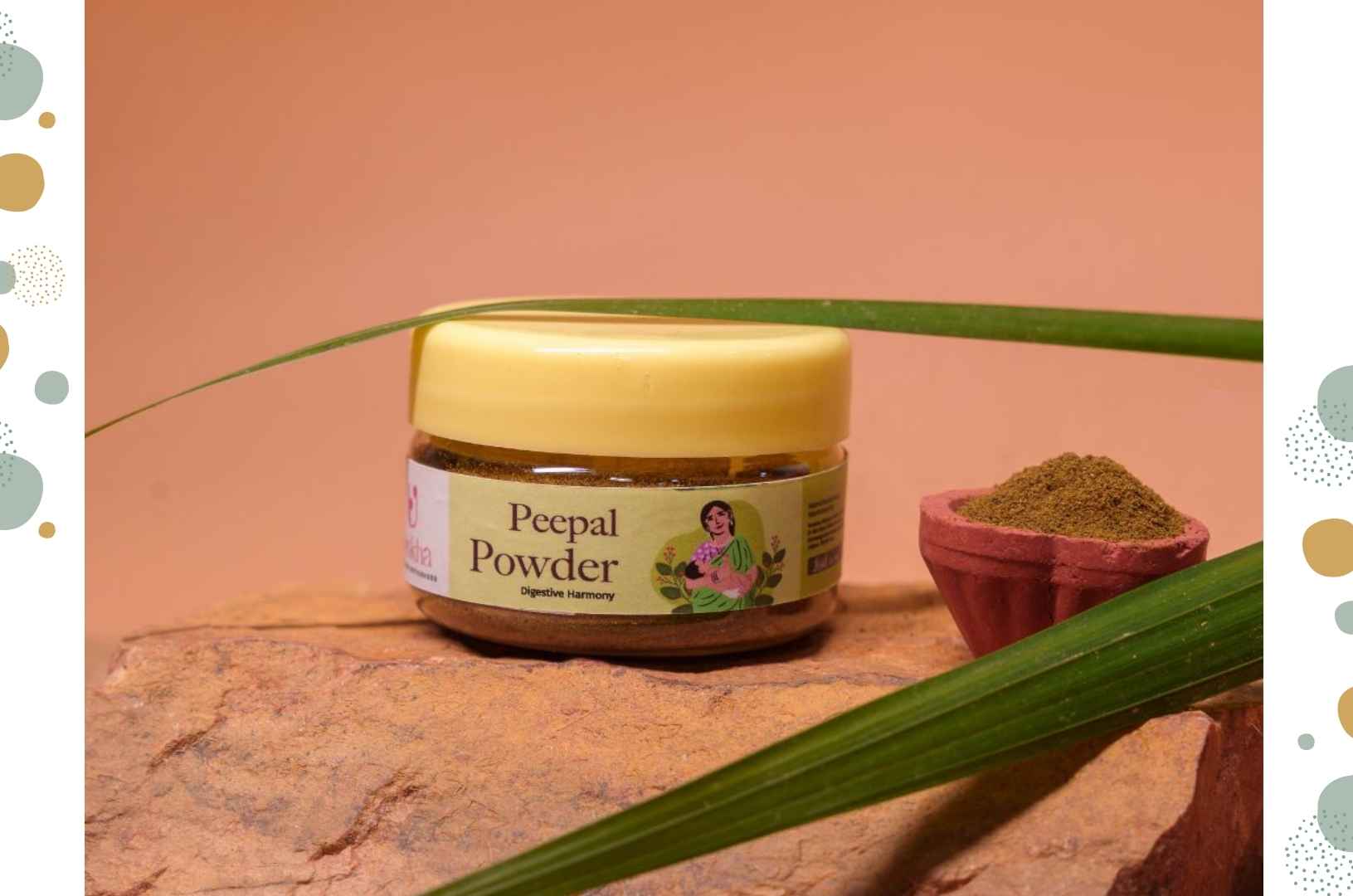 Some mothers usually face the issue of thick milk. But with our Peepal powder, new mothers can light the milk. This helps the newborn baby in digesting the milk easily. Further, this also helps in digestion for mothers that maintain the women's care. If you are looking for an Ayurvedic solution, this is the best for women's health.
Roasted Makhana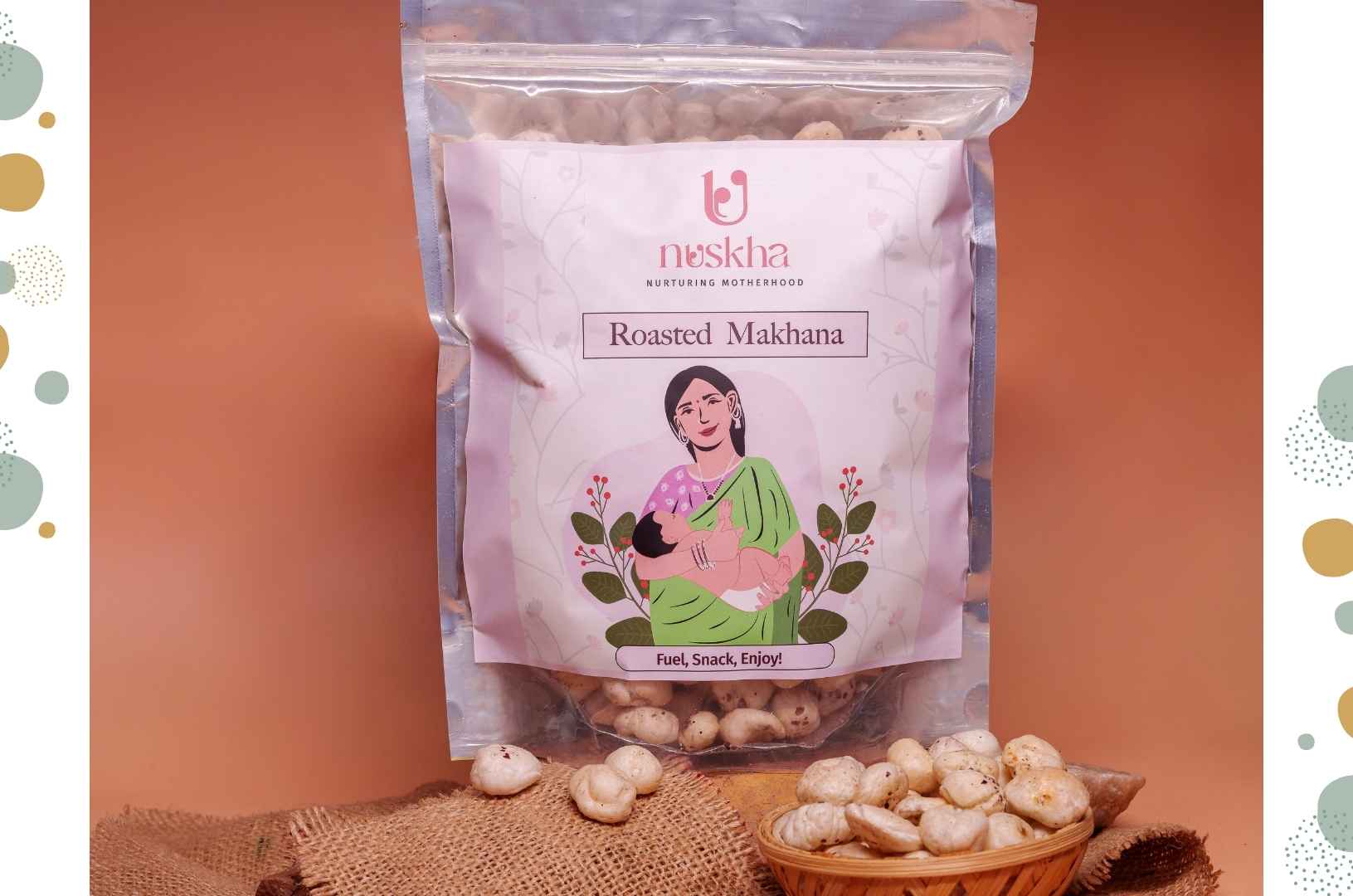 Cravings are common even after childbirth which leads to consuming something unhealthy. In order to resolve this issue, we have come up with Roasted Makhana. This is a delicious and organic food that has numerous health benefits. It is a rich source of calcium and fiber that helps you in handling your cravings while making you feel full. We have prepared it with a most authentic method that made it crunchy and guilt-free food.
Roasted Kaju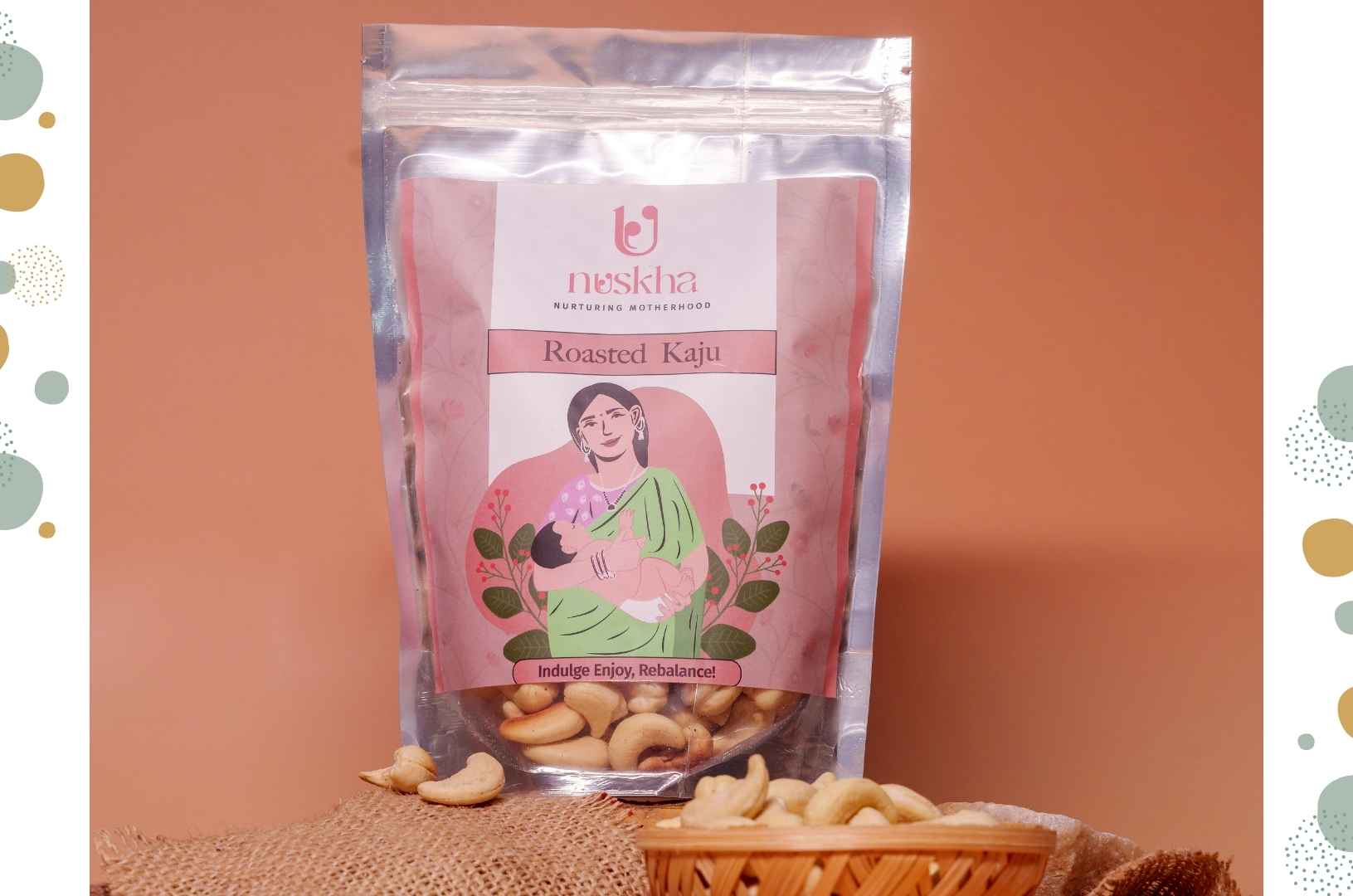 To tackle post-pregnancy care with something delicious and healthy, we have brought Roasted Kaju. This is one of the finest quality products with natural ingredients. Further, the jappa method has been used to prepare which gives a nice crunch to it with a number of benefits. Its high dose of calcium helps in maintaining bone health. Add this into the post-pregnancy diet as snacks.
Bhuna Daliya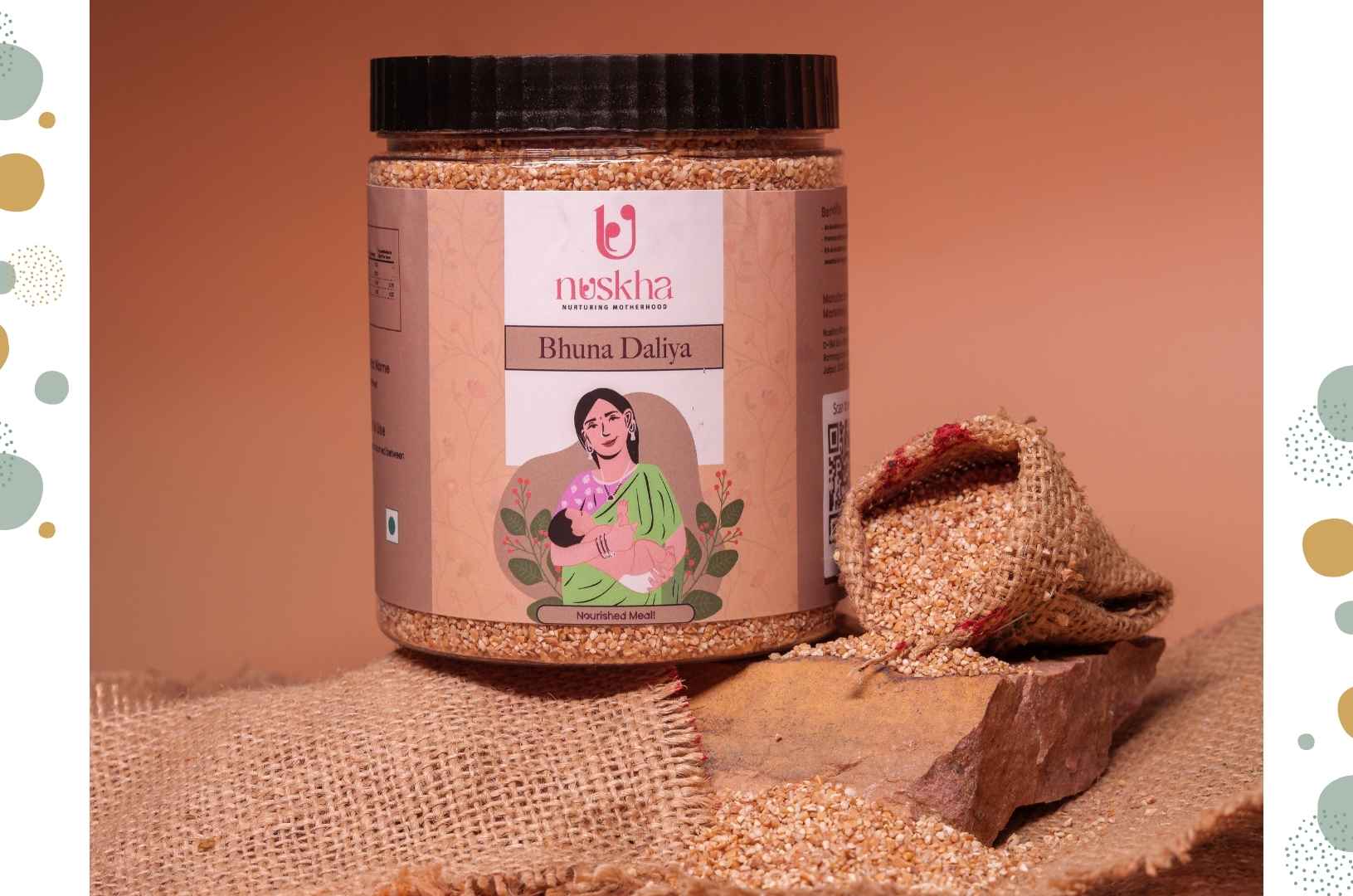 This amazing dish is made of roasted broken wheat grains which is a rich source of nutrition for a new mum. It helps in milk production and also promotes digestion. This Bhuna Hua Daliya is cooked in such a way that it is most suitable for jappa. You can add this to your meal to see better results. If you want to lose weight fastly then this is an ideal product.
Mukhwaas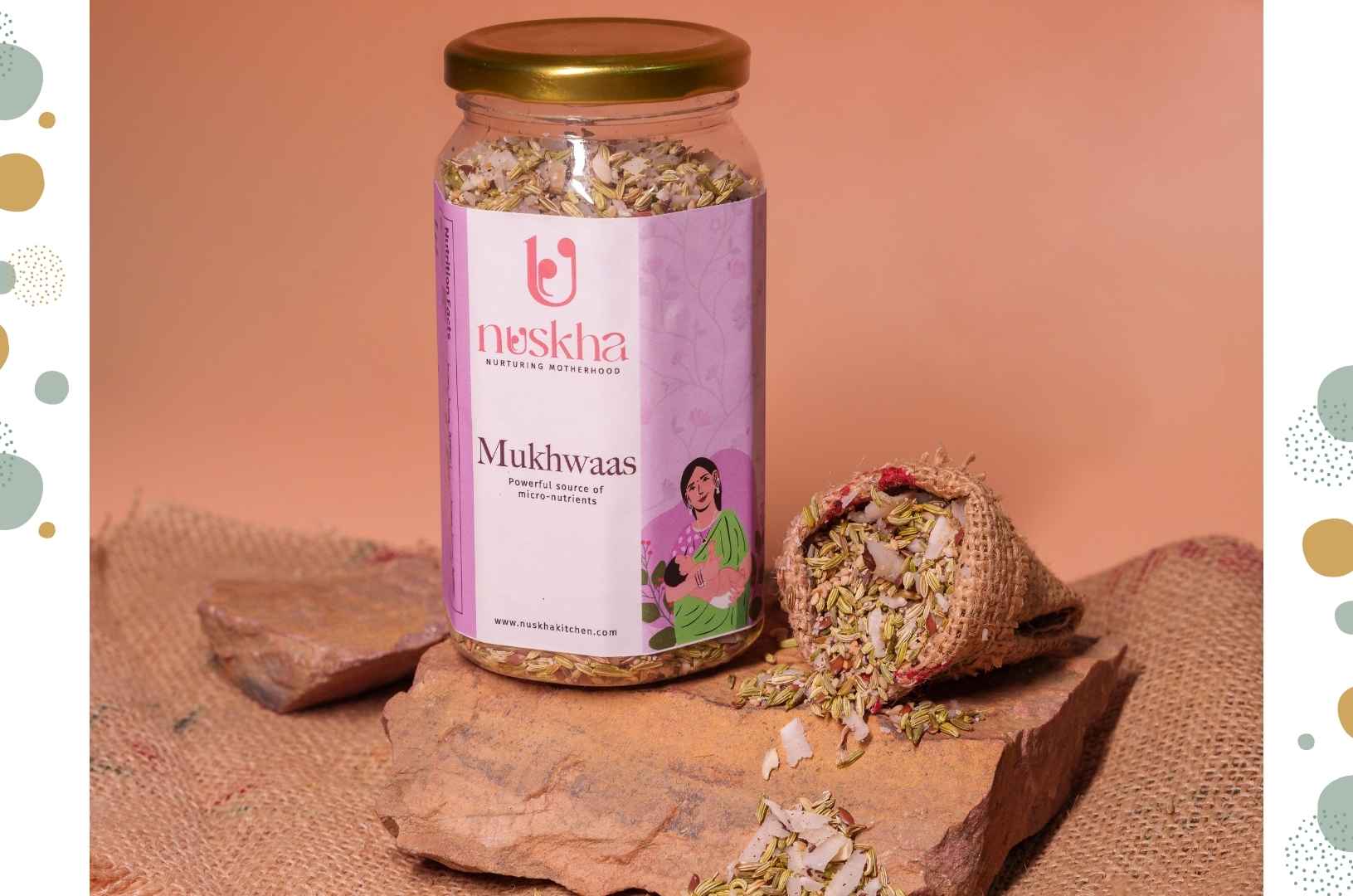 It is very common for new mums to face acidity just after a meal or they have a bad taste. With this product, you can ensure women's wellness in the best manner. Experience the benefits of our premium Ayurvedic blend, carefully crafted with the finest ingredients and using the traditional Indian Jappa method for maximum effectiveness. Our Mukhwas not only freshens your breath but also aids digestion, promoting a healthy metabolism. It's an excellent choice for post-pregnancy care or as a daily addition to your wellness routine.
Panjiri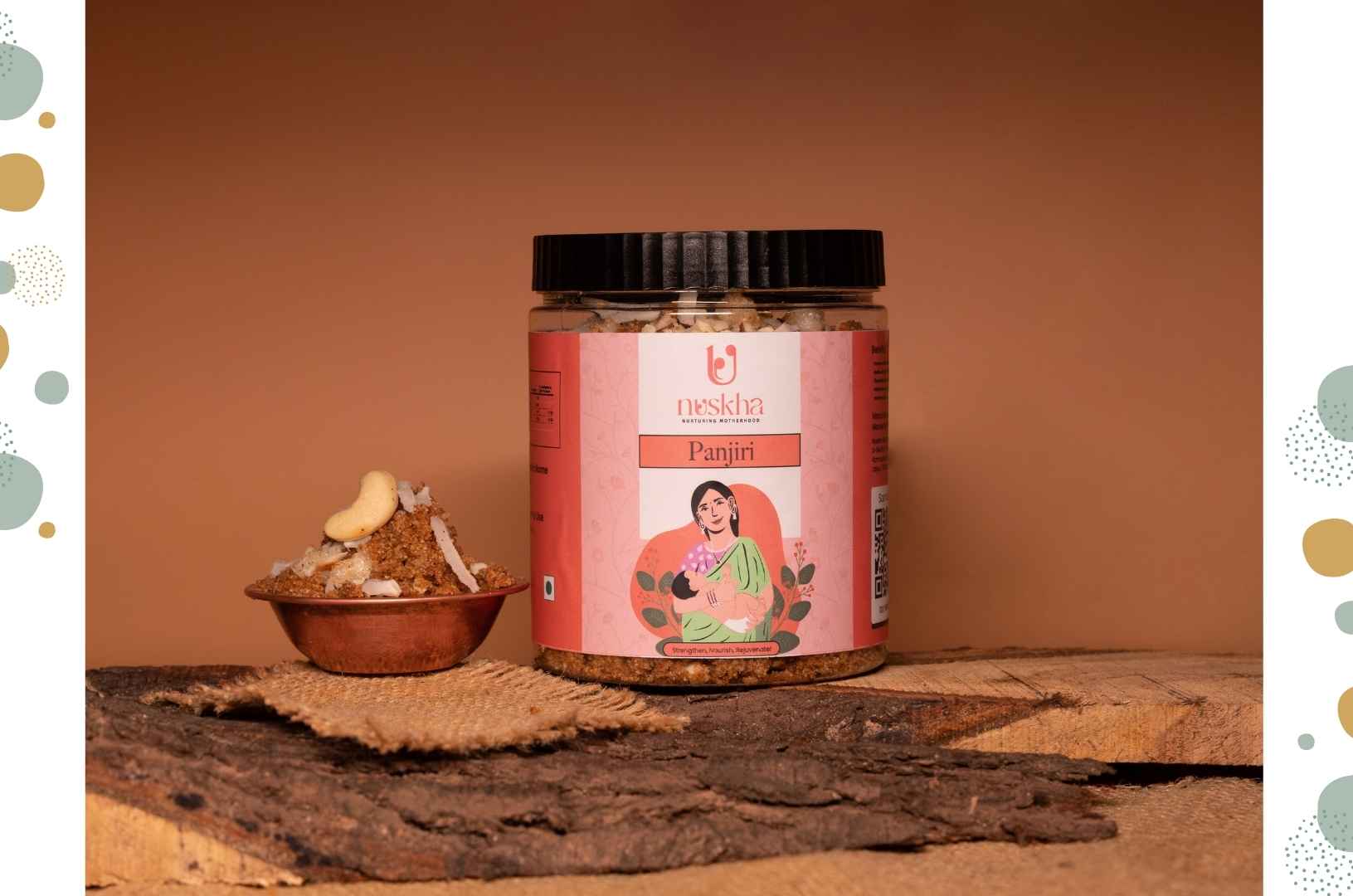 Experience the goodness of traditional post-pregnancy panjiri with a blend of black pepper, badam, khas khas, gond, saunf, makhana, chikni supari, peepal, kishmish, ajwain, bura, and aata. Further, it is prepared with the Jappa method which makes it most authentic. It provides nutrition to the new mothers and replenishes their bodies. With us, you get a guarantee of authenticity.
Orchid pack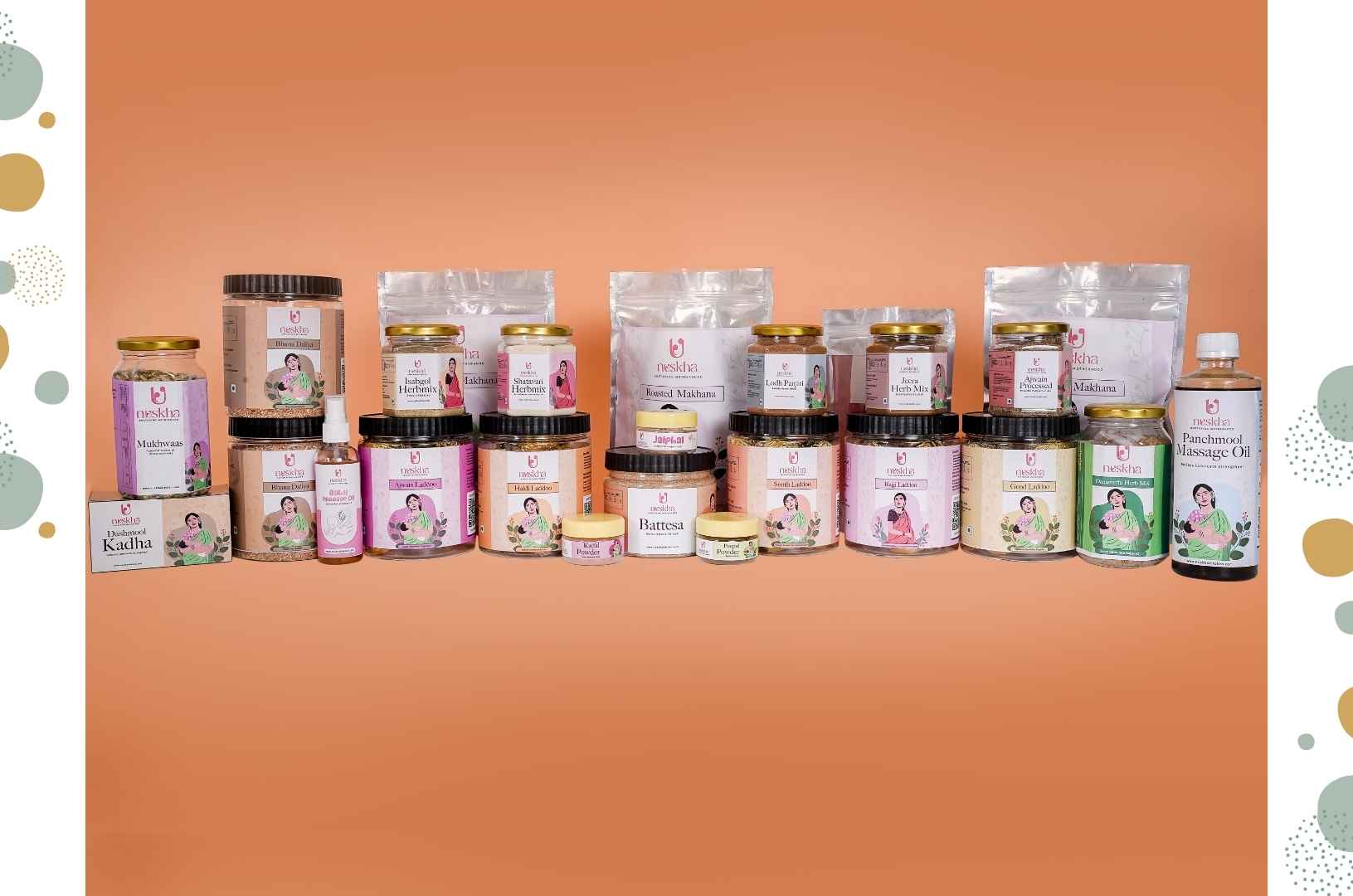 In order to make your pregnancy care easy and smooth, we compiled all the products in an Orchid post-pregnancy diet pack that is wrapped in all the required nutrition and vitamins. Our highly benefit-filled post-pregnancy diet pack is based on Ayurvedic standards. This would take care of a new mother for 50 days which is crucial for a new mother's care. With the goddess of 22 different traditional Ayurvedic products, this fastens the recovery of the mother and helps in improving lactation for the baby.
Tulip pack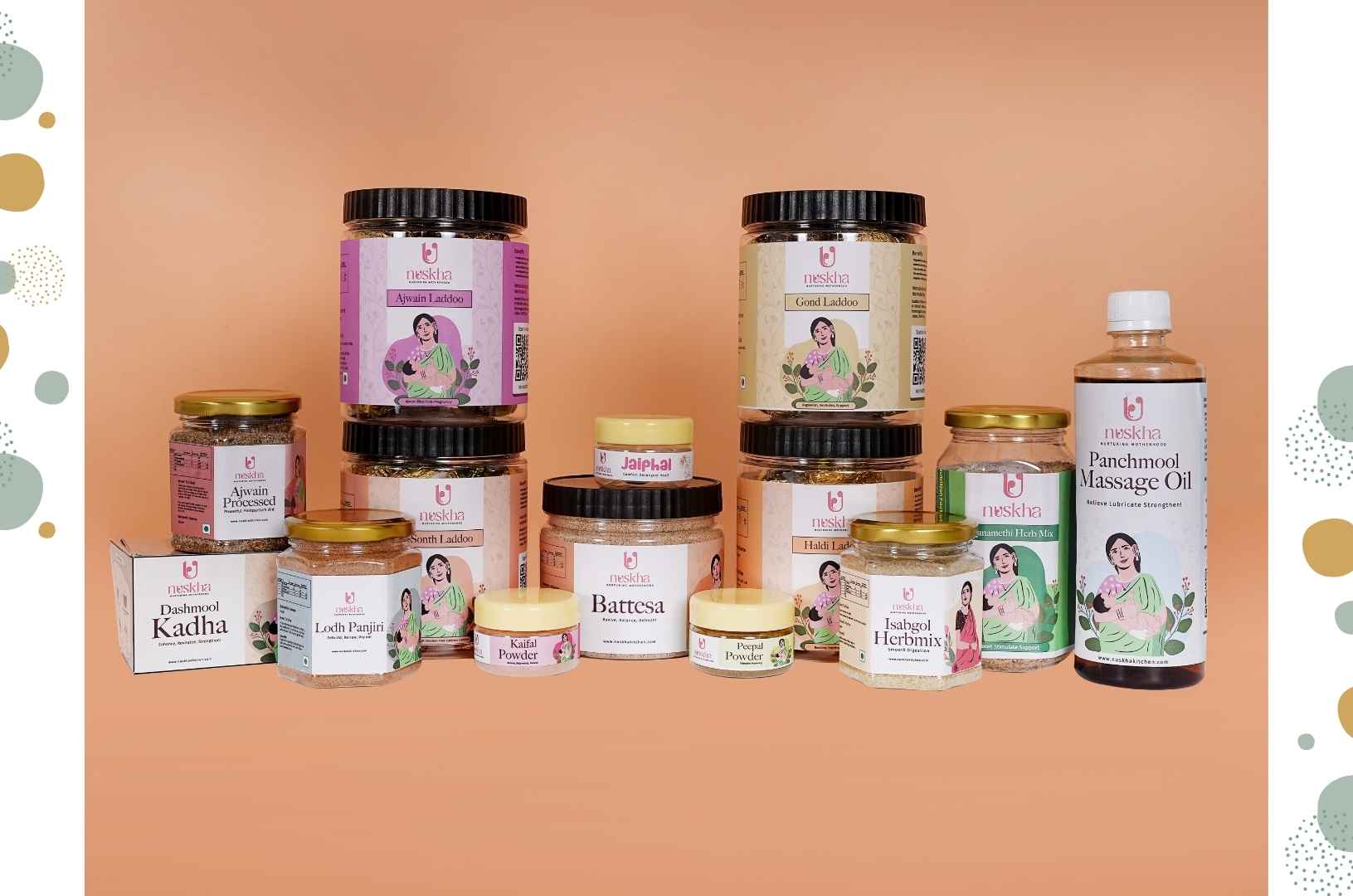 As per traditional Indian medical science, the initial 50 days after post-pregnancy are crucial for the mother. To match the standards of Ayurveda, we have rounded-up 14 products in our Tulip post-pregnancy care. This is blessed with all the required product features Ajwain laddoo, Kaifal, Jaifal, Sonth laddoo, haldi ladoo, Dashmool Kaandha, Lodh, Battesa, Gond Laddoo, Panchmool Massage oil, Danamethi mixture, Peepal Powder, and Isabgol herb mix.
Baby care products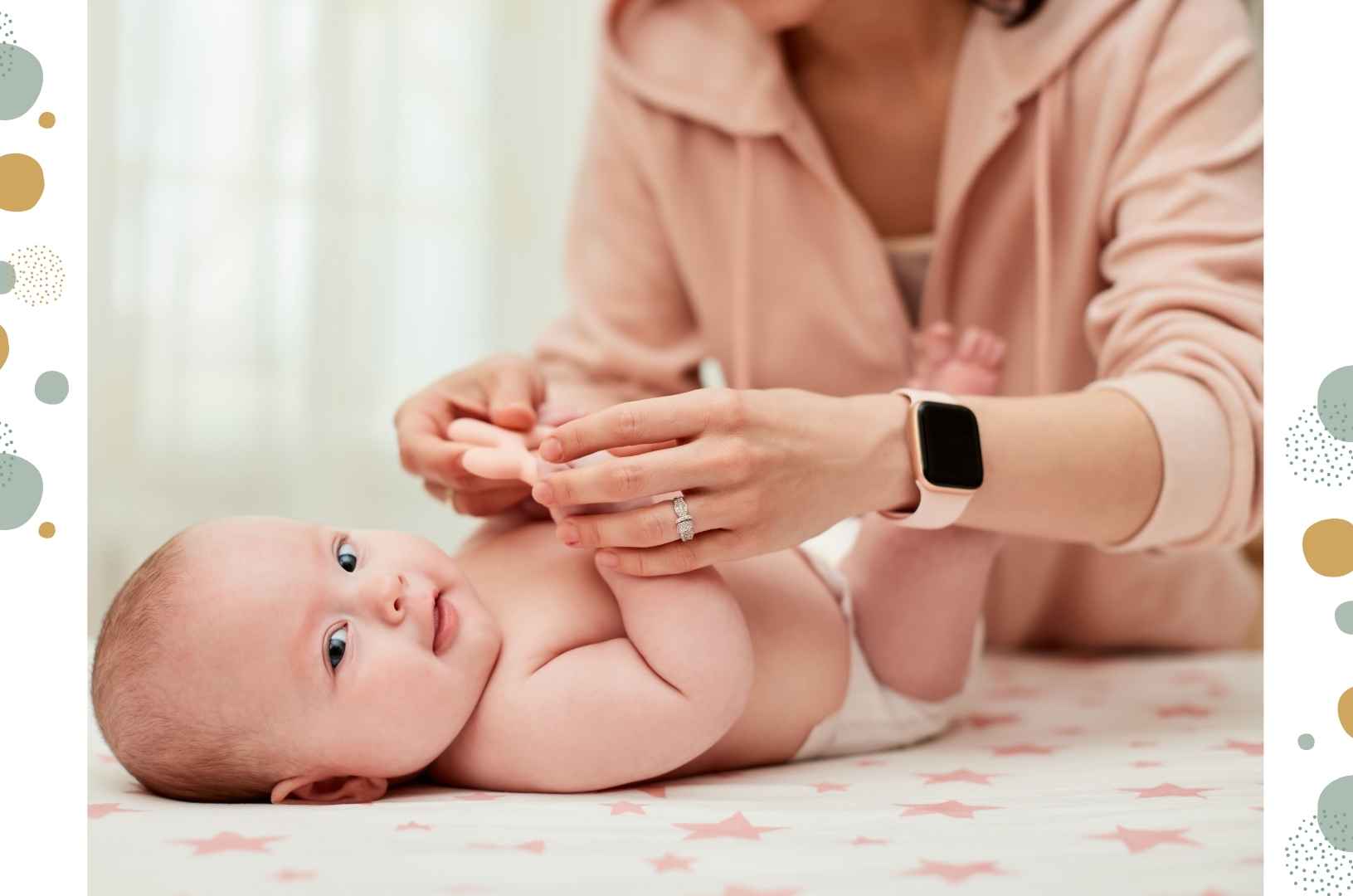 Pamper your baby with our soothing baby massage oil. Our special blend, including sesame oil, almond oil, coconut oil, olive oil, fennel, javitri, and jaifal, is carefully created to suit your little one's delicate skin. Enriched with the goodness of these natural ingredients, it supports healthy skeletal growth, stronger muscles, and better blood circulation. Our ayurvedic and homemade baby care product ensures a traditional and nurturing baby massage experience.
Baby Night Oil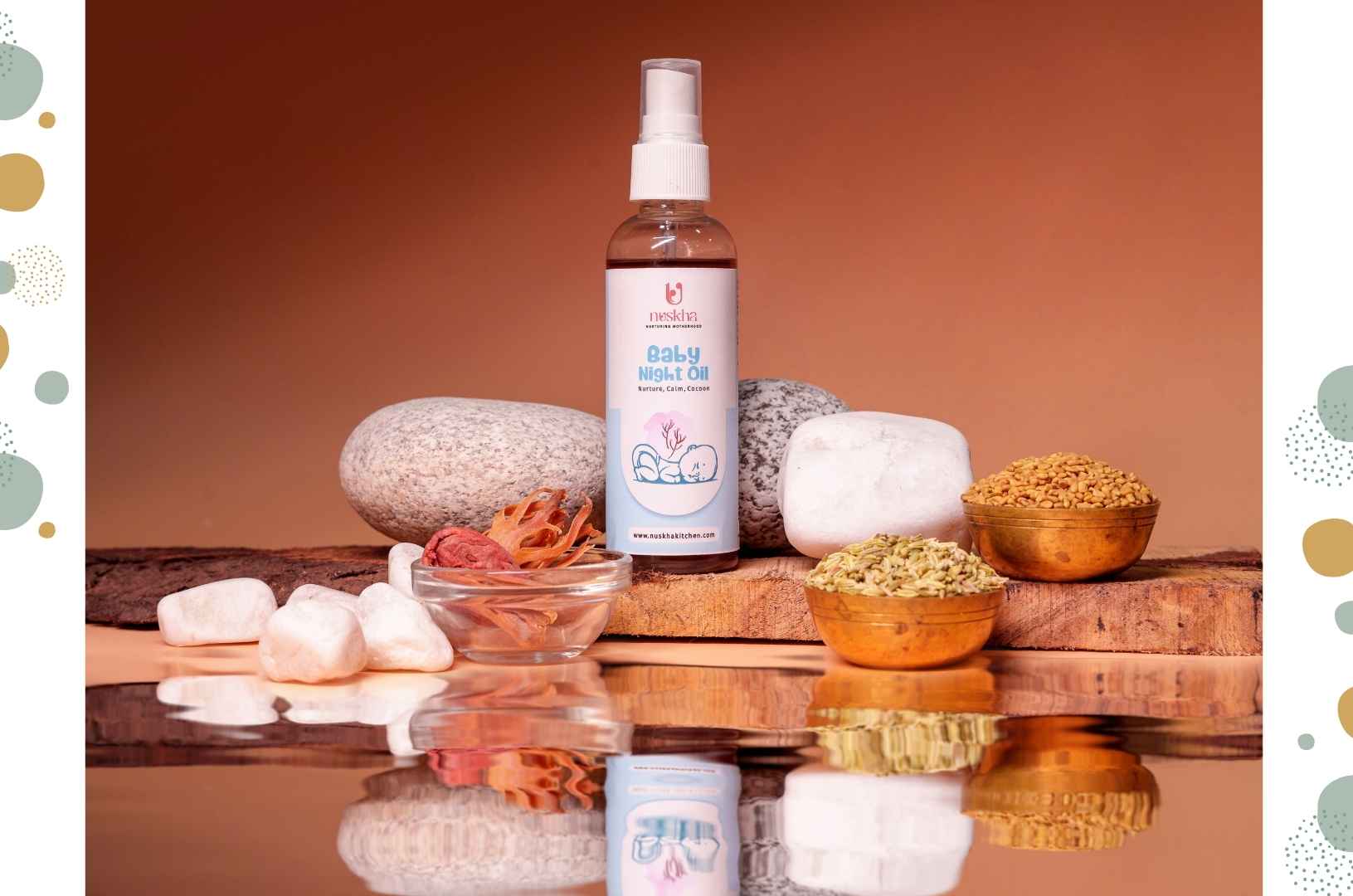 A balanced mixture of sesame oil, garlic, ajwain, methi, javitri, and jaifal protects the little version of you from frequent colds and flu. This traditional Indian Baby night oil is specially produced to massage your baby so that he can enjoy immense comfort before sleeping. Say bye to your worries during the winter season as it provides protection to your baby while also improving your sleep cycle. Our product is all-natural and Ayurveda-approved.
Jaiphal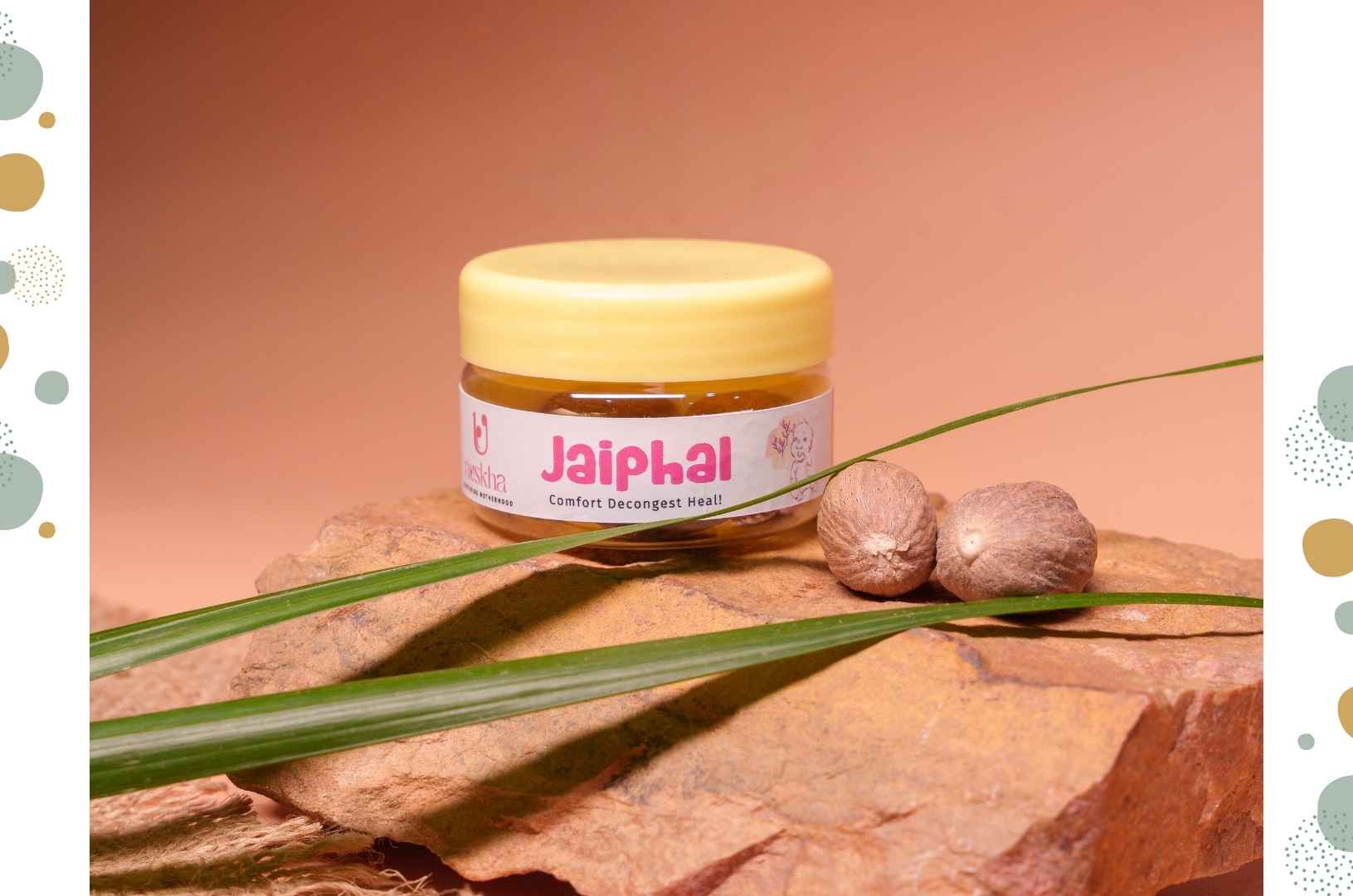 Cold and cough are very common in newborn babies which also causes inflammation in the respiratory tract. This reduces inflammation and provides relief for cough. Jaiphal is a natural solution for little babies while not leaving any side-effect. It also promotes digestive health by soothing bowel movements. This is a must product for a baby's health and care.
Poshan Oats Channa Almonds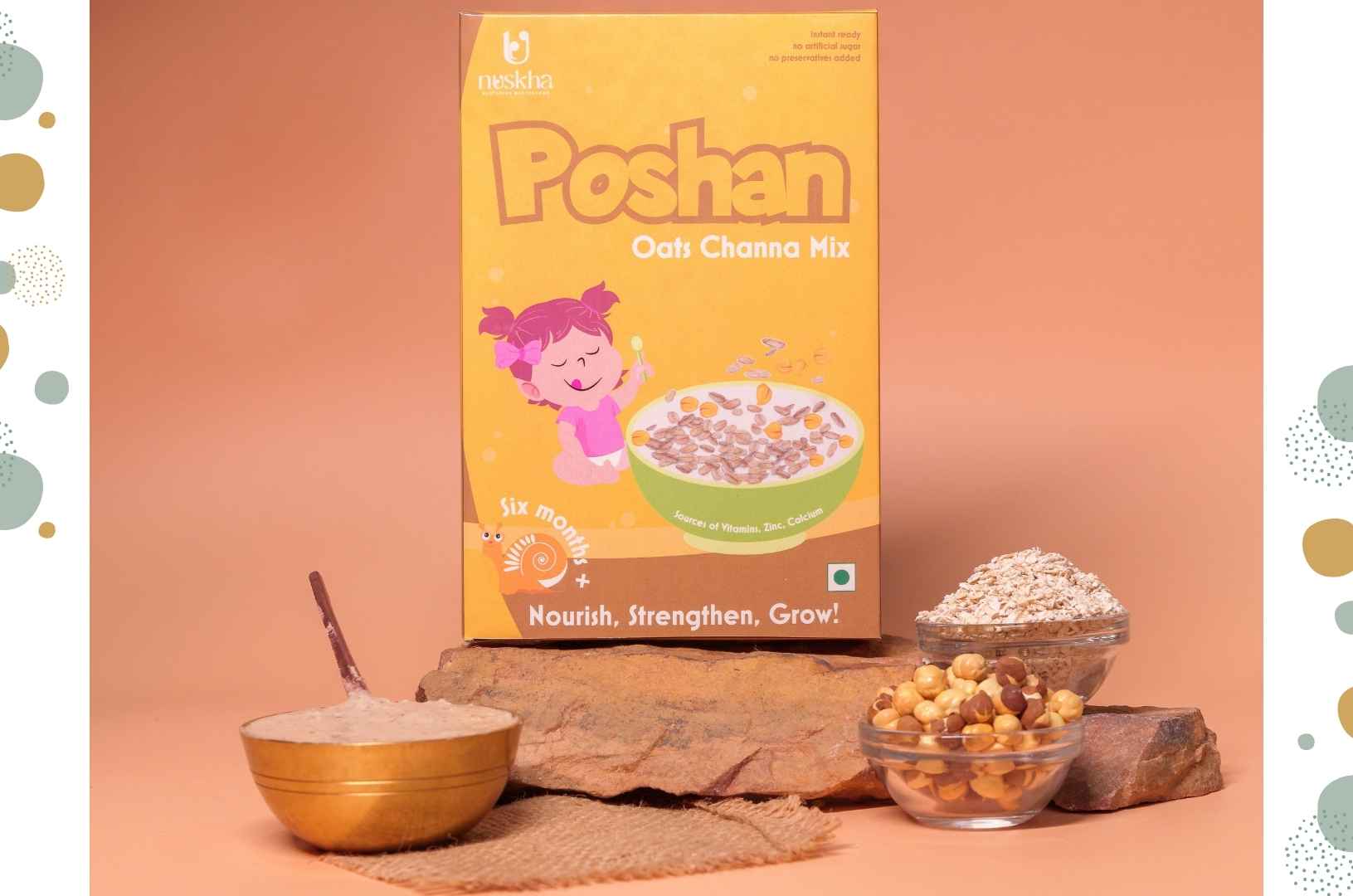 For the growth of a baby, a nutrition-filled meal must be acquired. A blend of oats, almonds, grams, cardamom, and rock salt, this product should be top on baby's food list. You can serve our Poshan Oats Chana Almonds during the 6th month and above. Almonds are rich in vitamin E and on the other side, oats promote the health of bones and brain development. It also gives a boost to the digestive system of little ones.
Poshan Ragi Moong Dal Almond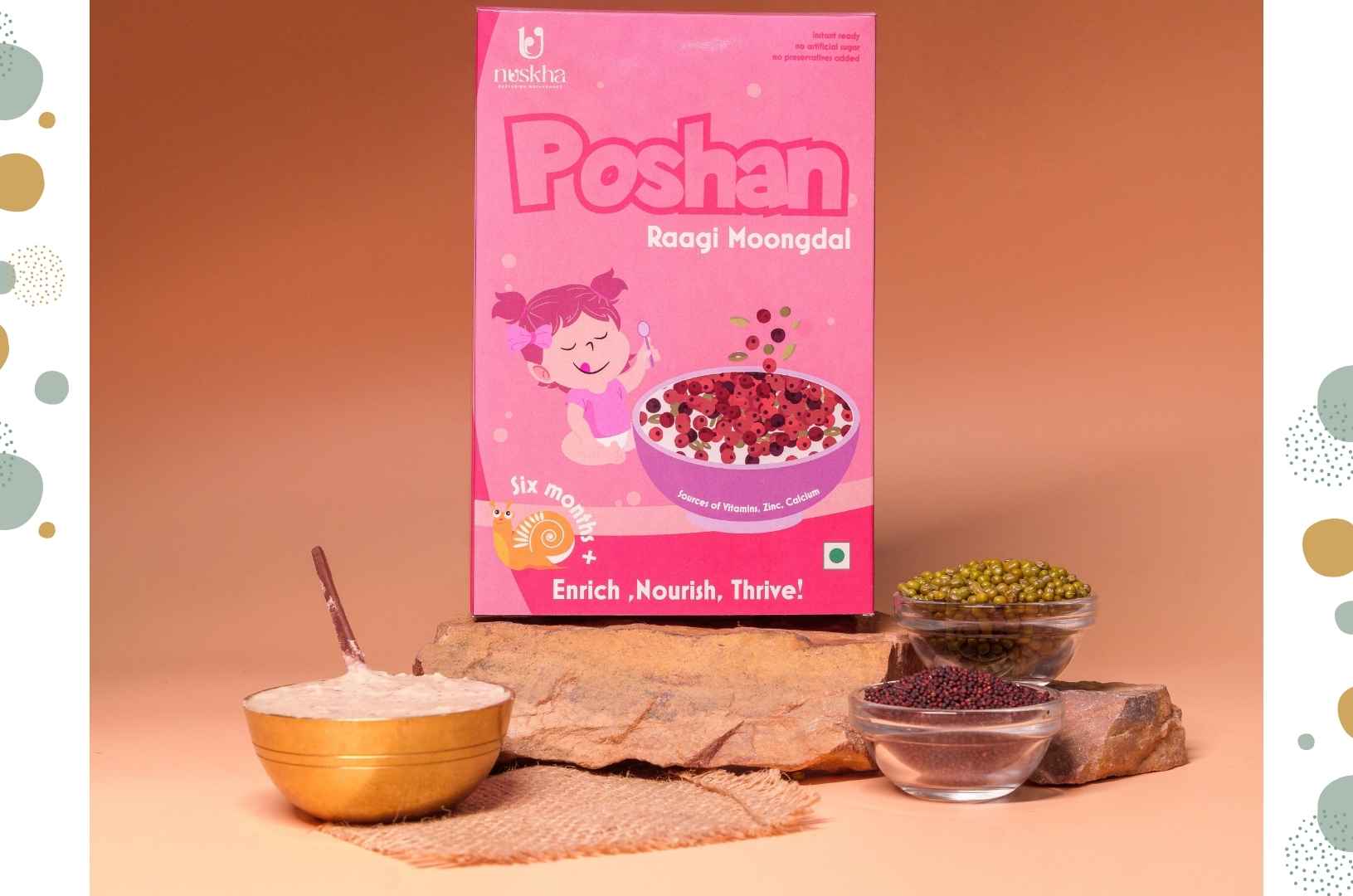 Nushka is introducing Poshan Ragi Moong Dal Almond, a nutritious and delicious snack for your little ones. Packed with organic ragi, almonds, moong dal, rice, and rock salt, this treat is high in protein and calcium, vital for your child's growth and development. Not only that, it supports good digestion, making it a perfect snack for babies aged 6 months and older. Treat your child to the goodness of healthy snacking with Nibble Ragi Moong Dal Almond.
Poshan Plain Rice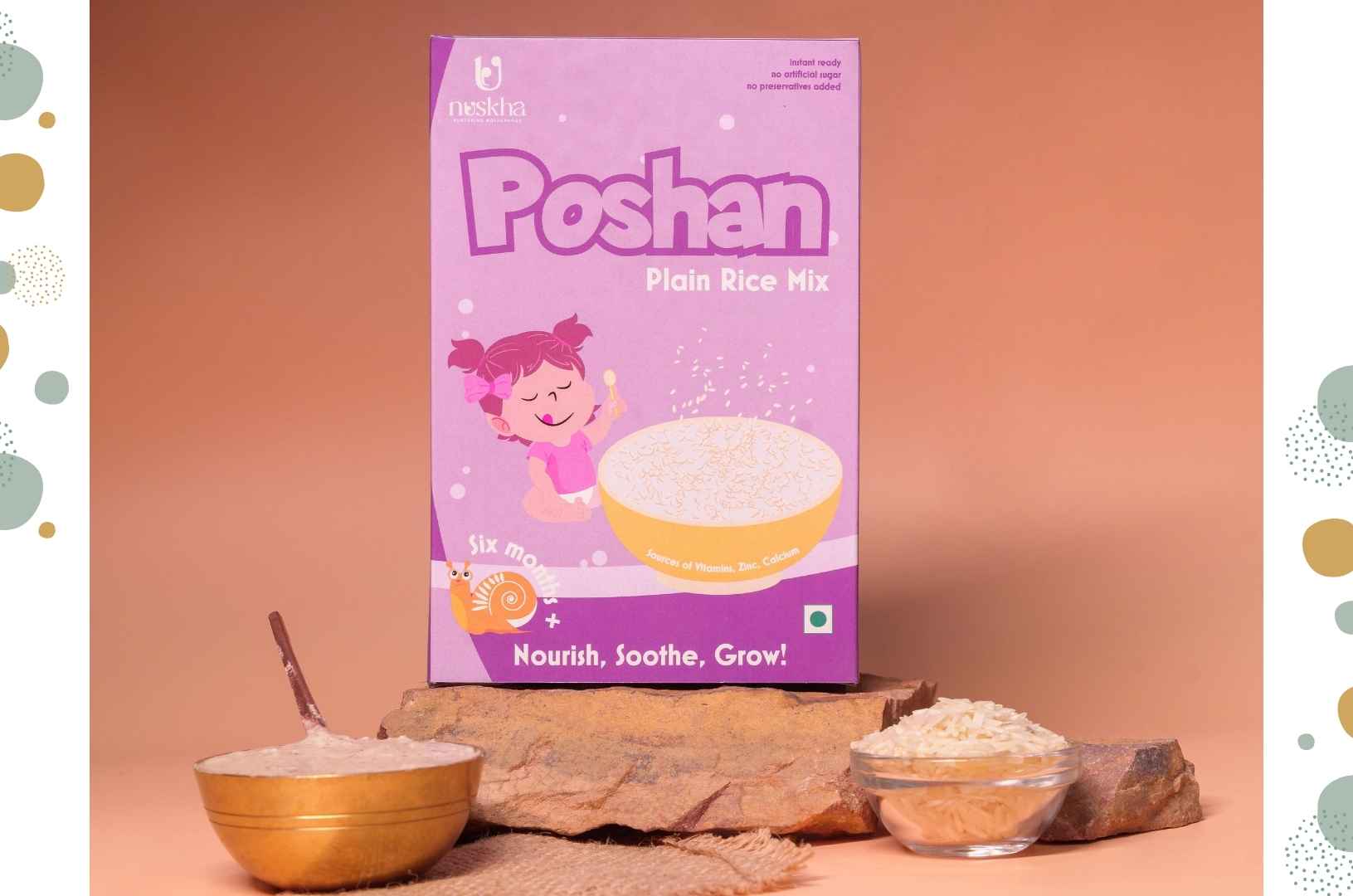 Planning to introduce your baby to solid food? Why do not you try India's favorite grain plain rice? Poshan Rice Plain is a healthy and delicious baby food made with only natural ingredients. It is perfect for babies aged 6 months to 18 months and is a great source of carbohydrates and vitamin B. The rice is gently cooked and pureed, making it easy for babies to digest. It is also free of added sugar, salt, and artificial flavors. Nibble Rice Plain is a great way to introduce your baby to new flavors and textures. It is also a good source of energy and can help to keep your baby full and satisfied.
Poshan Dal Mix Rice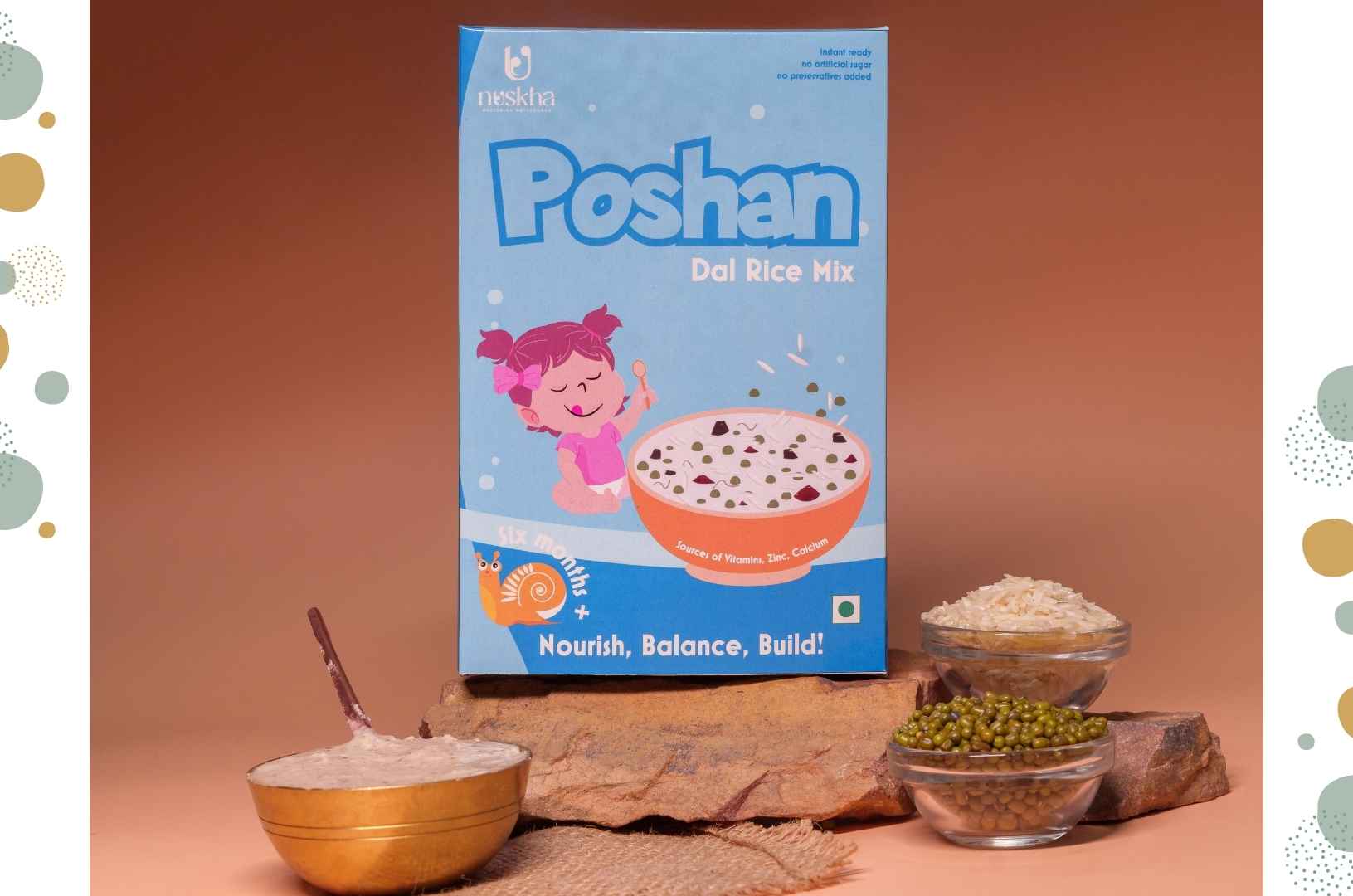 To give something delicious yet healthy solid food the best choice is Poshan Dal Mix Rice. It has a source of nutrition from both dal and rice. It is a mixture of moong dal, rice, rock salt, and carrot which is ideal for a 6-month-old baby. With this product, you can ensure that the baby is getting the required vitamins and minerals. As these products are blessed with natural elements and ensure the growth of the baby. It provides calcium and potassium with every spoon you give to your little version. Further, it is delicious food which can replace regular traditional dishes.
Poshan Dry Fruit Mix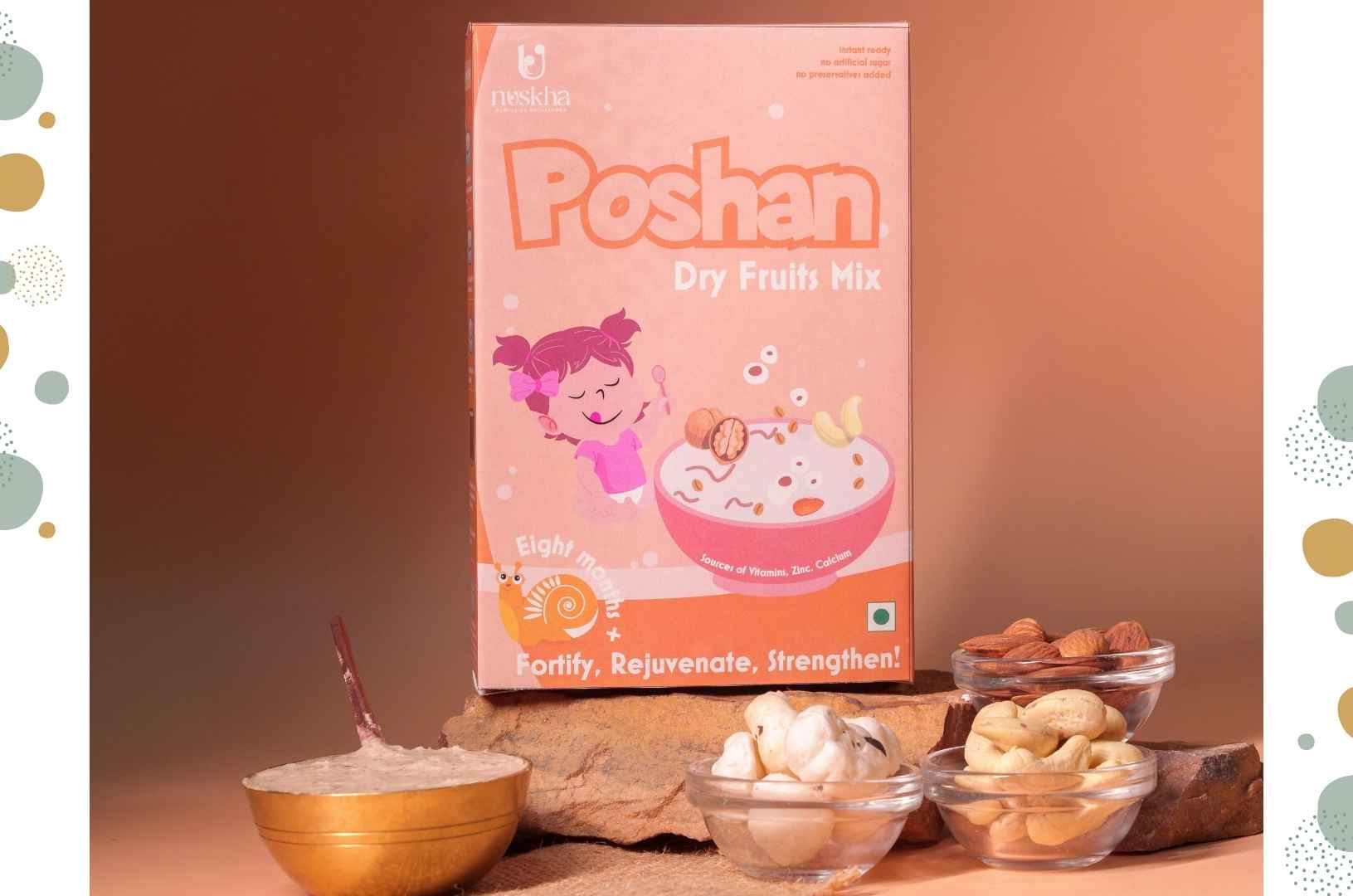 After the 6th month, the baby needs some extra sources of nutrition like dry fruits. Nuts and dry fruits are also essential as they provide protection against skin and other kinds of allergies. Further, some dry fruits also reduce the probability of any allergy in the future. In order to provide a healthy meal to your little baby, we have blended some high-quality nuts and dry fruits in Poshan Dry Fruits Mix. This packet contains almonds, cashews, walnuts, khus-khus, melon seeds, fox nuts, and cardamom. It also boosts immunity and protects babies from frequent illness. With the help of dry fruits, you can ensure that food is packed with magnesium, calcium, potassium, zinc, phosphorus, and different vitamins.
Poshan Moong Dal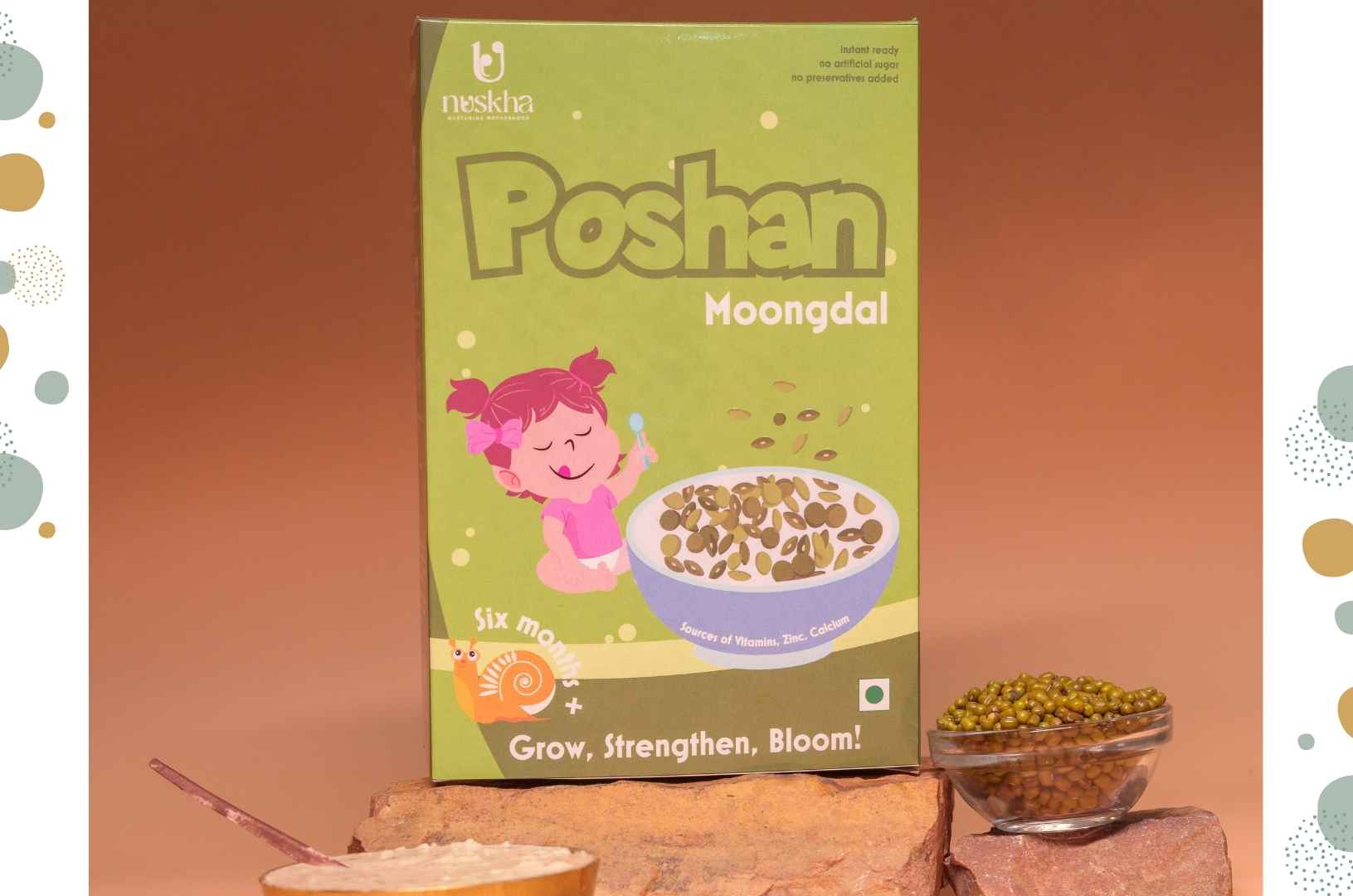 With a blend of almonds, moong dal, and rock salt, Poshan Moong Dal is one of the top choices when it comes to providing something delicious and healthy. This can be added as the perfect meal choice for your infant. It improves digestion health and at the same time enhances blood circulation. You can use this food for a 6-month-old baby for 2 or 3 years. This is a must for new mothers to provide growth to their babies.
General health products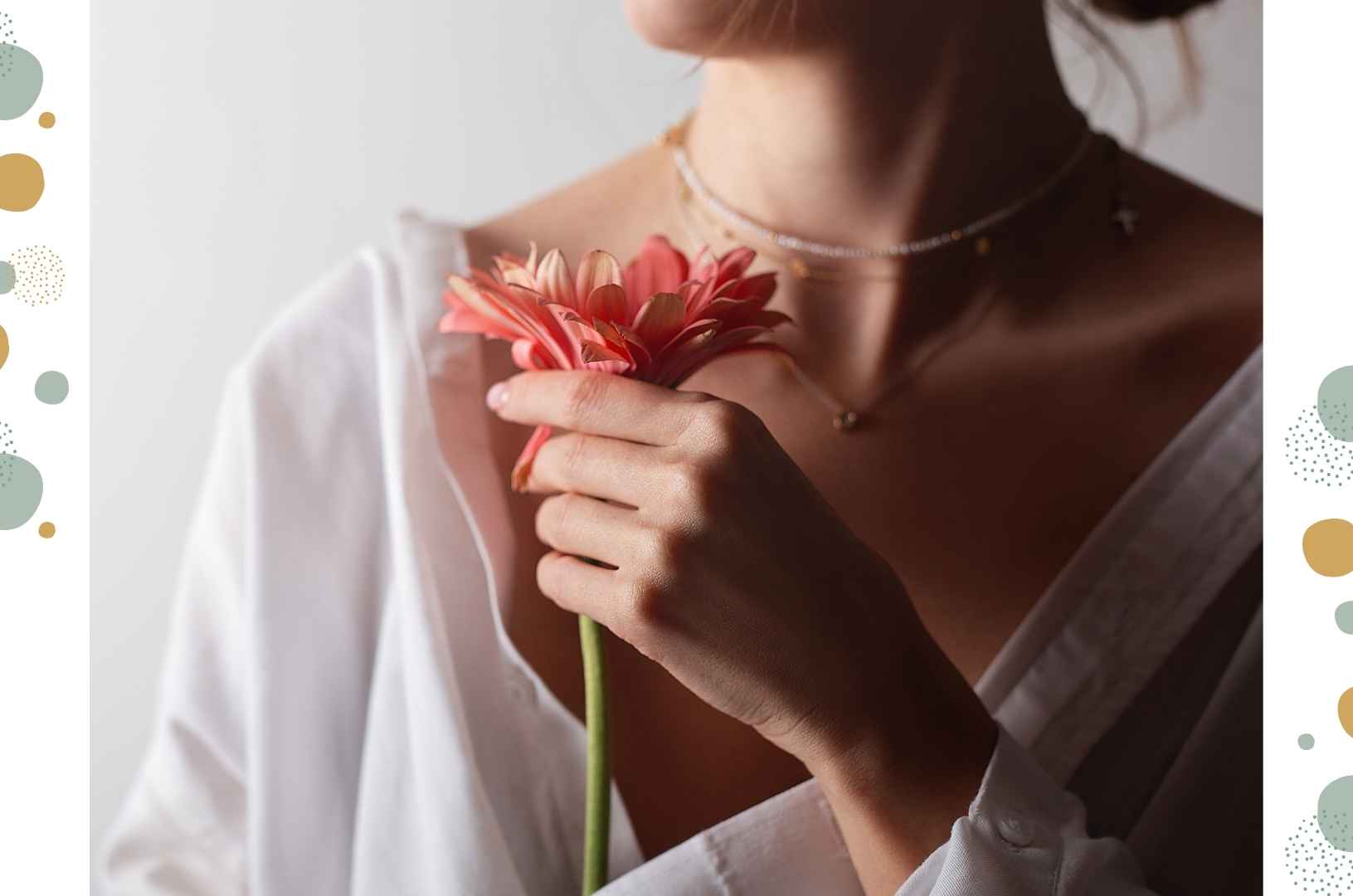 Chyawanprash
This is one of the most authentic and delicious foods that boost immunity and strengthen your body to fight off infection. It reduces the risk of coughs, and colds during the winter. From kids to adults, everyone can use this product. Along with it, you can improve your eyesight while reducing the symptoms of Asthma and indigestion. Without the pinch of any artificial element, it washes away toxins from your body while keeping your blood purified. Its ingredients like Amla, Munakka, Mishri, Giloy, Ashwagandha, and Gokhru can even reduce stress, anxiety, and pain. It promotes overall good health like promoting texture of hair and skin. This homemade Chyavanprash is highly suitable for women's care and health.
Nari Kalyan Paak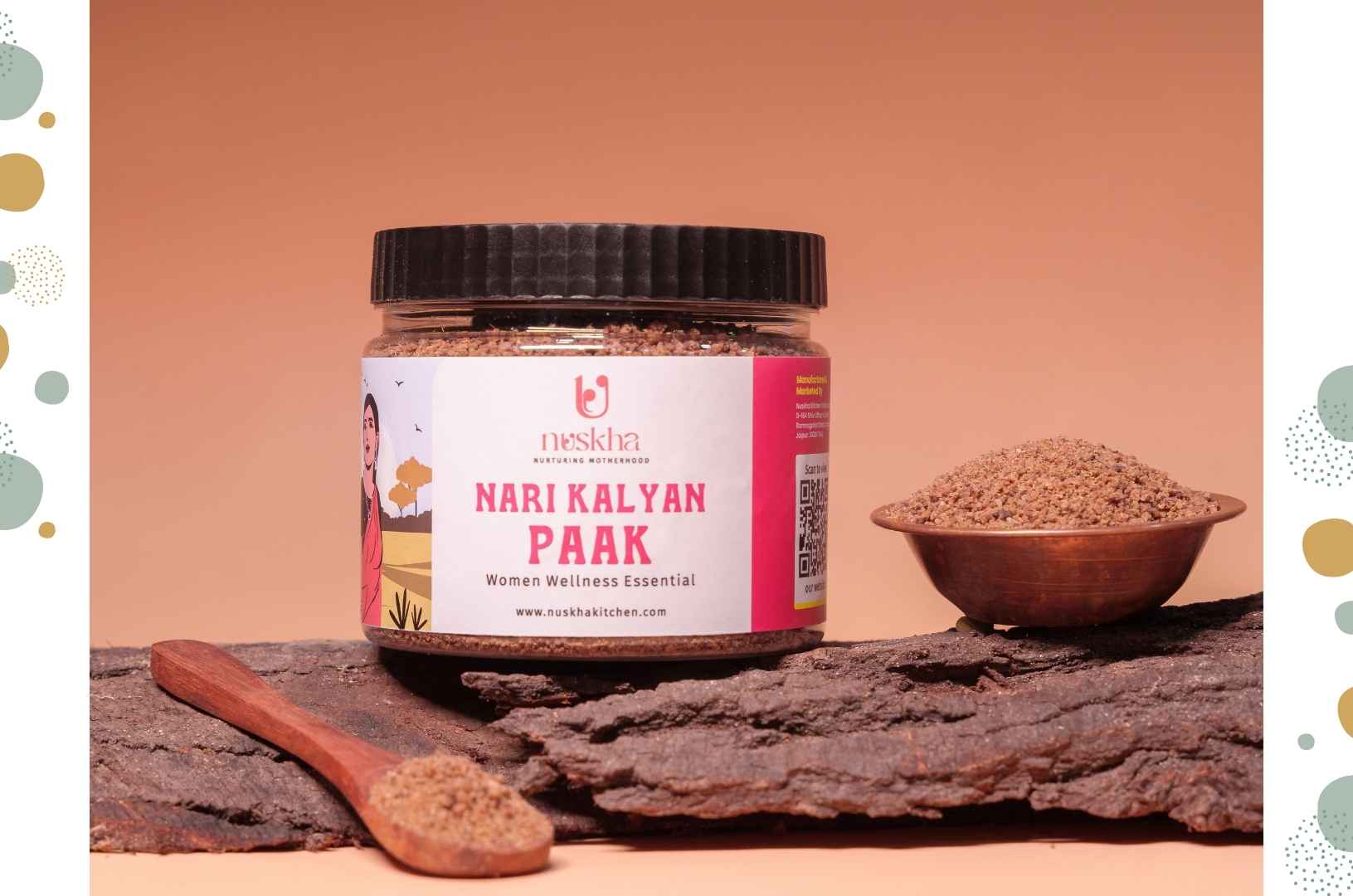 The brain and nervous system is a crucial part of our body and Nari Kalyan paak keeps both checked in. Its Chikni Supari also contributes to controlling blood pressure while keeping diabetes and hemoglobin levels in check. It also enhances the health of the skin from the inside with its elements such as Elaichi, Tej Patta, and Nagkesar. These are rich in anti-inflammatory properties which purify the blood and reduce acne. To promote women's health, it is also helpful in maintaining the uterus shape. It improves PCOD issues and gut health.
Aloe vera Laddoo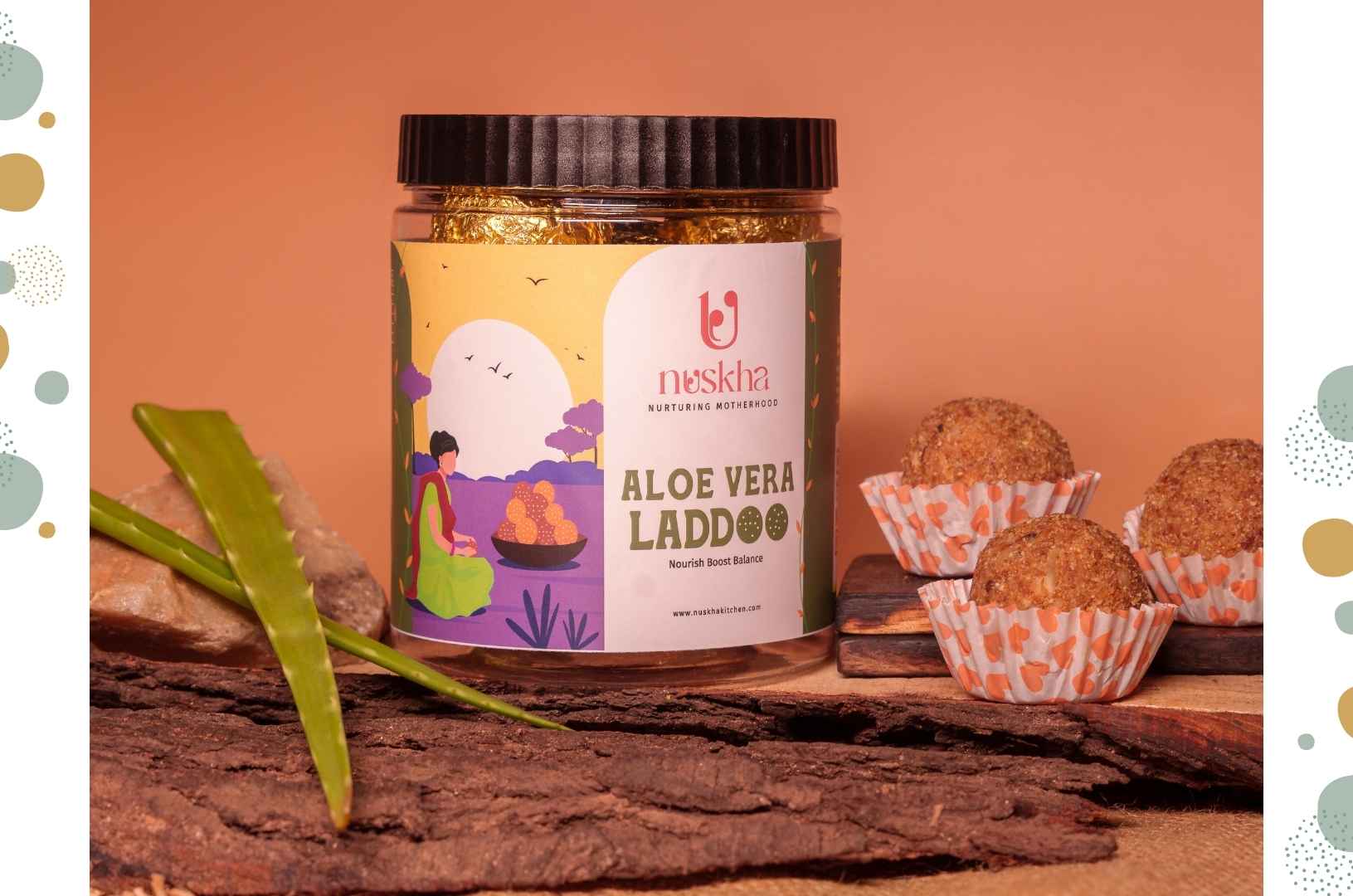 Embrace this Marwari dish with a more enchanting taste and texture which comes with the richness of jaggery, mishri, almonds, and cashews. This sweet with tons of benefits is a surreal treat for every season while maintaining health. It offers lubrication to your body which reduces the level of toxins. Make your winter season cold-free with our delicious aloe vera laddu.
Danamethi Laddoo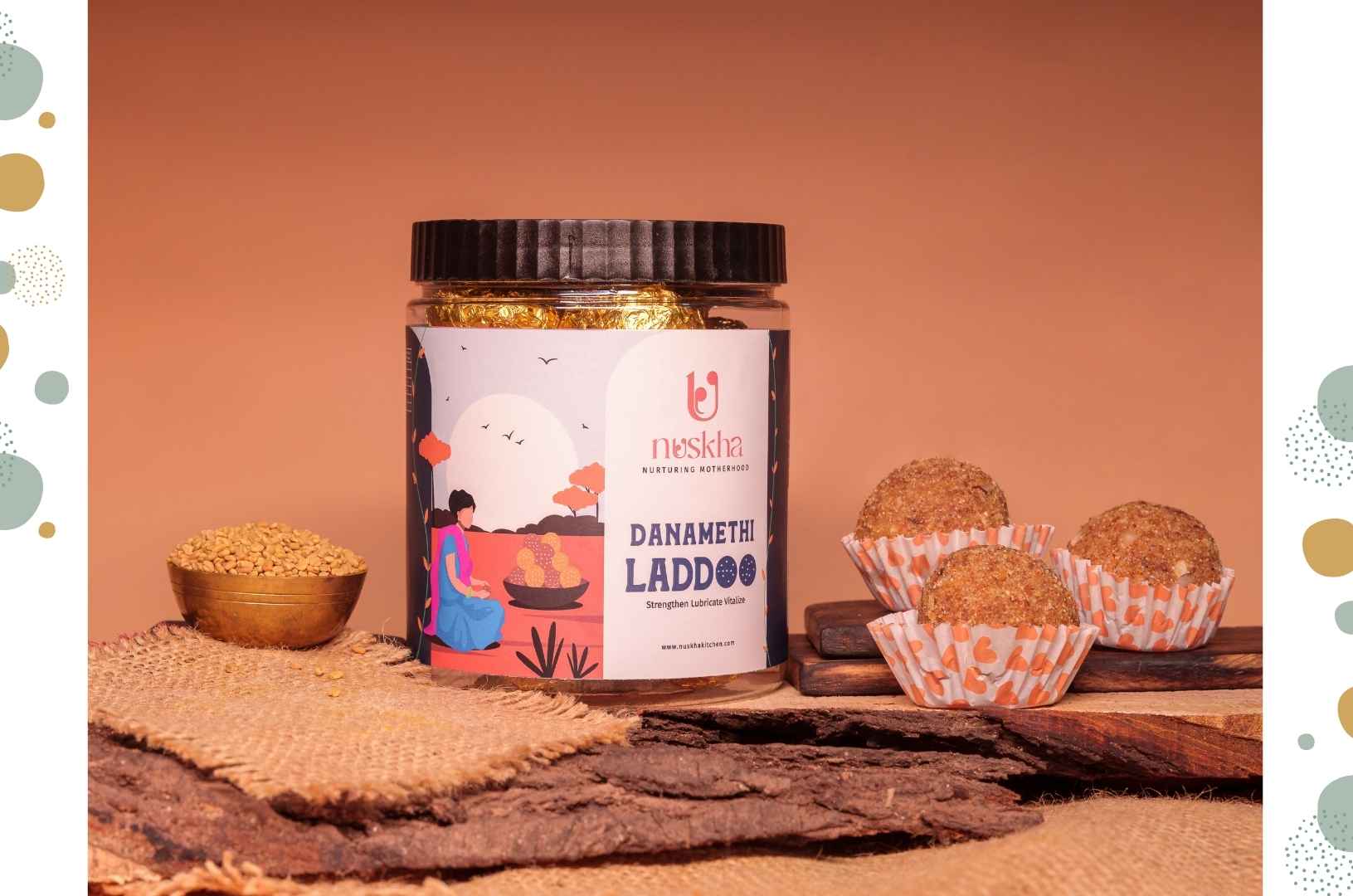 Danamethi Laddoo is a traditional authentic dish that can be consumed in the morning to maintain overall health. It helps in building immunity while also reducing the risk of various diseases like heart, cancer, and much more. You can keep diabetes in check with this product. With the richness of fiber and antioxidants, it supports digestion.
Dilkhush Laddoo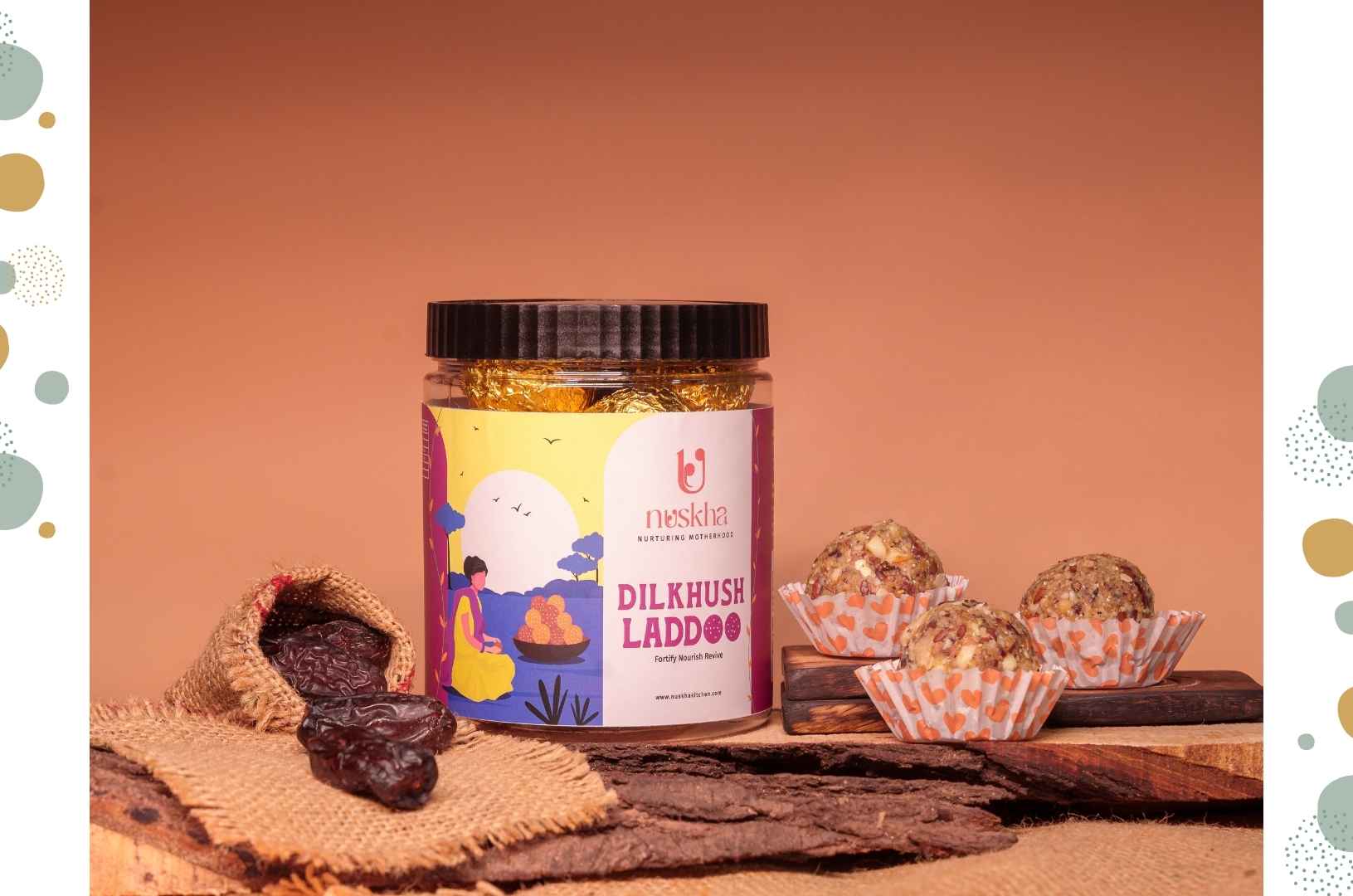 With the blend of dry fruits, seeds, and dates, Dilkhus laddoo is a guilt-free treat to your heart and body. This dish contains a high amount of nuts and dry fruits that ensure a sufficient supply of energy throughout the day. Our Dilkhus ladoo is made of special dates from the middle east and natural honey from Uttrakhand. These ladoos have no added sugar which makes it a guilt-free dish for those who want to lose weight. You can enjoy this delightful sweet throughout the year.
Multigrain Laddoo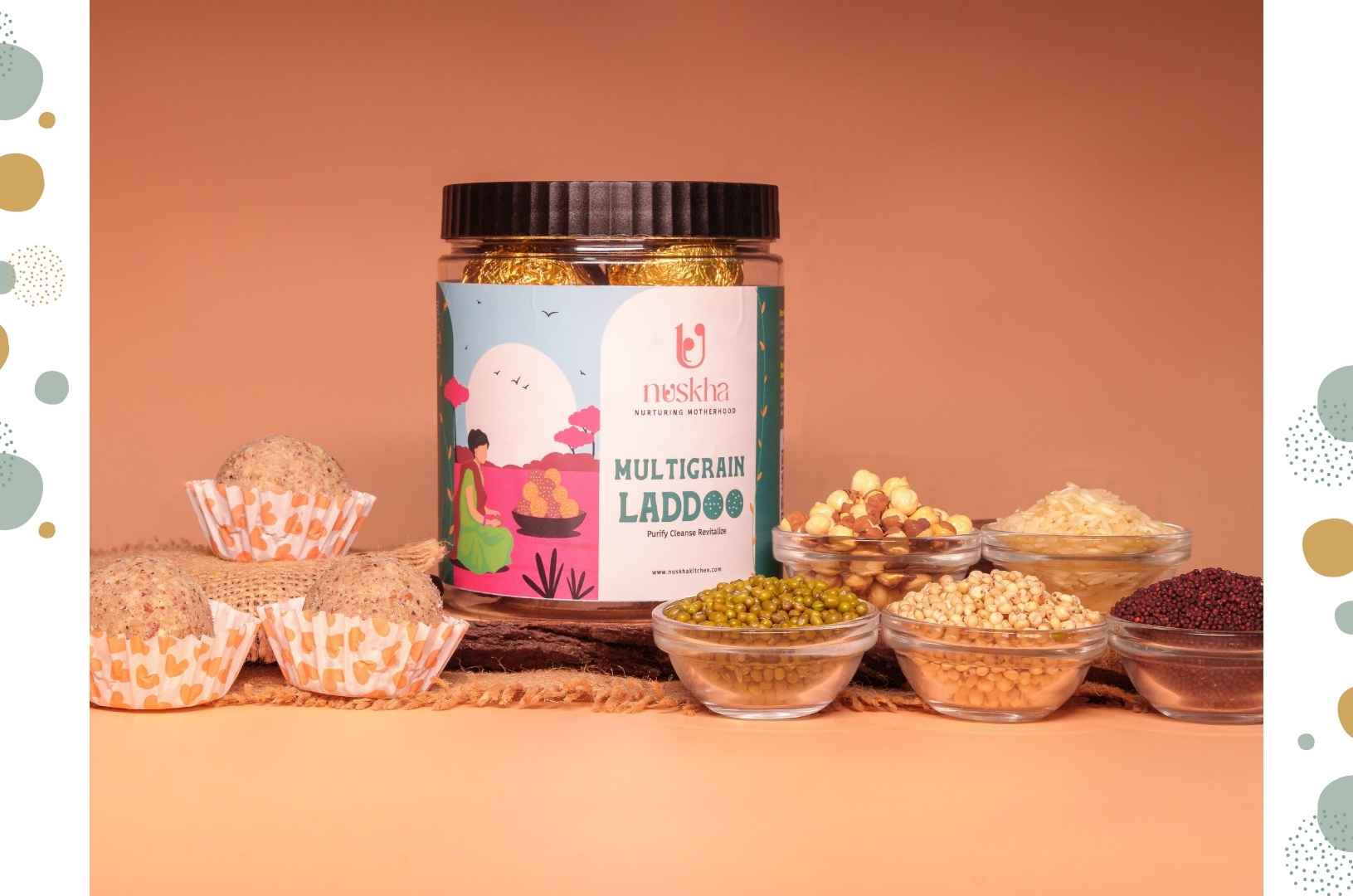 To protect your gut health, switch to this Multigrain Laddu which satisfies your sweet tooth cravings. Further, these ladoos are crafted with organic grains and prepared using traditional Ayurvedic methods, these laddoos are a treasure trove of health benefits. Bursting with the goodness of diverse whole grains, they offer high fiber content, aiding in regulating bowel movements and potentially preventing diverticulosis. And the best part? You can savor them without fretting about added sugars or artificial sweeteners, as these laddoos are crafted solely with natural ingredients. Enjoy the wholesome delight guilt-free!
Thandai Laddoo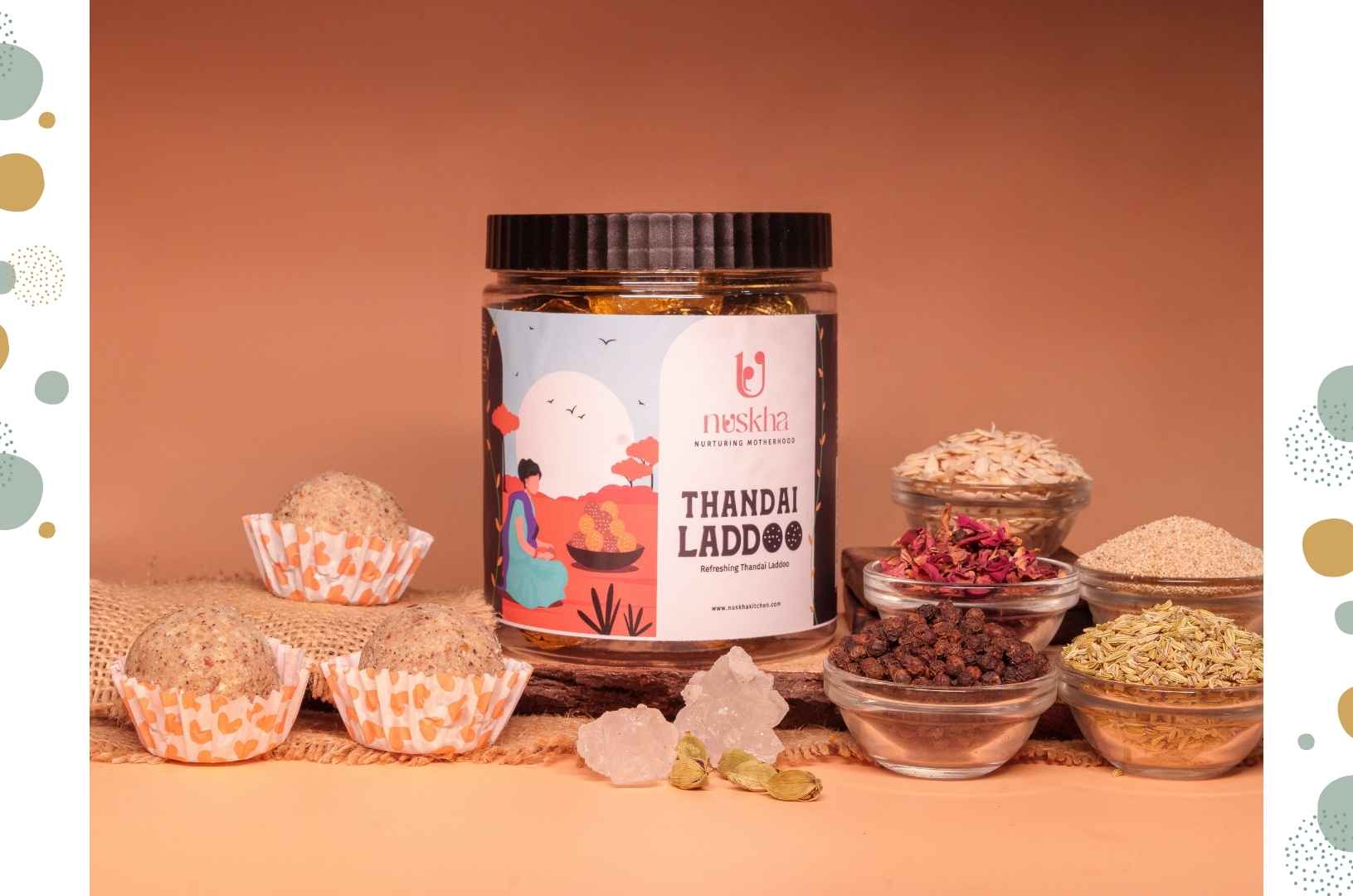 Want to eat something sweet and delicious but gut health does not support that? Then this perfect blend of cooling herbs and aromatic spices should be on your list. It also strengthens gut health by providing relief in constipation. Some elements like almonds, fennel seeds, and saffron which hold digestive properties boost your stomach health. These Thandai laddu are prepared in the Ayurveda method which makes them healthy and delicious. With this delicious and chemical-free snack, you can ensure that your summers are cool.
Hair oil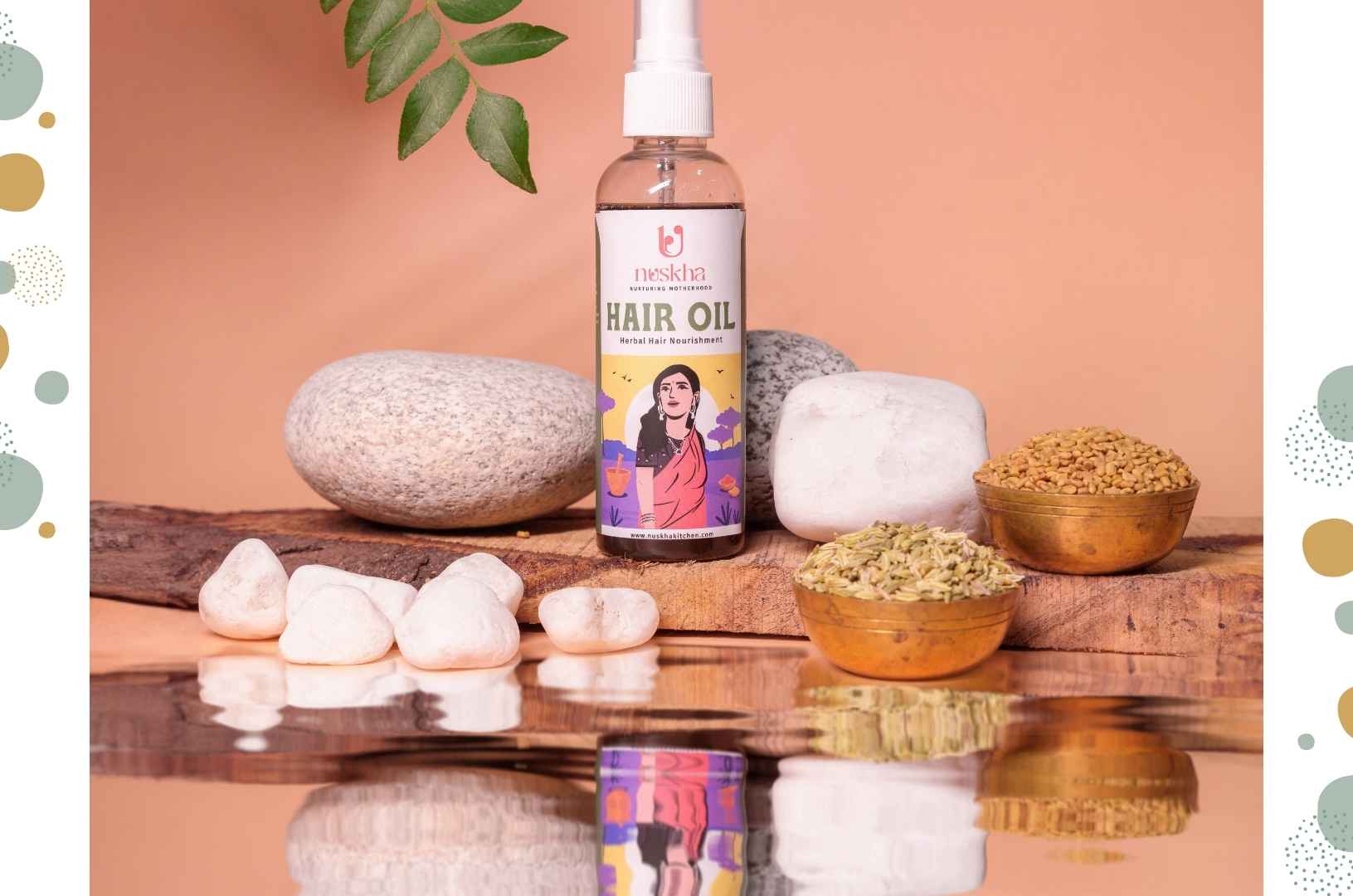 In our modern lifestyle, we often ignore self-care which causes early aging, wrinkling, and hair fall. Among all, hair fall has become a larger issue, but with the right kind of care, it can be restored. With the blessing of sesame seeds, fenugreek seeds, curry leaves, Roman coriander, and Indian gooseberry, you can ensure smooth hair growth while ensuring its strengthening. This Hair Oil is enriched with vitamins and minerals.
Gond Laddoo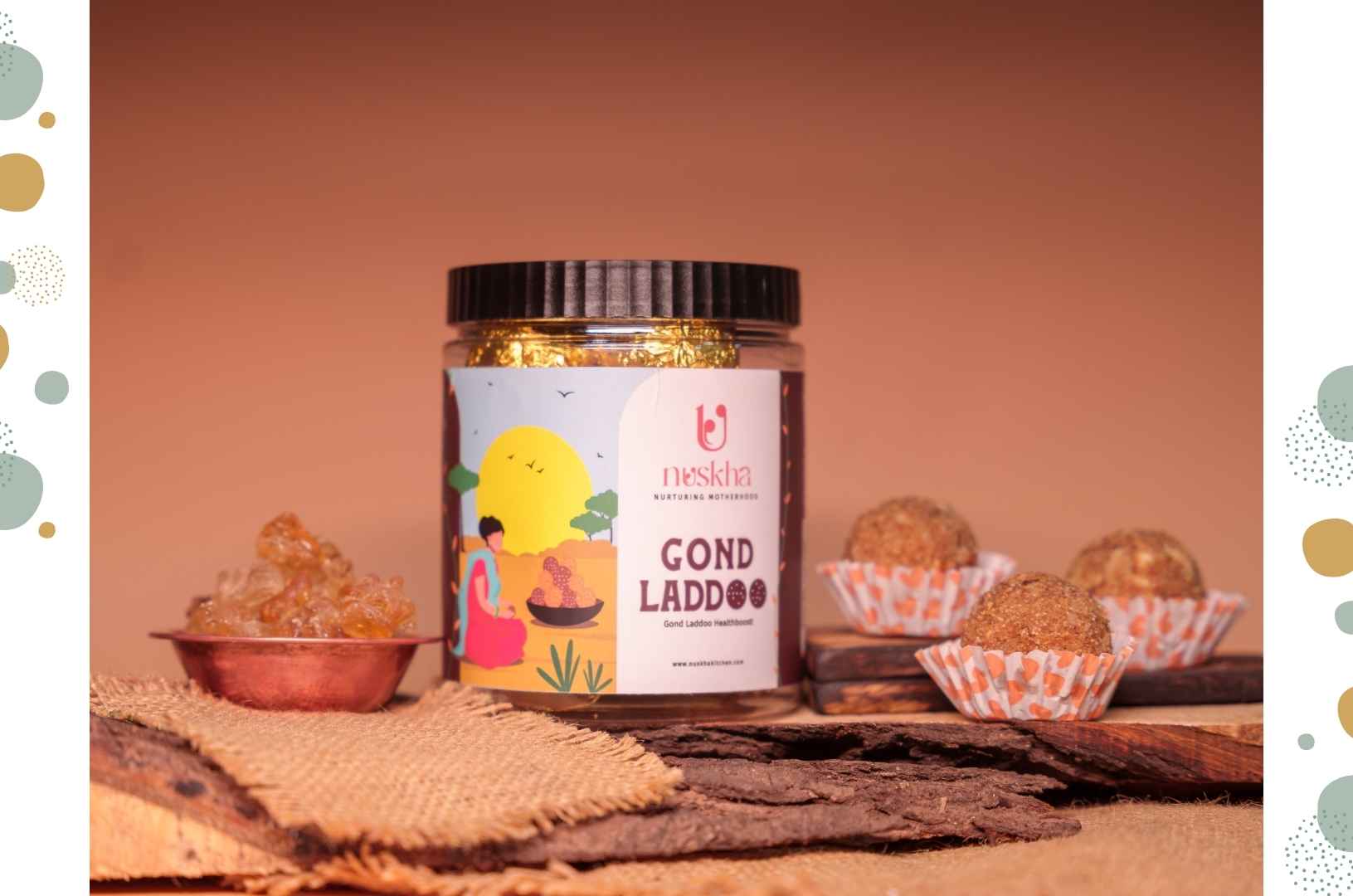 To get protection against the cough and cold, Gond ke laddoo is a delightful treat. This contains ingredients like almonds, gum, and pistas. This ladoo offers strength to your joints and bones. It boosts stamina, Vitamin D and promotes good health. It protects the overall health of the user.
Sonth Laddoo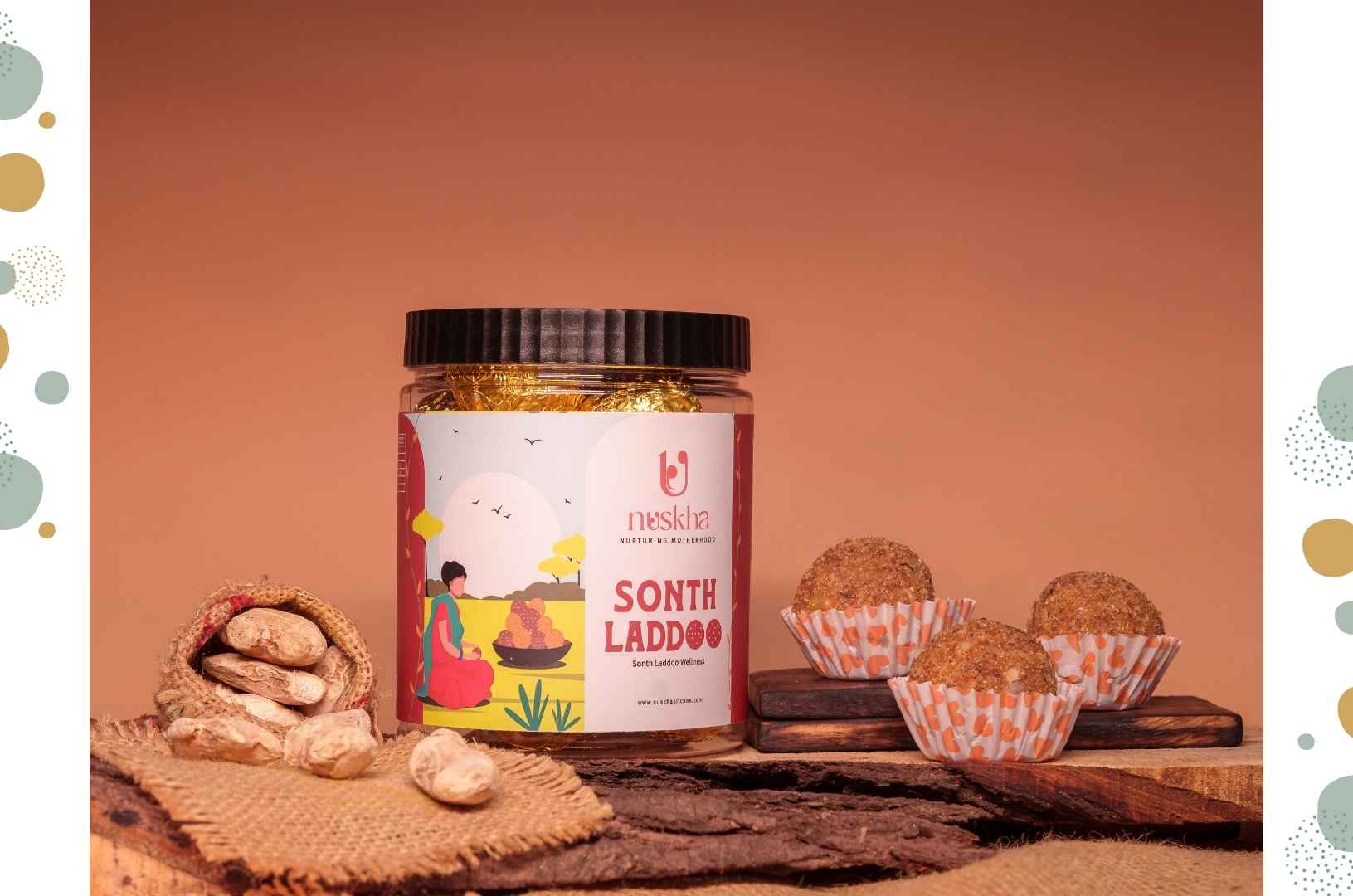 Enriched with the vitamin and minerals of sonth and other ayurvedic-approved ingredients. You can choose to eat it during winter or colder days to get protection from frequent illness. It balances the vata dosha and also nourishes your bones. It is a good delight to treat yourself on a daily basis.
Haldi Laddoo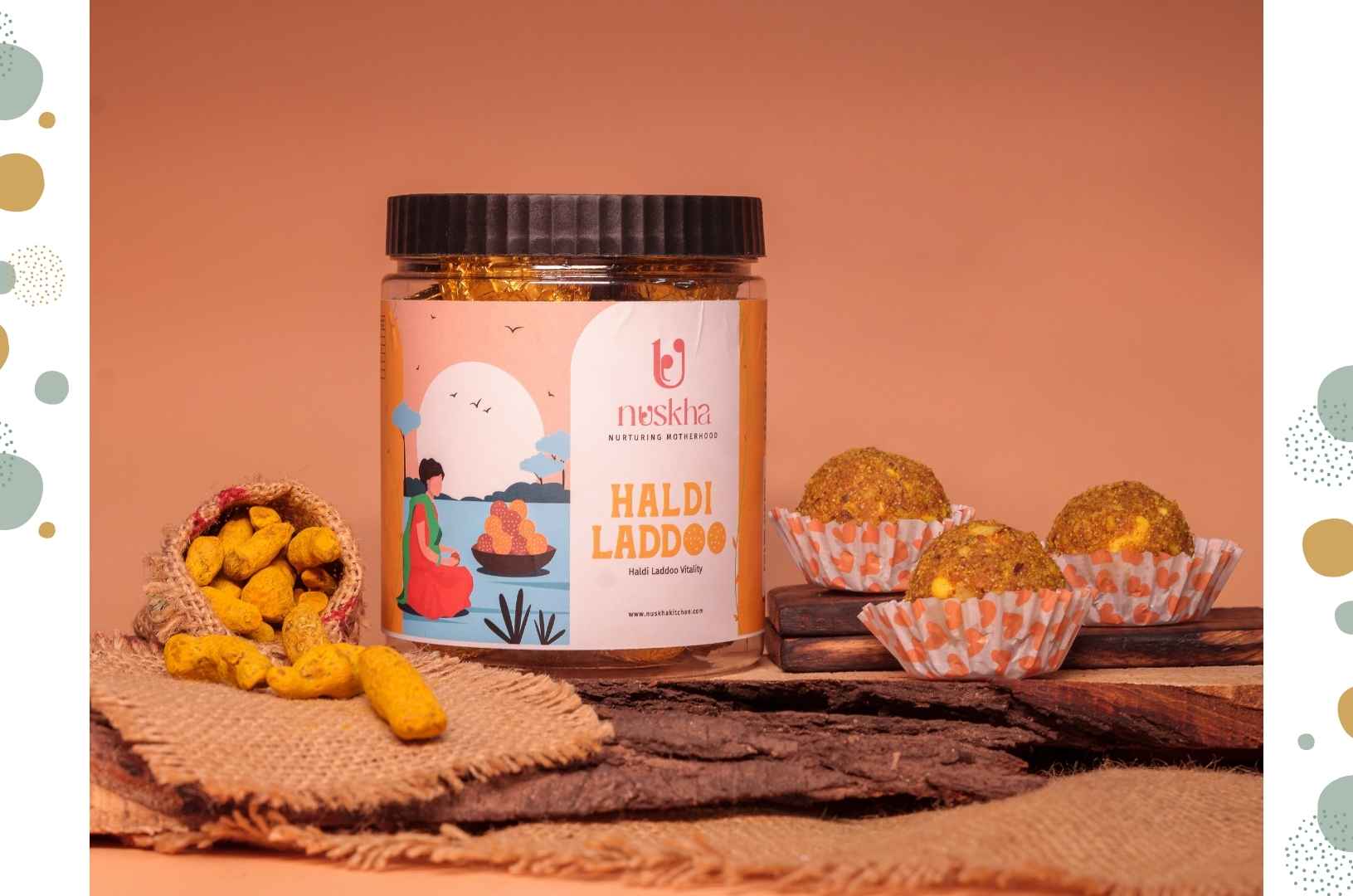 With the richness of curcumin, this sweet dish works as an antioxidant that boosts immunity. It also contains anti-inflammatory properties which reduce the level of inflammation in the body. Apart from the post-pregnancy diet, this dish can be part of general health, especially during winter.
Ajwain Laddoo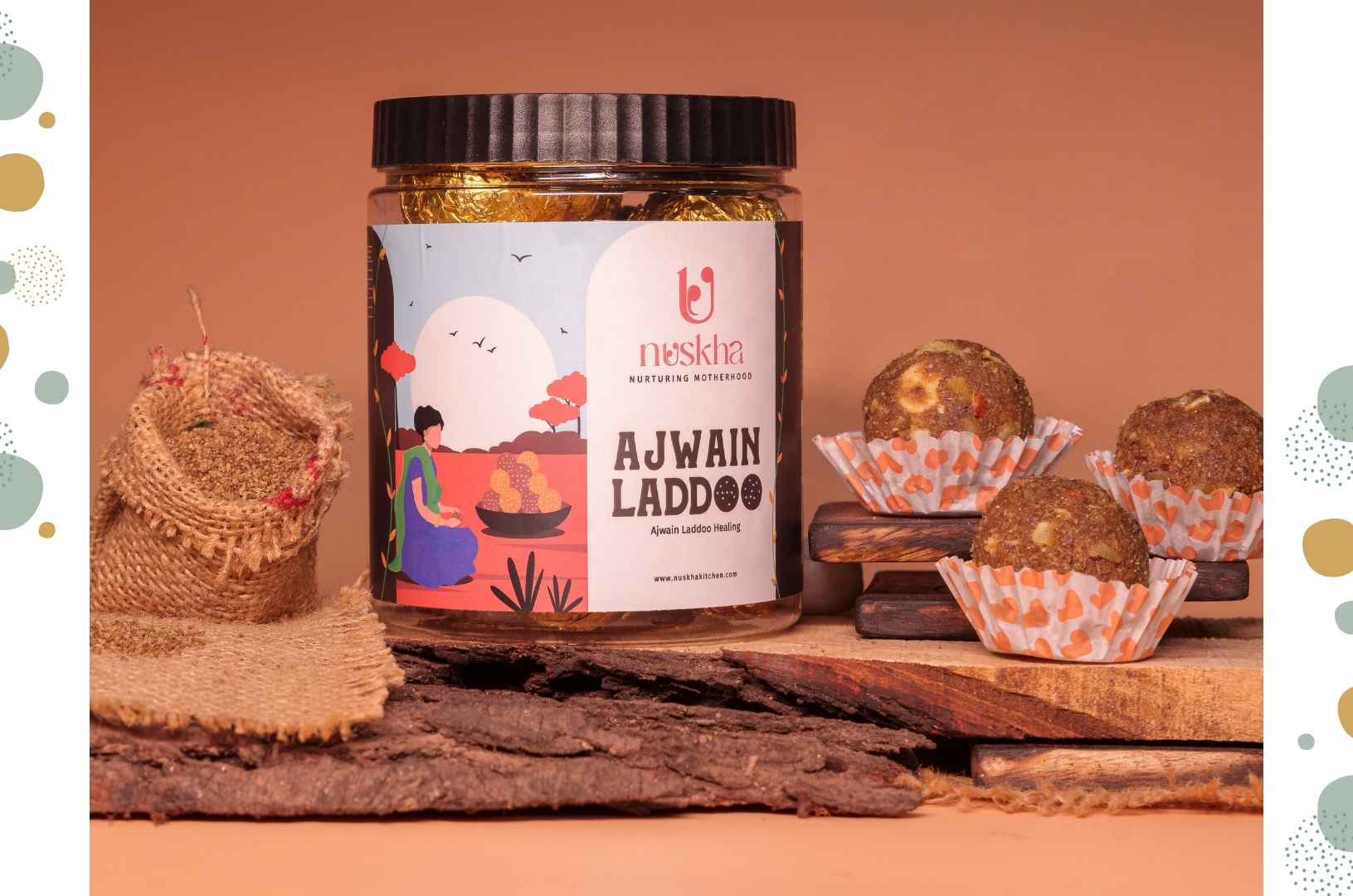 As Ajwain Laddoo is loathed with iron, vitamin A, vitamin C, and fiber, it takes care of the whole body. By consuming it on a daily basis, you can get rid of various diseases. This has features anti-fungal, anti-inflammatory, and anti-bacterial which provide protection.
Oats Laddoo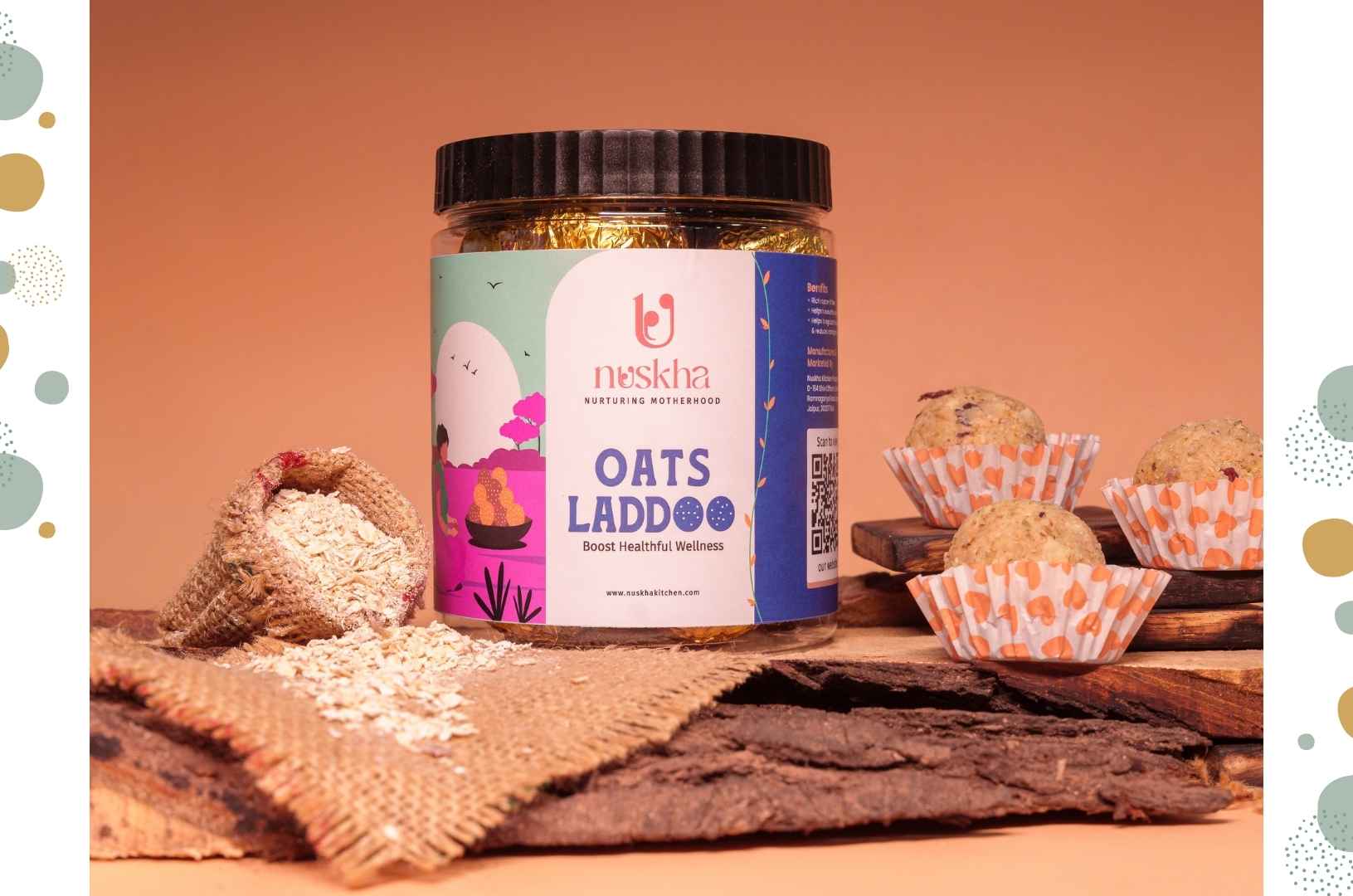 These fiber-rich Oats laddu are perfect for those who have regular constipation or gut health issues. We have used coconut and almonds to enhance its taste and benefits. In order to reduce weight, you can add these ladoos to your daily diet.
Ragi Laddoo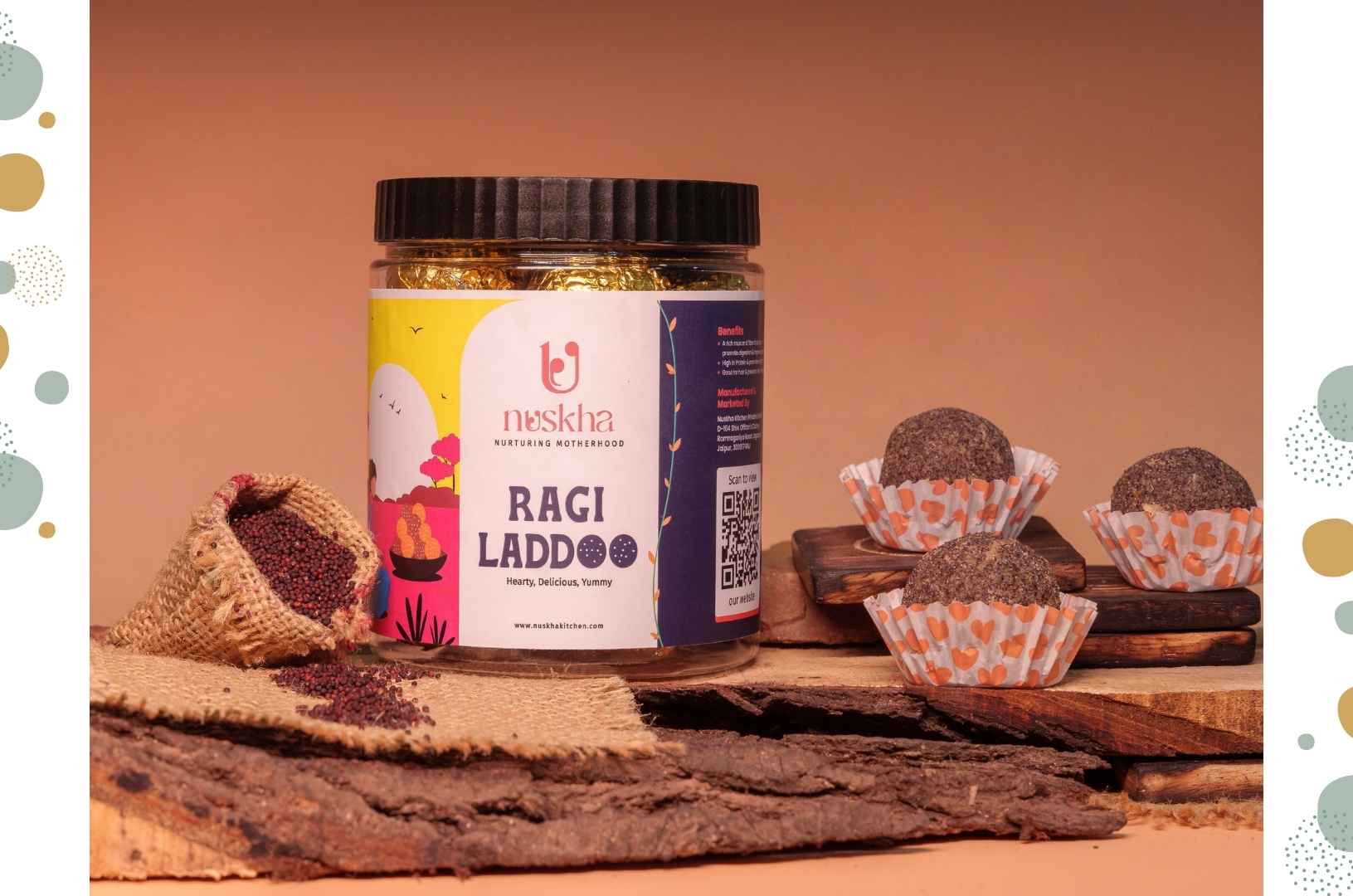 Ladoo made with ragi offers tons of benefits like improve digestion. Also, its coolness reduces the risk of heart disease. People with diabetes could also add this ladoo on a daily basis as it keeps disease check-in. It is also beneficial for women's care as it slows down aging.
Peanut Coconut Laddoo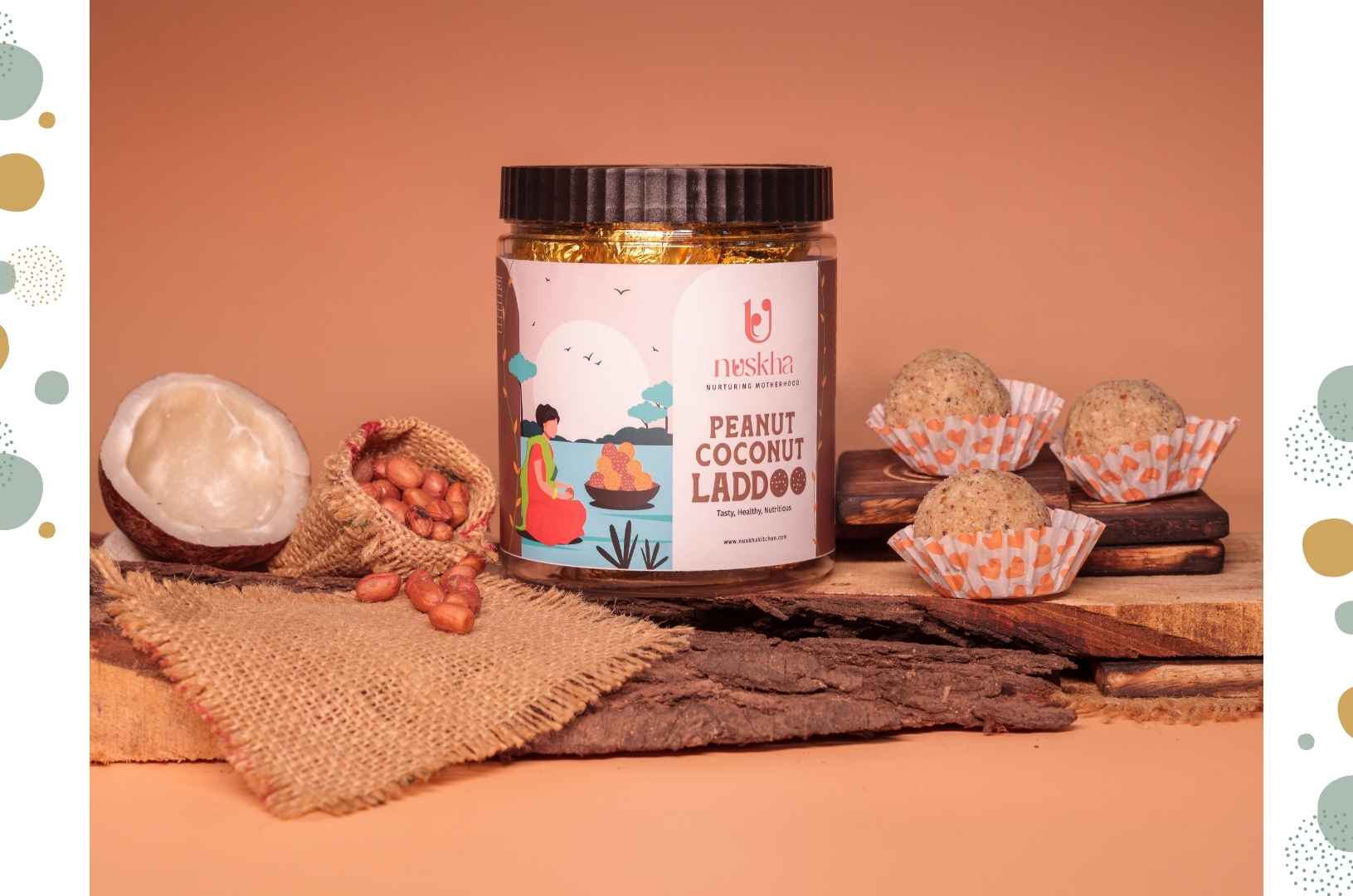 With the combination of peanuts and coconut, this ladoo helps in digestion and fetal development. It also boosts immunity along with providing high nutrition. You can consume it for breakfast as it ensures a proper supply of energy throughout the day.
Chana Laddoo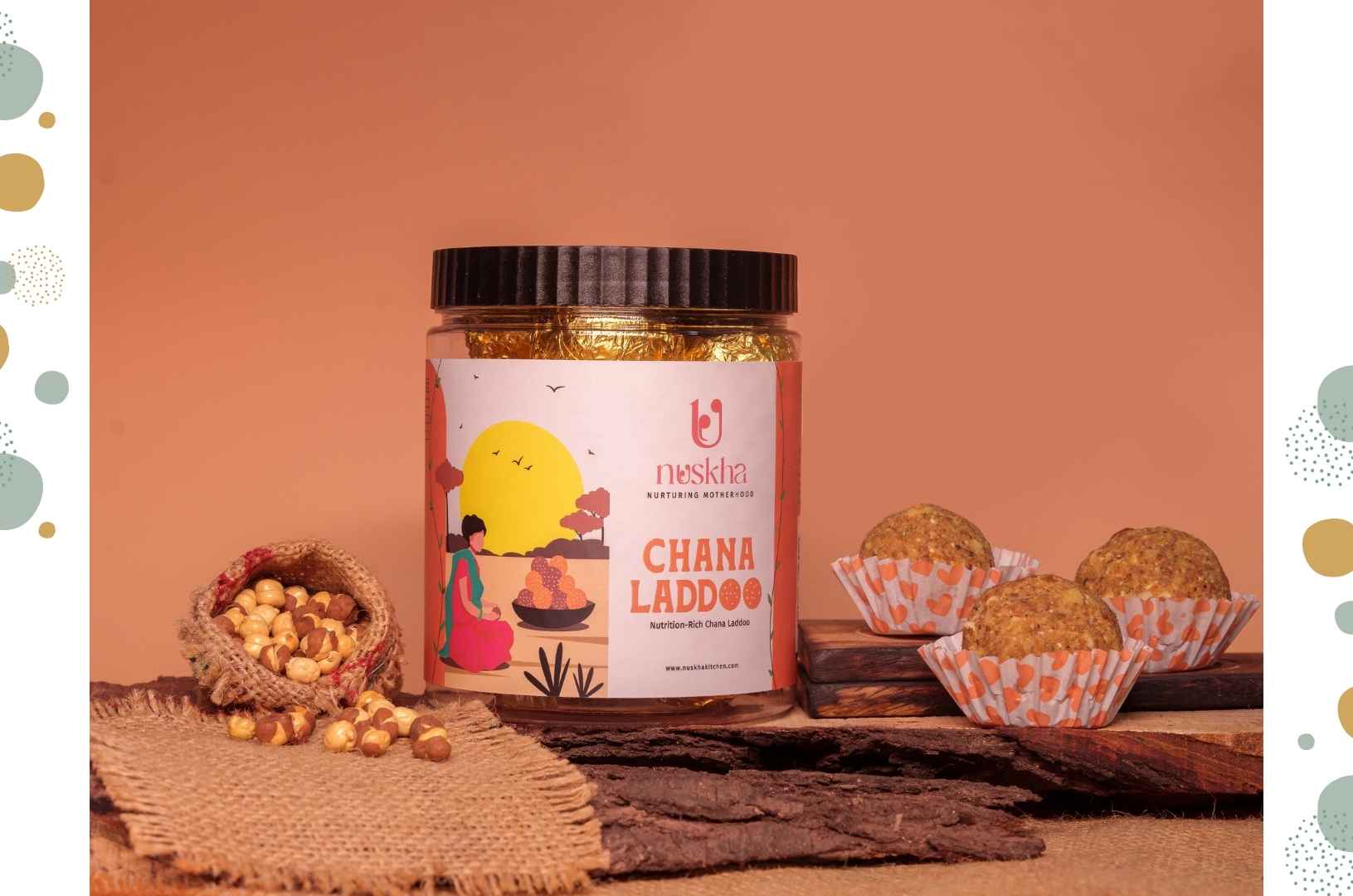 It keeps your tummy full so that you won't feel to eat unnecessarily which helps in losing weight. Further, it also enhances gut health and maintains sugar levels. Through this, you can reduce cholesterol levels.
The bottom line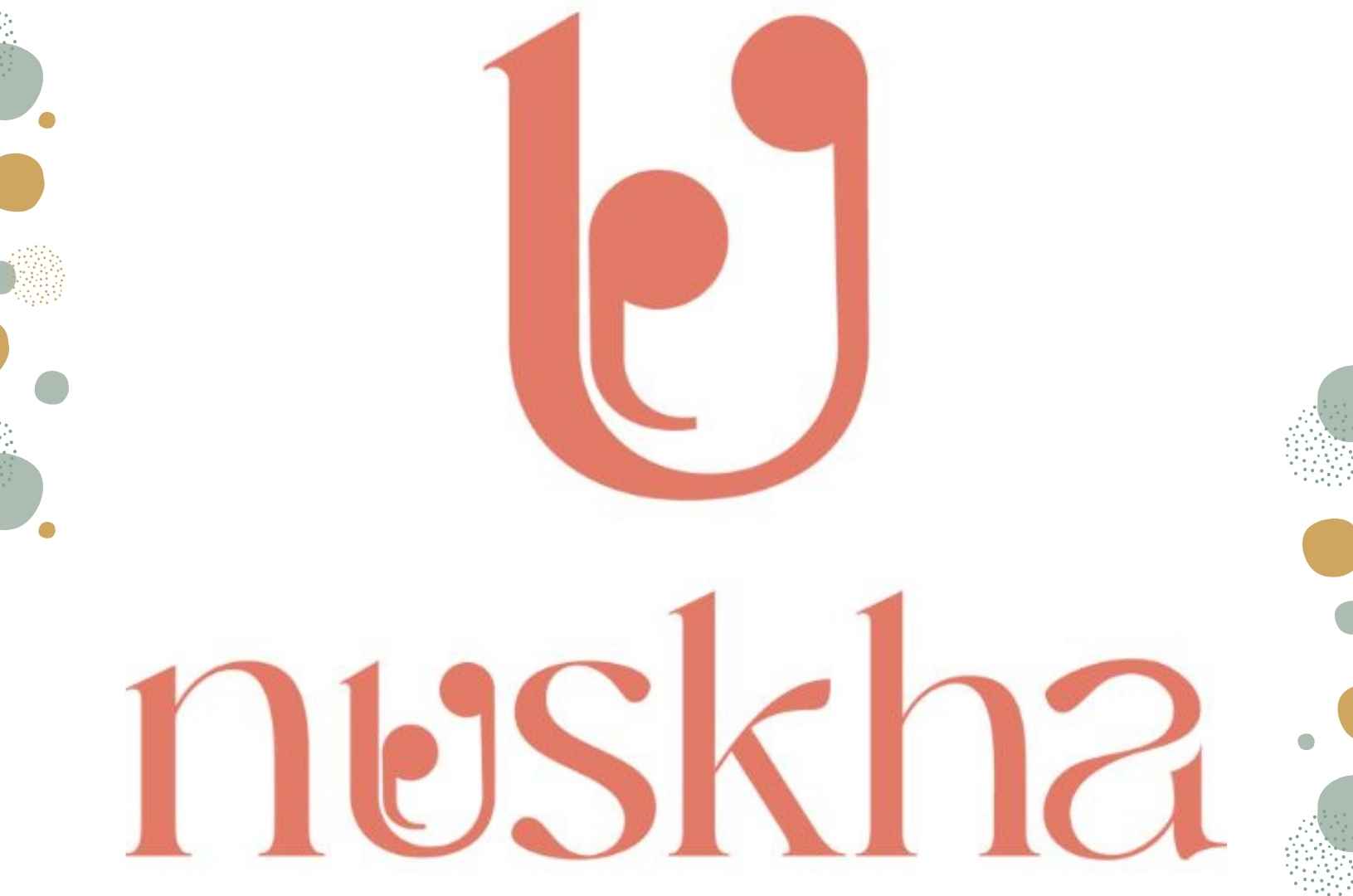 To ensure that everyone gets the benefit of Ayurveda, Nushka has emerged as an authentic and trustable platform. Here, you can get the best and high-quality products prepared with natural elements. We do not use any artificial items and ingredients that could harm your health. From pregnancy diet plan to post-pregnancy care and a child's diet, you can utilize these products to improve health and immunity. For Ayurveda-approved products switch to Nushka.